Bills Filled Big Holes In Draft
Speed on defense and size on offensive line key in selections.
by Steve Saslow
May 1, 2012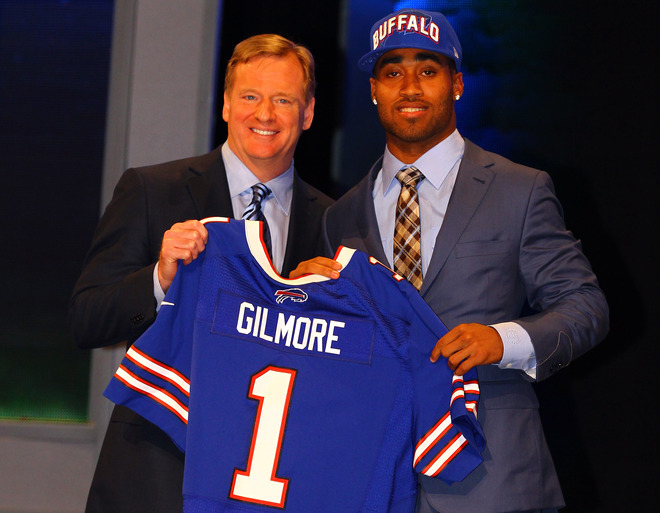 The Bills had some specific needs and they definitely targeted those needs in the draft as they took three offensive linemen, two cornerbacks, two linebackers, and a wide receiver in their first 8 picks. They closed the draft by taking a kicker. If many of these signings work out then the Bills will have plugged some serious holes in their depth chart. The theme of the draft on the offensive line picks were size. The theme on the new defenders was speed as the Bills added tremendous speed at linebacker, cornerback, and with their wide receiver choice.

The Bills made the "safe" choice by taking Stephon Gilmore with the 10th overall pick in the draft. He is a solid choice as the team wanted to take two cornerbacks in the draft and they did that with Gilmore and 4th round pick Ron Brooks. Gilmore will make an impact right away as either a full time starter or as a nickel back. He was the best choice at that spot. It would have been interesting to see what way they would have went if LB Luke Kuechly wasn't taken a pick before the Bills were on the clock. I would have liked them to take Kuechly but I think they would have stuck with Gilmore thanks to Nix favoring Southern colleges. It would have made for an interesting debate but the Bills got off easy with Carolina taking Kuechly.

Brooks is a player I like as a nickel back since he was very productive whenever he got on the field at LSU. He has the speed to be a solid blitzing corner and a playmaker on obvious passing downs almost right away. He also is a special teams demon which is important for a mid round pick.

Earlier in the fourth round the picks filled a need at linebacker by grabbing Nigel Bradham. The Bills had no depth at linebacker so grabbing the speedy Bradham was a good choice at this point. They feel he can backup all three positions but weakside linebacker is probably where he will start. The only problem here is they took another linebacker in the fifth round that projects to start his NFL career on the weakside. Tank Carder will be a fan favorite from day one as he has overcome a near fatal car crash as a teenager to develop into a pro who loves the no frills, no nonsense style of the city of Buffalo. The team needs a backup behind Kirk Morrison but will it be Bradham or Carder? Will the other one be able to backup in the middle or the strongside?

The linebacker situation is one question coming out of the draft but I have another concern. Even though they drafted a wide receiver, 3rd round pick T.J. Graham may not fit the need at outside receiver. Even though they needed a left tackle, 2nd round pick Cordy Glenn may not fit the need as a prototypical left tackle. Both of these picks may work out but not in the exact way Buddy Nix thinks they well. Graham is a burner and has the speed they coveted at receiver but he is more in the Roscoe Parrish mold and likely belongs in the slot although the Bills brass swear he can play outside. Just about all the experts believe that Glenn was a bargain with the 41st overall pick. Most of them don't agree that he can play left tackle at this level. The powers at be with the Bills feel he will be another Marcus McNeil who flourished at left tackle for San Diego. If that happens they hit gold. If it doesn't, they likely have a 10 year starter at guard or right tackle. These aren't needs right now but every position will become a need at some point over the next decade so it won't hurt them if he plays inside.

If they move Glenn to right tackle he will have competition from another rookie, 5th round pick Zebrie Sanders. He projects as a right tackle despite playing on the left side for part of last season. He slipped in the draft due to a poor performance at the Senior Bowl. It scared some teams away and scared the Bills as well but the value at this point made it a no brainer pick. The Bills feel he was weak at the Senior Bowl because he was losing weight, he has since regained that strength. Glenn and Sanders can develop into a nice one-two combo on the offensive line but where they play may be up in the air.

The Bills closed out the draft by taking G/C Mark Asper in the 6th round and K John Potter with the second to last pick in the draft. They gave up their 7th round pick to move up two spots to get Graham. They most likely didn't need to give up the pick to move up but a 7th rounder isn't a high price to pay if you are scared the player you want is going to be snatched up. They would like Asper to develop into a backup center candidate and Potter is a kickoff specialist who will only make the team if Gailey feels he has the luxury to carry two kickers.

We gave the draft a B+ grade as we feel they hit their needs for the most part. It will be up to the coaching staff to teach Glenn to play left tackle at this level and to get Wright to play on the outside consistently. If that can happen the depth chart looks much better today than it did last week.