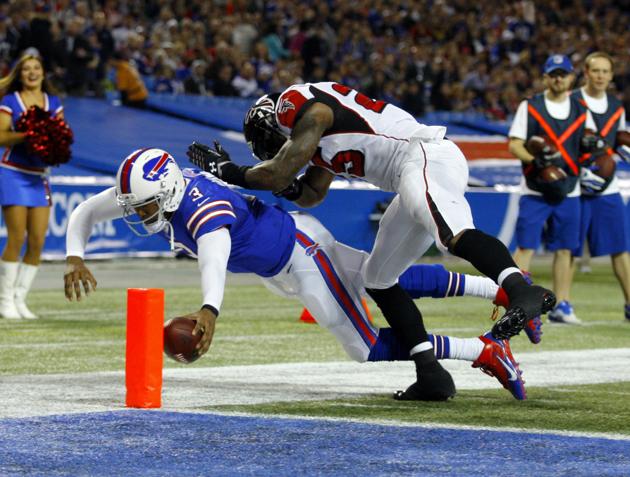 The Bills had every player on the practice field today as Marquise Goodwin and Scott Chandler returned to practice. Goodwin left practice early yesterday as a precaution when he tweaked his calf. Chandler missed yesterday because of the birth of his third daughter. Goodwin and Kyle Williams are the only people on the final injury report and they are listed as probable. The coaches turned up the heat in the fieldhouse on Thursday and Friday to get the team ready for the hot weather in Tampa. In a somewhat surprising move Tuesday the Bills released Tashard Choice and signed TE Tony Moeaki. The former third round pick of the Chiefs in 2010 has had three injury plagued seasons before being waived-injured after getting hurt in the preseason. He is not expected to play on Sunday. The Choice move was made to open up playing time for Ronnie Wingo. Check out our game preview on our gameday homepage and our Final practice report on our injury page. More...

---
Latest Reports From Inside Bills Daily

Injury Page: Final Practice Report

Buccaneers Game Preview New Article!


Depth Chart: December 4

Front Office Page: December 4

Follow us on twitter! Your quickest way to get breaking Bills news!

Friday December 6
Every player practices today

Thursday December 5
Goodwin leaves practice early
Bills look to bounce back against Bucs

Wednesday December 4
TE Moeaki signed
Kyle Williams sits out practice
Bills release Tashard Choice
Brandon says everything to be re-evaluated

Tuesday December 3
Bills swap practice squad offensive linemen
The future of the Bills is cloudy

Monday December 2
No new injuries in loss to Falcons

Sunday December 1
Position by position grades
Bills suffer crushing loss 34-31 in OT
Manuel, Spiller, Gilmore banged up but returned to game
Kyle Williams will play
Buccaneers Game Preview
(12/4) Bills look to bounce back against Bucs.
The Bon Jovi Bills?
(12/3) Thoughts on the Post-Wilson Era.
Bills Show They Don't Know How To Win
(12/1) Offensive miscues killed them down the stretch.
Bills Collapse And Lose In OT 34-31
(12/1) Two costly fumbles give the Bills a gut wrenching loss.
Falcons Game Preview
(11/27) Bills face disappointing Falcons team.
Great Win For Bills
(11/19) But Letís Not Get Carried Away.
Defense Dominate In Big Win
(11/17) Game was controlled by solid defensive play.
Bills Blow Out Jets 37-14
(11/17) The team put it all together for great win.