Woods Returns To Practice, Listed As Probable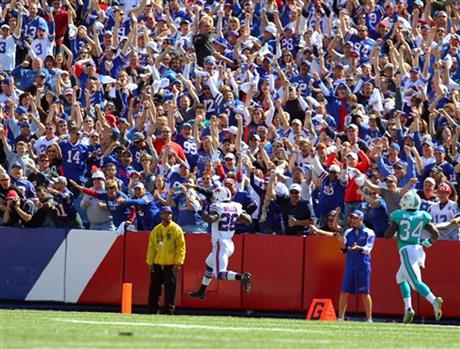 Robert Woods was back on the practice field today after sitting yesterday with an ankle injury. He is listed as probable for the game on Sunday and is confident he'll play. Keith Rivers will likely miss his second straight game after he did not practice on Friday. He was limited earlier in the week and is listed as doubtful for the game. Randell Johnson missed practice for a third straight day and has been ruled out. Stefan Charles, Sammy Watkins, Chris Williams, and Lee Smith join Woods as players that are probable. If Smith plays it will be his first game action since injuring his toe in the preseason. The 2-0 start and the longtime future secured has helped the ticket office. Sunday's game is soldout and Andre Reed will get his hall of fame ring at halftime while Lee Evans will lead the charge. The NFL Finance Committee gave unanimous approval to Terry and Kim Pegula as the next owners of the Buffalo Bills. The Pegulas made a brief statement after the meeting but did not take any questions. They said they will not consider themselves NFL owners until after the deal is approved by all the owners. That will happen in their fall meetings on October 7th and 8th. NFL Executive VP Eric Grubman said this is a huge step in the process. He also said that everyone involved in the sale has a lot to proud of at the way they handled the process. Chair Bob McNair said Terry Pegula is certainly passionate about football and Buffalo. He feels the Bills need to stay put but adds a new stadium will be needed. McNair said Pegula is certainly open to the idea of a new place and will work very hard to accomplish it. C.J. Spiller became the second Bill in as many weeks to win the AFC Special Teams Player of the Week honor. Check out our Chargers game preview on our gamday homepage! More...

---
Latest Reports From Inside Bills Daily

Chargers Game Preview New Article!


Injury Page: Final Practice Report

Depth Chart: September 16

Front Office Page: September 16

Follow us on twitter! Your quickest way to get breaking Bills news!

Friday September 19
Robert Woods returns to practice and is listed as probable for Sunday's game



Thursday September 18
Woods misses practice after being limited yesterday with an ankle injury
Game soldout, Reed to get HOF ring at halftime ceremony, Evans leading the charge
The Ralph should be rowdy again as the Bills look to stay undefeated on Sunday



Wednesday September 17
Johnson only player to sit out practice today; Rivers limited and is day to day
Pegulas unanimously approved by NFL Finance Committee; Full vote next month
Ticket sales going very well, first half virtually soldout; other tickets selling fast
Committee Chair expects Pegula to be approved; interested in new stadium
Spiller wins Bills 2nd straight AFC Special Teams player of the week award
Pegulas to meet with NFL finance committee in NYC today



Tuesday September 16
Bills place Meeks on injured reserve and sign LB Larry Dean
Rivers to test out injured groin early in the week; Charles banged up

Monday September 15
The 2-0 start has Tony Bogyo wondering how we should handle the good fortune

Sunday September 14
Total team effort in victory as special teams were really special in the win
Bills knock off Dolphins 29-10 as they move to 2-0 and first place in AFC East
Several players get banged up but return; Dareus left the game with cramps
No surprises on inactive list; Three draft picks among four healthy scratches
Beautiful weather for today's home opener against the arch rival Dolphins

Saturday September 13
RV lots filled for first time in Ralph Wilson Stadium history a day before the game
Kelly weighing surgery as an option for point of concern according to Rochester D&C


Chargers Game Preview


(9/18) The Ralph should be rocking again as Bills look to stay undefeated.


So Much Good News


(9/15) What Do We Do?


Special Teams Were Real Special


(9/14) Big Plays By Special Teams Led Dominating Effort On All Sides.


Bills Get Electric 29-10 Win Over Miami


(9/14) Bills Honor Ralph Wilson's Memory With Solid Performance.


Dolphins Game Preview


(9/11) The Ralph will be rocking for home opener.


Bills Find a Way to Win


(9/9) Huge Win in Chicago Something to Build Upon.
2014 Schedule
Click on the final score for Bills Daily review/analysis of the game.
| | | |
| --- | --- | --- |
| Sept. 7 | @ Chicago | W 23-20 OT |
| Sept. 14 | Miami | W 29-10 |
| Sept. 21 | San Diego | Preview |
| Sept. 28 | @ Houston | 1:00 |
| Oct. 5 | @ Detroit | 1:00 |
| Oct. 12 | New England | 1:00 |
| Oct. 19 | Minnesota | 1:00 |
| Oct. 26 | @ NY Jets | 1:00 |
| Nov. 2 | Bye | |
| Nov. 9 | Kansas City | 1:00 |
| Nov. 13 | @ Miami | 8:25 |
| Nov. 23 | NY Jets | 1:00 |
| Nov. 30 | Cleveland | 1:00 |
| Dec. 7 | @ Denver | 4:05 |
| Dec. 14 | Green Bay | 1:00 |
| Dec. 21 | @ Oakland | 4:25 |
| Dec. 28 | @ New England | 1:00 |