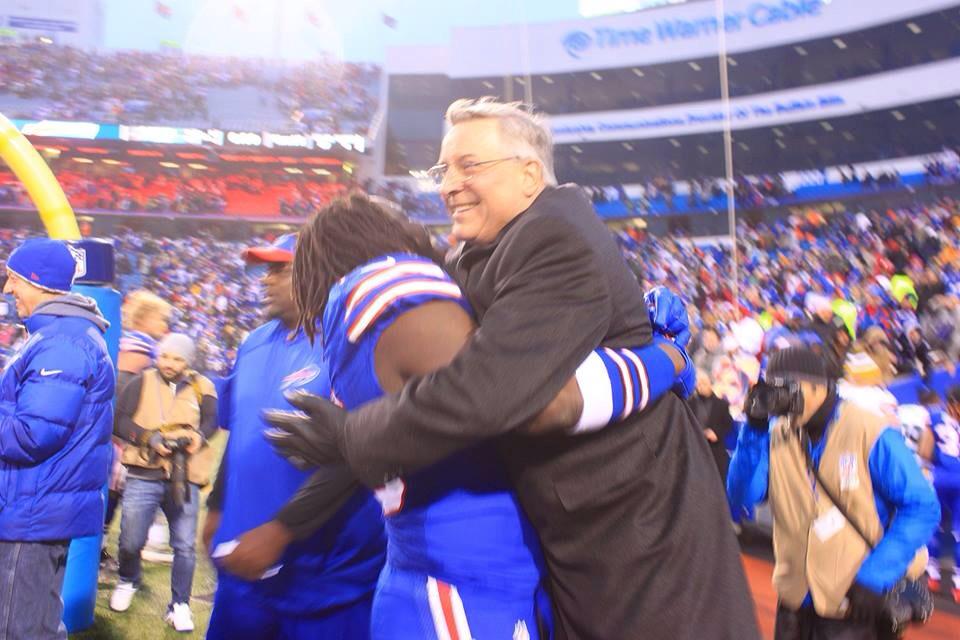 It will be a nice day for football in Northern California when the Bills hit the field to battle the Raiders in Oakland. The gametime temperature will be 64° under mostly cloudy skies. Winds will be out of the WNW at 9mph with very little chance of rain. The Bills announced they are activating C.J. Spiller for the game against the Raiders and have listed him as probable. He is one of eight Bills listed as probable on the final injury report. Marcus Thigpen was added to the injury report Thursday and was limited with swelling in his foot. He is one of the probable players and is expected to play on Sunday. Both injured safeties are probable as well. Duke Williams has gone through the concussion protocols of the league and Da'Norris Searcy hamstring injury has improved. Chris Gragg is listed as questionable with his knee injury. Russ Brandon spoke glowingly about Coach Marrone during his WGR radio appearance. He said he has done an incredible job in the past year especially after you reflect on the major changes that the club has had over the past year including the stadium renovations, prolonged training camp, historic snowstorm, death of the owner, and ownership change in the middle of the season. To be in the position they are today is a credit to him. He has brought a level of consistency and empowerment and he has everyone holding themselves accountable. He doesn't even know why Marrone returning would even be a topic of discussion. He feels it is a great partnership between Marrone and Doug Whaley saying they have done a great job. The Bills made room on the 53 man roster today to activate Spiller by releasing FB Frank Summers who had been inactive the past four weeks. Check out our game preview on our gameday homepage. Our injury page has the Bills final practice report for both teams. More...

---
Latest Reports From Inside Bills Daily

Follow us on twitter! for commentary throughout the game!


Injury Page: Final Practice Report

Raiders Game Preview

Front Office Page: December 16

Depth Chart: December 16

Sunday December 21
Nice weather in Northern California for today's game against the Raiders

Friday December 19
Spiller activated and listed as probable; Gragg only one listed as questionable

Thursday December 18
Thigpen added to the injury report as limited with a swollen foot
Bills look to avoid a letdown or trap game as they travel to the West Coast

Wednesday December 17
Chandler out with illness; Spiller, Duke Williams, Searcy limited in practice
Russ Brandon doesn't know why Marrone's future is a topic of conversation

Tuesday December 16
Bills release Frank Summers to make room for Spiller's activation
Sunday's win was huge but leaves fans thinking what might have been

Monday December 15
Spiller to be activated may or may not play this week
Big win doesn't help playoff chances all that much
Raiders Game Preview
(12/18) Bills look to avoid letdown as they travel out West.
Huge Game, Huge Win
(12/16) Revel in Victory and Think About What Might Have Been.
Defense, Special Teams Shine In Upset Win
(12/14) Great play by two units help overcome poor offensive effort.
Bills Stay Alive With 21-13 Huge Win
(12/14) Four FGs, A Special Teams Score, and a safety for the win.
Packers Game Preview
(12/11) Bills face another future hall of famer with playoff hopes flickering.
Welp
(12/9) When There's Nothing More To Say.
Not Enough Firepower To Pull Off Upset
(12/7) When There's Nothing More to Say.
Broncos Knock Off Bills 24-17
(12/7) Penalties, missed opportunities lead to huge blow to playoff chances.