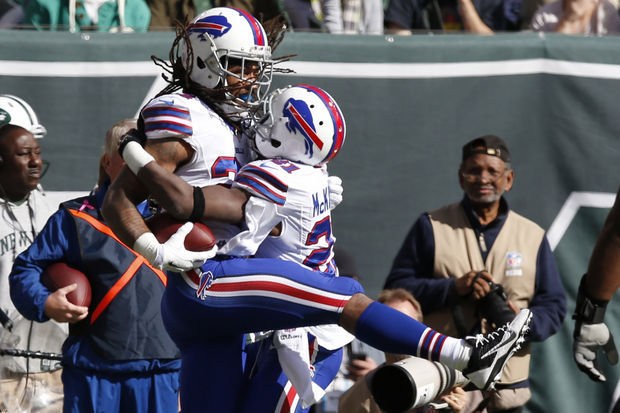 The wacky week continues for the Bills as they held a rare Saturday afternoon practice in Detroit before Monday's "home" game against the Jets. All tickets for this game are free and they were gone by noon on Saturday. There are a few that will be available at the box office but Russ Brandon said he is expecting a sellout. The Bills held a 90 minute practice session on Friday night as well, their first in 10 days. The Bills got an extra day to release their injury report and did so before Saturday's practice. Fred Jackson and Ron Brooks are questionable with lingering groin injuries. Dan Carpenter, Manny Lawson, Kyle Orton, Kraig Urbik, Chris Hogan, Marquise Goodwin, Sammy Watkins, and Frank Summers are all probable. Jairus Wynn has been ruled out. Doug Marrone acknowledged the team is at a disadvantage as they are on the road and not home with their families as well as having a makeshift locker room at the Lions training facility. He praised their hosts as saying the Lions have done things for the Bills that doesn't happen in the league. Monday night's game will be re-aired on NFL Network at midnight on Tuesday. The NFL announced that they are letting DirecTV broadcast the game to Sunday Ticket customers plus all the secondary CBS markets in New York are carrying the game. Check out our updated preview on our gameday homepage. More...

---
Latest Reports From Inside Bills Daily

Injury Page: Final Practice Report

Jets Game Preview Updated!


Front Office Page: November 20

Depth Chart: November 20

Follow us on twitter! Your quickest way to get breaking Bills news!

Saturday November 22
Game expected to be a "sellout" as all free tickets were gone by noon
Jackson, Brooks both listed as questionable; 8 listed as probable; Wynn out
Bills to hit the practice field again today at 4:45pm as they continue to prepare

Friday November 21
Entire team now in Detroit as game tickets are free to everyone
All the players are expected to make the flight to Detroit
Bills gave out wrong number for refunds
Bills hoping to practice tonight in Detroit; All players may not make it

Thursday November 20
Bills to play Jets in Detroit Monday night at 7pm; Hope to leave tomorrow
Bills make a roster move claiming a tight end off of waivers; releasing Tanner
Game officially moved date, time, and location to be announced by league
Game will almost certainly be moved to alternative site for Monday night game
Bills unable to practice for a second straight day.
Bills at a competitive disadvantage whenever this game is played

Wednesday November 19
Bills release projected injury report if there was a practice Wednesday
Bills looking to get stadium cleared in time for Sunday game
Bills begin clearing parking lots anticipating to play on Sunday
Polian a finalist for the hall of fame in the new contributor category
Players and coaches deal with major snowstorm putting practice in jeopardy

Monday November 17
Bills place McKelvin on IR; Sign fomer Redskins S Rambo
Marrone sticking with Orton; McKelvin decision expected today likely headed to IR
Bills add CB Brandon Smith to the practice squad
Bills get back to work to try and salvage sinking season

Sunday November 16
As the Bills lose their second straight things are going backwards in Buffalo
Jets Game Preview
(11/20) Bills at a competitive advantage whenever this game is played.
Going Backwards
(11/16) Bills revisit their past.
Team Loss As Bills Playoff Hopes Dashed
(11/14) Defense struggles while offensive red zone woes continue.
Bills Lose To Miami 22-9
(11/13) Dolphins take control of the game in the 2nd half.
Dolphins Game Preview
(11/11) Must win battle ahead in prime time against division rival.
Valiant Defensive Effort Wasted In Devastating Loss
(11/9) Turnovers by offense and special teams ends promising effort.
Bills Lose Heartbreaker 17-13
(11/9) Too many blown opportunities cost the Bills a chance at a huge win.