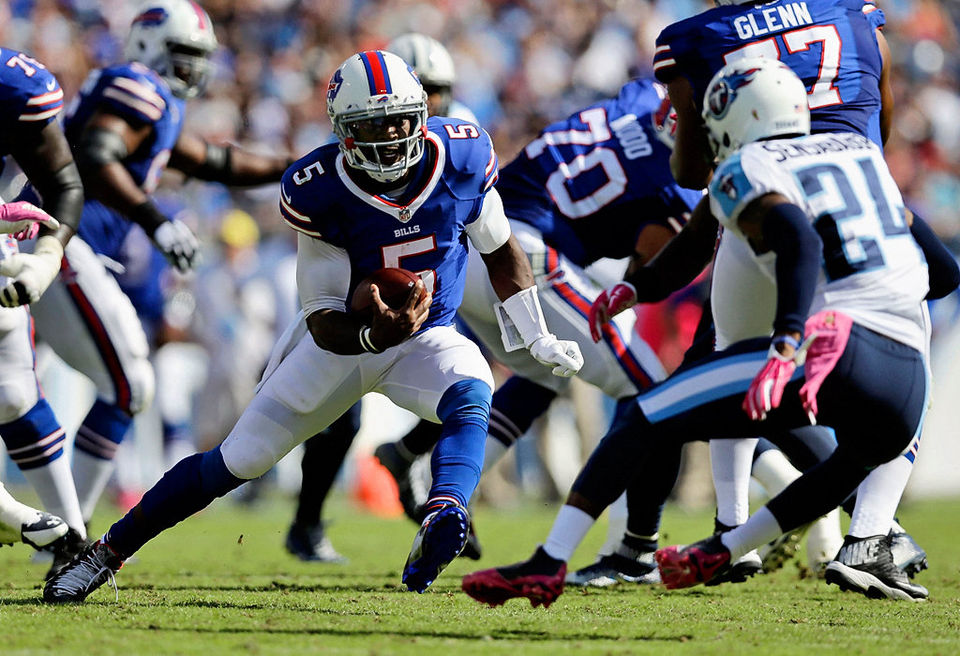 Weather will be a factor at Arrowhead Stadium for today's huge game between the Bills and the Chiefs. Showers are possible throughout the game with a gametime temperature of 37°. The winds will be out of the ENE at 7mph. Kyle Williams will undergo season ending surgery on his injured knee. He was optimistic earlier in the week but the latest tests showed he needed surgery. He will likely head to injured reserve to open up a roster spot. The team has three other players that won't play against Kansas City on Sunday as Mario Williams, Marcus Easley, and John Miller have been ruled out after not practicing all week. Tyrod Taylor is good to go and is listed as probable along with Marcell Dareus and Bacarri Rambo. The Bills fixed a mistake by releasing Denarius Moore and bringing back WR/returner Marcus Thigpen. The team also released Boom Herron who was inactive this past week and not needed with three healthy running backs on the roster. They used his roster spot to sign G Ryan Groy who was orignially an undrafted free agent signed by the Bears in 2014 where he worked with current OL coach Aaron Kromer. The team lost practice squad player Jaylen Watkins to Philadelphia. Our preview of the Chiefs game is up on our gameday homepage and our injury page is updated with the final practice report! More...

---
Latest Reports From Inside Bills Daily

Follow us on twitter! for commentary throughout the game!


Injury Page: Final Practice Report

Chiefs Game Preview New Article!


Front Office Page: November 27

Depth Chart: November 25

Sunday November 29
Cold and rainy weather for today's big game

Friday November 27
Bills lose practice sqaud CB Jaylen Watkins to Philadelphia
Mario ruled out and Kyle Williams to undergo season ending surgery
Mario Williams very unlikely to play on Sunday

Thursday November 26
Taylor throws in practice today
Huge playoff implications in battle of .500 football teams

Wednesday November 25
Taylor doesn't throw a pass in today's walkthrough
Ryan expects Taylor to play unsure about Mario
Tony Bogyo breaks down frustrating loss to the Patriots
Bills make practice squad move

Tuesday November 24
Ryan expects Taylor to play on Sunday; Miller, Easley out
Great defensive effort wasted
Bills fall to Patriots 20-13
Several players banged up in the loss to the Patriots

Monday November 23
Gameday inactives
Taylor will be able to void final year of his deal after tonight
Clear and cold night in Foxboro for primetime matchup
Chiefs Game Preview
(11/26) Huge playoff implications in battle of .500 football teams.
Coulda, Shoulda, Wouldda
(11/25) Another Loss Crushes Early Hope.
Solid Defensive Effort Against Brady Wasted
(11/24) Offensive and Special Teams struggle in loss.
Bills Lose Tough One In New England 20-13
(11/24) Great Defensive Effort Not Enough Against Unbeaten Pats.
Patriots Game Preview
(11/19) Bills playing well but face the undefeated Pats on the road.
Random Observations
(11/17) A Different Week, A Different Column.
Defense Makes Big Plays Down The Stretch
(11/13) Bills hang on for dear life for huge division win.
Bills Hold On For 22-17 Win Over The Jets
(11/13) Huge primetime division win leaves Rex Ryan giddy.