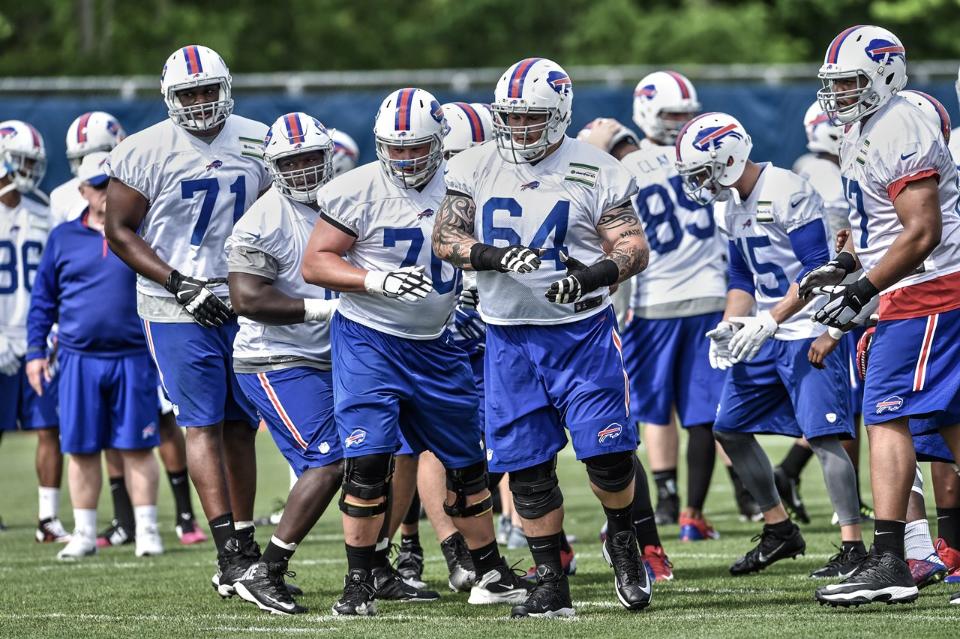 When the Bills hit the field for their first training camp practice this morning they had Mario Williams on the field. Thursday he was put on the Active/Non-Football injury list but was activated in time for Friday's practice and took part in the opening workout. Matt Cassel got the first reps with the first team at quarterback in practice today and Cyrus Kouandjio took the first team reps at right tackle. Asst OL coach Kurt Anderson is leading the offensive line drills. DE BJ Larsen was the lone active player not participating in the workout. Leodis McKelvin, Dan Carpenter, Cam Thomas, and Chris Manhertz are out on injury lists. With OL coach Aaron Kromer on paid administrative leave dealing with his legal struggles, the Bills have hired someone he knows well. Pat Meyer has been hired a football operations consultant. He has an offensive line coaching background serving as the OL coach under Kromer the past two years in Chicago. He was the offensive coordinator for the CFL's Montreal Alouettes in 2012. He was taking in the first practice of camp on the sidelines. This year's practices are expected to be about a half an hour shorter than during the Marrone era but very busy as they are going to use two fields at one time to see more from the quarterbacks. All the players went through conditioning drills and physicals on Thursday. We have a handy training camp upcoming schedule on the right side of this homepage. The Bills have cut guard Chris Williams after he failed his physical leaving two open spots on the 90 man roster. He missed all of the offseason workouts after struggling to recover from back surgery that cost him most of his only season in Buffalo. The release saves the Bills $3.9 Million on next year's cap according to Mike Rodak of ESPN. More...

---
Latest Reports From Inside Bills Daily

One player to watch on both sides of the ball

2015 Front Office Page: July 31

Injury Page: July 31

Depth Chart: July 28

Follow us on twitter! Your quickest way to get breaking Bills news throughout camp!

Friday July 31
Camp opens with Super Mario back on the field
Bills hire football operations consultant with OL background
Training camp begins today with a morning practice

Thursday July 30
Mario Williams leads list of five players on injured lists
Players to hold meetings and conditioning drills today

Wednesday July 29
Today is voluntary reporting day for training camp at St. Johns Fisher College

Tuesday July 28
Bills release Chris Williams after he fails his physical
Watkins declares himself full go for the start of training camp
Our AFC East roundtable takes a look at possible surprised during each team's camp

Monday July 27
Russ Brandon becomes President of the Sabres; Remains Bills President
Training camp gets underway on Friday

Thursday July 23
Goodwin gets silver medal at Pan Am Games

Wednesday July 22
Decision on OL Coach Aaron Kromer expected soon
Bills release OT Wayne Hunter three weeks after being signed
Marquise Goodwin qualifies for long jump final of Pan Am games in Toronto

Tuesday July 21
We explore which AFC East team has the best DL in our new roundtable series
One player we might not know about on both sides of the ball to watch
(7/28) AFC East Roundtable.
Which team possesses the best defensive line?
(7/21) AFC East Roundtable.
Deflategate – Make It Stop!
(5/13) A Tale From A Bills Fan In Boston.
Quiet Draft Used To Draft Best Available Players
(5/5) Most New Players May Not Have Big Impact In 2015.
1st Round Mock Draft
(4/29) No first round pick for the Bills.