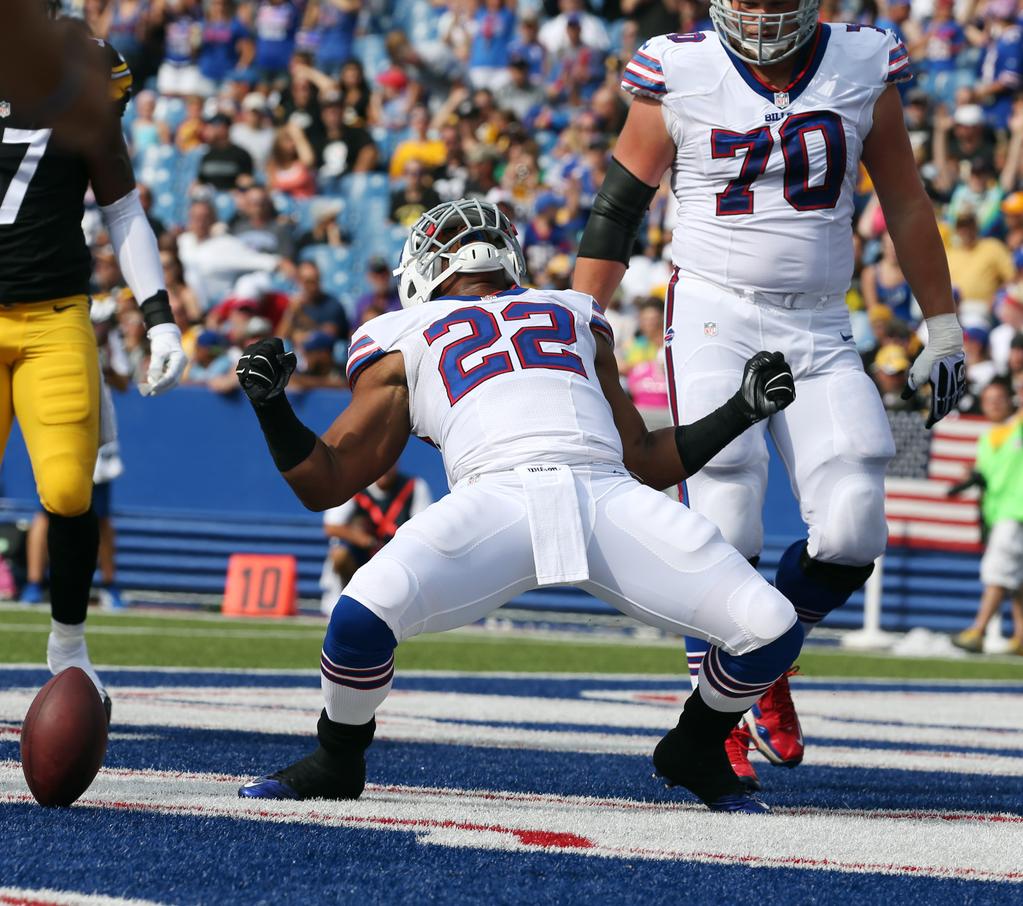 The Bills pared down their roster ahead of tomorrow's requirement to get to 75 players by releasing 12 players including running back Fred Jackson. The move was surprising considering his popularity with fans and his strong play on Saturday against Pittsburgh. Also released was cornerback Ross Cockrell, a 2014 4th round pick. In other news, the Bills used a solid effort from all four quarterbacks to beat the Pittsburgh Steelers 43-19 on Saturday in an impressive offensive display that muddled the QB battle even more because of solid play from all four quarterbacks. Fred Jackson followed a 41 yard run with a one yard touchdown plunge to get the scoring barrage started. EJ Manuel than hit Charles Clay for a 67 yard bomb. An 11 play, 80 yard drive by Tyrod Taylor ended in a one yard plunge by Ricky Seale. He then made a couple of plays to allow Dan Carpenter to hit a 52 yard field goal as the first half expired. Taylor wasn't done yet leading the Bills to start the second half on a 78 yard, 10 play drive that ended with his 20 yard run for a score. Manuel returned and hit Tobais Palmer for a perfectly thrown 37 yard bomb for a score. Matt Simms got into the act of solid quarterback play by hitting Charles Gragg for a 14 yard score to finish off an 83 yard 13 play drive that he split with EJ. Several players got banged up in the game with Stephon Gilmore, Marquise Goodwin, Marcus Thigpen, and Austin Willis were among the players who could not finish the game. If this game was suppose to settle the QB battle it made it even more muddled but for a good reason. EJ Manuel, Tyrod Taylor, and Matt Cassel all performed very well. Manuel got the first two series and the team scored two touchdowns, Cassel got the next two series and he was efficient but penalties hurt him as the team did not score with him on the field. Taylor led the Bills to two touchdowns and a field goal in three possessions including a final minute field goal drive before halftime. Manuel came back in in the third quarter and threw another touchdown pass. They combined going 25 of 28 for 330 yards with Manuel throwing for two scores and Taylor running one in from 20 yards out. Manuel was 7 of 8 for 170 yards, Taylor was 12 of 13 for 122 while Cassel was 6 for 7 for 38 yards. Fred Jackson didn't hurt his case with a 41 yard run on his first carry. Ronald Darby struggled as he was called for two pass interference penalties and was beaten on at least two other occassions. Other than that nobody really hurt themselves. More...

---
Latest Reports From Inside Bills Daily

Injury Page: August 29

2015 Front Office Page: August 22

Depth Chart: August 22

Follow us on twitter! Your quickest way to get breaking Bills!

Monday August 31
Bills release Fred Jackson and 11 others



Saturday August 29
Ryan says QB decision coming tomorrow but he will not announce it
All three quarterbacks play perfect football in win
Darby struggles in win over Steelers
Bills blow out Steelers 43-19 as QBs shine in win
Bills QB battle takes center stage today

Thursday August 27
Ryan names Manuel the starter for Saturday's preseason game
Brown, Harvin, Dixon all return to practice; Thompson hurts foot

Tuesday August 25
Training camp comes to an end
Which player needs to step up on each side of the ball this week?
Bills wrap up camp with morning practice today at St. Johns Fisher College

Monday August 24
Bills surpass 60,000 season tickets

Sunday August 23
Bills hold final night practice of training camp
Who has to perform in the pivotal third preseason game?
(8/25) AFC East Roundtable.
Which player helped themselves or hurt themselves the most?
(8/18) AFC East Roundtable.
Surprises and disappointments so far in training camp
(8/11) AFC East Roundtable.
Biggest Camp Battle For Each Team In The Division
(8/4) AFC East Roundtable.
One player we might not know about on both sides of the ball to watch
(7/28) AFC East Roundtable.