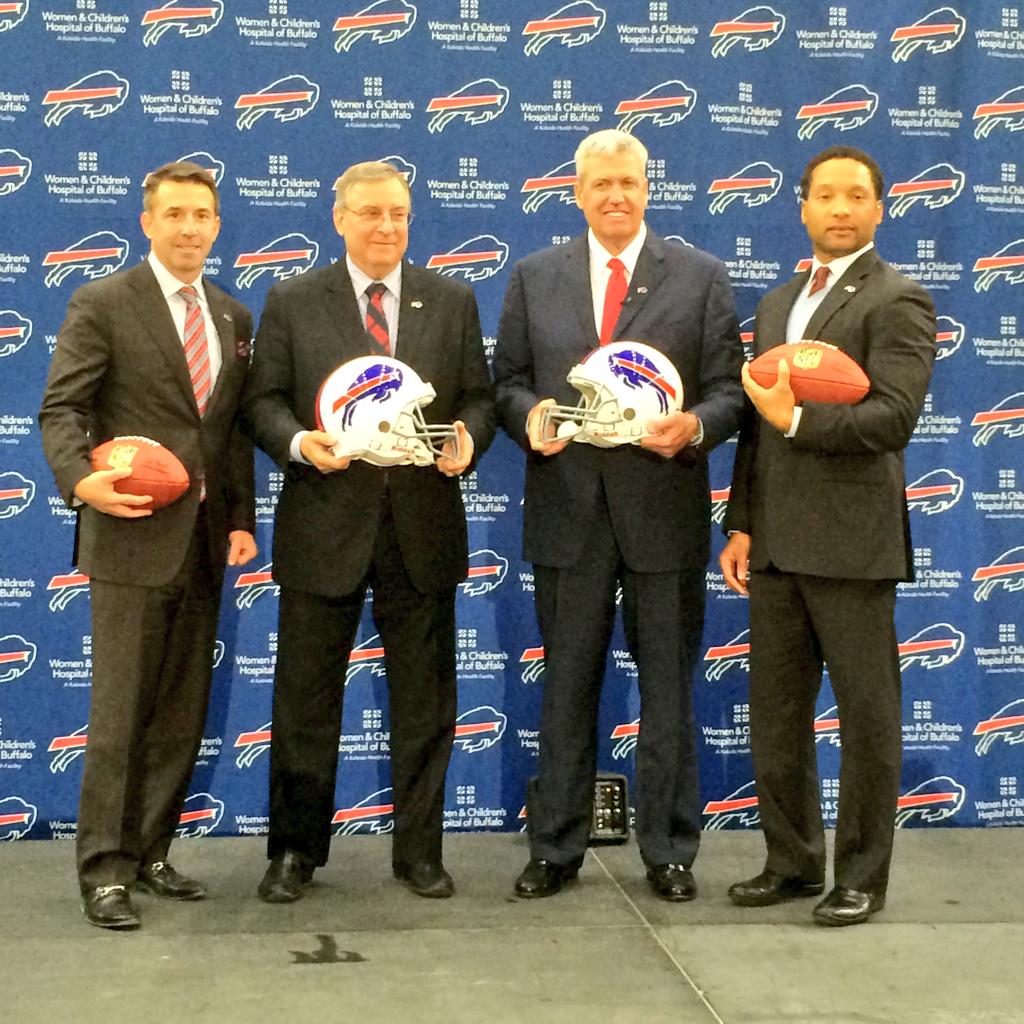 Rex Ryan spoke to the press for the second time during the offseason conditioning program and confirmed that Sammy Watkins will not be back practicing until training camp after undergoing offseason hip surgery but he should be ready to go then. He re-iterated he much rather have Sammy than the first round draft pick. Ryan stood by comments he made in reaction to Jace Amaro's comments saying the team didn't really play hard last year. He said Amaro is the least of his concerns. The coach doesn't think there are too many glaring holes on the football team and they are operating from a position of strength. He joked that Marcell Dareus is an average player since they are trying to sign him to an extension. Several players went to the podium including Mario Williams who said he's not worried about a contract restructuring or extension and he's excited to play in Rex Ryan's defense. He feels it won't change too much from the system they ran under Mike Pettine two years ago. Jerry Hughes said differently saying it is an entirely new scheme to learn. Both players are expected to stay at defensive end but may drop into coverage more in the base 3-4 defense. Fred Jackson hit the podium and said he was moved by the fans reaction to the possibility of him being cut in the offseason. He said he is in Buffalo until they force him to leave. He knows they want LeSean McCoy to be the bell cow but he won't make it easy for him to get the starting job. Sammy Watkins said EJ Manuel is his guy and you can see the difference in him this offseason. More...

---
Latest Reports From Inside Bills Daily

2015 Front Office Page: April 16

Draft Page 2015
Newly Launched!

Bills Free Agent List

Follow us on twitter! Your quickest way to get breaking Bills news!

Thursday April 16
Rex Ryan addresses the media for the second time in offseason program
Mario Williams, Jackson, Watkins among those who took the podium yesterday

Tuesday April 14
Bills host former player Brad Smith on a free agent visit to One Bills Drive
All four QBs to get a chance with the first team

Thursday April 9
Preseason schedule announced, Bills to play in primetime on August 20th

Tuesday April 7
Bills host Landry on free agent visit
Darues cops a plea on racing charges, gets 2 traffic tickets
Ryan ready to win and win now as the process begins

Monday April 6
10 players coming off of surgeries not fully cleared to workout
Hughes and Gilmore have good reasons for missing start of voluntary workouts
Time to get back to work as offseason program begins today

Saturday April 4
Watkins underwent hip surgery should be ready for start of training camp

Friday April 3
Bills announced dates of all offseason OTAs and minicamps
The Forgotten Fan
(3/25) My First World Problem with the NFL.
2014 Players of the Week
(1/9) Graham and Watkins won the award twice.
2014 Final Goats Tally
(1/8) Orton leads the way with five goats.
2014 Final Gameball Tally
(1/8) Hughes, Watkins lead the way with 5 gameballs.
2014 Was A Year To Build On
(1/7) Eventful year brings first winning season in a decade.
What Just Happened?
(1/2) Recent Moves Have Me Dazed and Confused.