"Just Give It To Them"
by Steve Saslow
November 30, 1998

---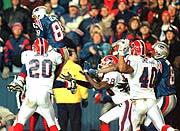 That is the quote that is ringing in the ears of the entire Buffalo Bills organization and their fans today. When Tony Simmons clearly came down out of bounds on 4th and 9 and possibly short of the first down maker, the bumbling idiots got together and said the magical quote: "just give it to them" when they couldn't decide if it was caught or not. As if one huge break wasn't enough the referees decided to call pass interference which is unheard of on a hail mary. Even if Henry Jones committed the penalty it did not effect Terry Glenn's shot at the ball.
Officiating in the NFL is at an all time low right now and everyone agrees the Bills got beat by the referees and not the Patriots. The morons in the striped shirts took what would've been a classic game with a triumphant homecoming for Doug Flutie into another controversial nightmare for the NFL on the heels of screwing up a coin toss on Thanksgiving Day.
As far as the game goes, the Bills dominated except for the second quarter when New England scored there only two touchdowns on merit. Flutie started a comeback from a 14-0 hole by hitting Kevin Williams on a bomb just before halftime to give the Bills a lift and their second field goal. The magic continued where he left off right after the intermission by hitting Eric Moulds for an 84 yard TD. Moulds made a gourgeous one handed grab before out running everybody into the end zone. Andre Reed showed off his hall of fame form with a great catch of his own on third down for the go ahead touchdown capping scores on five concescutive possessions. Flutie threw for an NFL career high 339 yards in his homecoming and added 30 yards on the ground.
It will be interesting to see how the Bills bounce back from this crushing heart wrenching loss. They can either go into the tank or come out like gang busters and rout the inferior Bengals next week. Wade Phillips has managed to get the club up all season after other heartbreaking losses, like the St. Louis and San Diego games, I expect him to do the same this week. A loss like this one however, will be much harder to swallow and get over then those other losses and it is detrimental to the Bills playoff hopes. Who would have thought the only people strong enough to beat Flutie Magic are the over the hill, out of shape, and incompetent officials.

---
Owner's Statement To League About Fine
NFL gamebook
Comments on this article
1998 Results
Back to Bills Daily Homepage