Bills Beat Themselves to End Season 24-17
by Steve Saslow
January 3, 1999

---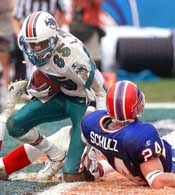 It would be easy to blame this loss on the officials. Andre Reed was in for the touchdown and you may even dispute that he bumped the official by accident and shouldn't of been flagged and thrown out. That would have given the team a chance at an easy field goad to send it into overtime.
It would be easy to blame this loss on the devastating amount of injuries on the defense. The Bills played without Thomas Smith, Phil Hansen, Marlo Perry, and lost Smith's backups Donovan Greer and Ray Jackson during the game as well as Sam Cowart. Even if the team did tie it up, if Miami wins the toss they win it in overtime because there was nobobdy left to defend them.
The bottom line is Miami also had injuries and while there were questionable penalties called on our defensive players there were a couple called on them also. The Bills have nobody to blame for the loss but themselves. Two Stats: 5 turnovers and 9 penalties cost the Bills the game. Think about it, the Bills lost only 6 fumbles and 20 turnovers all year and lost 4 fumbles in this game alone and 25% of the turnovers they lost all year! Give Miami some credit for taking the ball away but it was uncharacteristic of Flutie to fumble twice and throw the costly interception before halftime. Three of the Five turnovers ruined scoring chances that could've been the difference in the game and six of the nine penalties came on Miami scoring drives.
This loss was tough to take but when Bills fans look back on this season we will know it was much more successful than most of us thought it would be. As we look ahead to 1999 the Bills have a bright future with emerging starts like Eric Moulds and Sam Cowart and two solid Quarterbacks in Doug Flutie and Rob Johnson. So cheer up Bills Fans! training camp is 6 1/2 months away!
Eric Moulds broke an NFL Playoff Record with 240 yards receiving on 9 catches.
Thurman Thomas scored a touchdown in an NFL Record 9th straight playoff game and has scored 21 touchdowns in the post season which is one ahead of Emmitt Smith for the NFL Record.
Mark Pike played in his last game as a Buffalo Bill as he will announce his retirement today.
The Bills have now lost 16 of their last 17 games on grass.
It ironic that the playoff game came down to the last seconds. It was the fifth game of the year that came down to the final play or seconds. Unfortunately, for the Bills they lost four of the five.
---
NFL gamebook
Comments on this article
1998 Results
Back to Bills Daily Homepage