Battle For Third Receiver Spot Interesting
Four players strive for role.
by Steve Saslow
Tuesday May 30, 2000
---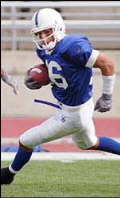 It is obvious that Eric Moulds and Peerless Price will be the starting wide receivers this year. The big question that we will take a look at in our fourth of our series on position battles, is who will be the third wide receiver on passing downs.
Like the running back position we need to find out what offensive formations the club will play. With the strength of the Tight End position the club may use more two TE sets instead of three wide receiver sets. In that case Bobby Collins will see more time than the third wide receiver. The Bills still plan on using the spread offense in certain situations that inevitably would include three wide receivers in the five receiver set. Although they can go with a running back, two tight ends, and two wide receivers in that set, they will want more speed than that combination brings.
Depending on how well the player that wins that spot plays, will determine how often the second tight end plays. The battle for the third spot comes down to four men. The leading contender is Jeremy McDaniel. He has the edge only because he was on the practice squad last year and knows the offense. He is a possession receiver, which is what the club will most likely be looking for from this spot since Moulds and Price can go long. McDaniel's main competition may come from undrafted free agent Kwame Cavil instead of the two receivers they actually drafted. Cavil would have been drafted but his speed at the combine and some off the field problems held him back. The Bills look at football players, not their scouting numbers. Cavil makes plays as a possession receiver which could put him in thick of the race for the coveted spot.
The two drafted players are fourth round pick Avion Black and seventh rounder Drew Haddad. These players are projected to make their immediate impacts on special teams. Black is a spectacular kick returner and will replace the departed Kevin Williams in that role. Haddad is a solid punt returner and could make the team in that capacity, although Black can also return punts. Black came out as a junior and may need time to develop his receiving skills before seeing ample time on offense. His drawback in this battle, is that he is a speedster and the club already has two in Moulds and Price. Haddad starred at UB when they had no other players, he is a possession receiver but doesn't seem to have the skills and talent of McDaniel or Cavil. He will have to work hard to win that position battle.
Like other position battles we have highlighted this one comes down to young talented players who are virtually unknown, so somebody can emerge in training camp and steal this job. I feel McDaniel will win that battle and get the nod but if he falters Cavil will be ready to come in. Black will see some action also in the spread formations when they want three burners on the field at once to take full advantage of Rob Johnson's arm strength. Haddad will either make the team as a punt returner or be on the practice squad. Corey Sullivan and Corey Jones are the other two rookie free agents vying for a spot on the team. This is a unique opportunity with a chance for all the rookies to make the team since the club comes to camp with only three receivers from last year's roster. Whoever works the hardest will make the team and have an unusual chance of playing time.
Other Articles In This Series:

Outside Linebackers Battle

RB Battle

FS Battle
---
Comments on this article
Articles Index
Back to Bills Daily Homepage