Training Camp Preview: Offense
The Offense Is In Good Shape For Camp.
by Steve Saslow
Wednesday July 19, 2000
---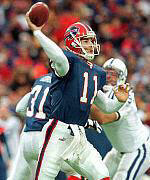 The offense doesn't have nearly as many question marks as the defense does. The salary cap purge did not leave this unit unscathed however, which will make this training camp more important than in the past. The main concern is with the depth at wide receiver, fullback, and the potential controversy at quarterback.
Wade Phillips made it clear before last year's playoff game that Rob Johnson is his guy at quarterback. What he has said in the offseason about using Doug Flutie in some situations is probably a smokescreen for other coaches and to keep Flutie's head in the game. The reality is, that Flutie will only get back on the field if Johnson gets hurt. Given his past history that is a real possibility, but Johnson showed some durability by coming off the turf numerous times in the playoff game to lead the offense to what should have been a game winning field goal. Johnson showed poise in that final drive that should give fans confidence heading in to the new season. His strong arm should spread things out a bit for the running game that makes this change the right move in our book. Flutie won't be given the chance to win the job in training camp but will be given ample snaps in practice and the preseason to prove that he still has an arm left. The real battle at this position in camp will be for the third string job between the returning Mike Cawley and rookie free agent Phil Stambaugh. Cawley has the edge since he has spent a training camp with the Bills and was impressive in his only preseason experience and in NFL Europe. Stambaugh has talent but no mobility.
There will be heated battle at running back. Antowain Smith is expected to be the feature back this year but people will watch him closely for any signs of the nagging injuries he had last year. Last year's leading rusher Jonathan Linton and last summer's camp star Shawn Bryson will be jockeying for depth chart positioning. Bryson is the wildcard here, the coaches and fans are waiting for him to take some hits to his knee to make sure he is completely healed from his torn ACL. If he can show the same skills he did before the injury he can battle Linton and Smith for playing time. Holdover Lennox Gordon also needs a strong camp to win the battle for a roster spot. Bryson and Linton's main battle may be to see who replaces Thurman Thomas as the third down back, both are good receivers.
The departure of Sam Gash also leaves a hole at fullback. The Bills are hoping to replace his devastating blocking with the flexibility of putting tight end Sheldon Jackson in the backfield. He will line up at fullback, H-back, and tight end giving defenses something extra to think about. The coaches will watch him carefully during camp to see if this experiment will work. If it doesn't the club can put fifth round pick Sammy Morris or Linton in the main blocking position. Free agents Josh Roth and Phillip Crosby are also in camp and are probably the only true fullbacks there. If either of them stands out, they can make the team or the practice squad. The club probably will only use this position on a limited basis like they have in the past, but they will miss Gash and Thomas for their leadership more than their play.
The starting wide receiver spots are set with Eric Moulds and Peerless Price. Moulds is playing for his big payday and will be helped by the QB change. Price showed in the playoff loss why he was a playmaker in college and the coaching staff is extremely optimistic about him filling the shoes of future hall of famer Andre Reed. The big offensive battle to watch in camp is for the third wideout spot. The man that has the slight lead in this battle is holdover Jeremy McDaniel. The club seems high on him, and he spent most of last season on the practice squad, so he knows the system. One player that expects to be watched closely is the star of mini camp, Kwame Cavil. These two will likely battle it out to the end of camp for the coveted spot. Other candidates are the two players drafted this season, Avion Black and Drew Haddad. Both players are expected to contribute more on special teams than on offense as rookies. Corey Sullivan, Scott Pingel, Kevin Drake and Todd Floyd round out the camp roster at the position. Since there will be either 5 or 6 receivers kept, they will have to battle hard for a roster spot. Pingel and Drake are intriguing because of their past success in college and NFL Europe respectively. Floyd was with the team last summer and Sullivan made some nice plays at mini camp.
It may not matter that much who wins the third wide receiver spot because the club may use a second tight end instead on many passing downs. This position may be the most talented on the club. Jay Riemersma returns with a new, hefty contract and expectations of continuing his growth in to an all-pro. His backup Bobby Collins should blossom in to a strong downfield threat this year and is probably a more talented receiver than any of the third wideout candidates. The club will also use three tightends at one time when Jackson is at H-back or fullback. He will also lineup on the line of scrimmage sometimes and show off his pass catching abilities. Since this unit is so talented it won't get a good look in camp. John Jennings and Ivan Gustafson are also in camp but don't have a chance to make this team.
The offensive line will also be very strong this year as Ruben Brown was brought back after Dusty Ziegler bolted for the Giants. Joe Panos will be back as starting right guard replacing Ziegler. The medical staff will be watching him closely to see if he really has made it all the way back from neck surgery that cost him to miss the 99 season. If he can't make it back the club has a very competent back up in Jamie Nails. John Fina and Robert Hicks return as the bookends for the line. Fina has a new longterm deal and Hicks will be playing for a new contract. There is a solid backup here also in Marcus Spriggs. He had good success when called on last year. The versatile Jerry Ostroski will again hold the center position. This leaves some openings for secondary backups that will have to be decided in training camp. The guard candidates include the perennial inactive Victor Allotey, who needs a good camp to show that he deserves playing time. Mike Tosaw and Corey Hulsey are also in camp. Hulsey was with the club last summer. Jon Carman is the only other true tackle on the roster after the top three and has an excellent chance of sticking if he has a good camp. The backup center is Bill Conaty.
The offense is going to need to improve on their stats as a whole this year to pick up the slack for a defense that has lost many more key players. Training camp will be the first step in making that happen.
Other Articles In This Series:

Training Camp Preview: Defense

Training Camp Preview: Special Teams
---
Comments on this article
Articles Index
Back to Bills Daily Homepage