Training Camp Preview: Special Teams
Unit Must Put Last Year's Nightmare Behind Them.
by Steve Saslow
Thursday July 20, 2000
---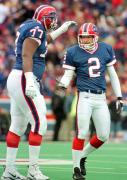 The one unit that didn't hold their own last season was the special teams. The debacle at the end of the playoff game in Tennessee underscored that changes were necessary. The club fired special teams coach Bruce DeHaven and replaced him with Ronnie Jones who has no experience in that area. With the huge roster turnover there will be many new faces on special teams as well, that makes this year's training camp even more critical.
At the skill positions we will probably see the same three players as last year. Steve Christie, Chris Mohr, and long snapper Ethan Albright. There is some interest in camp to see if Christie and Mohr will become salary cap casualties and lose their job to younger, cheaper candidates. Wade Phillips basically said recently in The Buffalo News that this most likely won't happen. The Bills brought in Dad Giancola as their first free agent signing in January to kickoff. He hinted he has a chance to unseat Christie as well. Based on Phillips' comments it appears his only way on to the team is as a kickoff specialist. Mohr may have a stronger battle from free agent Jason Van Dyke. The Bills gave him a larger signing bonus than usual for a undrafted free agent, fueling speculation that Mohr's days may be numbered. If Van Dyke punts very well in camp they may look closer at saving some money at that spot. Mohr's main value is his hangtime and his ability to kick in the wind of Western New York.
It appears that fourth round pick Avion Black was brought in specifically as a kickoff return man and that appears to be his job to lose in training camp. Seventh round pick Drew Haddad is the favorite for the punt return position. The club will also be looking at running back Lennox Gordon and fifth round pick Sammy Morris as possible kickoff return guys. Haddad's main competition will come from Black, defensive back Reggie Durden and starting wide receiver Peerless Price.
The coverage and return teams will be manned by a lot of younger players that aren't even assured of making the team as of now. There will likely be more veterans on the punt teams than the kickoff teams. Starters John Holecek, Sam Rogers and Antoine Winfield will still see some action on special teams.
Jones is putting in some new wrinkles to improve on the meager stats from last season, this will be interesting to watch at camp. Phillips has said he will take a more active roles in special teams also, so there may be more practice time at St. Johns Fisher for this unit than we are used to seeing in past camps.
Other Articles In This Series:

Training Camp Preview: Offense

Training Camp Preview: Defense
---
Comments on this article
Articles Index
Back to Bills Daily Homepage