Flutie Looks To Recapture Magic
Situation eerily similar to 1998.
by Steve Saslow
October 17, 2000

---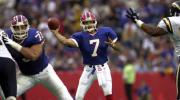 With Rob Johnson on the shelf for at least the next two or three games, Doug Flutie once again takes over the reins of a ballclub that is struggling offensively. This situation is very similar to what happened in 1998, but there are some differences. In 98, Johnson wasn't yet entrenched as the starter, he has been the unquestioned starter since the playoff loss last season. Johnson has also performed well despite the offensive woes. With that being said however, if Flutie wins three straight very tough games against Minnesota, New York, and New England, then the QB controversy will be right where it was in 98 and Flutie may hold on to the starting job.

From a season standpoint, that would be the right move if Flutie is winning. From the future standpoint, it will put this team behind in their development. This isn't a super bowl team, but it is a young team that can develop into that type of team. By the time they may be capable of making that big run, Flutie will probably be retired or too old to lead the team to the promised land. So if you look at the future it is imperative that Johnson is re-installed as the quarterback when healthy.

Before I get lambasted by all the Flutie followers out there, I do believe that Flutie has enough magic left in him to shake things up and get the offense moving while Johnson is on the shelf. Flutie loves running around and creating chaos with the football, while making big plays. The offensive line will give him plenty of chances to create that chaos. Johnson was definitely getting gun-shy taking hit after hit because of an inept line and the inability of the backs to block. Flutie will try to use the lack of blocking to his advantage and make some big plays.

The offensive will remain pretty much the same with Flutie at the controls. It is built for a scrambling QB and Flutie is the ultimate scrambling quarterback. There are differences however, Flutie will throw more interceptions because of his gambling play. He will also make the big plays with his legs, elusiveness, and yes, even his arm. The line will also look better on the stat sheet since there will be less sacks while Flutie is in there.

No matter what happens there will be plenty to talk about over the next few weeks and Flutie will definitely be fun to watch like he always is. I feel that he will add a dimension to the offense that is needed at the current time, hopefully Johnson will be able to rest the bumps, bruises, and tendinitis while his shoulder heals. The best scenario for Bills fans, is Flutie leads them to a few wins and then a healthier Johnson comes back and continues the better play that Flutie starts. It won't be easy though, this isn't 1998 and this young team has three very tough games that will require a good dose of Flutie magic to get victories.



---
Articles Index
Back to Bills Daily Homepage