| | | |
| --- | --- | --- |
| | Serving Bills Fans Since 1998 | Home |
---
Donahoe Addresses The State Of The Bills
New GM talks to media for first time.
by Steve Saslow
January 12, 2001

---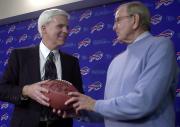 Owner Ralph Wilson made the trip to Buffalo for the event and introduced Tom Donahoe to the media today as the new general manager and president. The highlights of the conference was that Donahoe said he will interview Ted Cottrell for the open coaching position but would not give details on who else he might bring in. It did sound like he will give Cottrell serious consideration for the job. He also said he will sign players that want to be in Buffalo and that he was upset by some comments by Eric Moulds agent. It appeared like signing Moulds wasn't absolutely necessary for the success of the organization. He also said that there will be no drastic changes to the front office or scouting staff at this time and vice president of college scouting Dwight Adams is on board with the team. Donahoe seemed poised and had a sense of humor while seeming very much in control. Here are highlights from the press conference:


Wilson's Comments: He opened by saying, "today is a sunny day for Buffalo and the Bills". Wilson called Donahoe a "nuts and bolts guy". He said there are serious problems for Donahoe to tackle specifically the salary cap. He hinted that the signing bonuses may go down in the future because the Bills were 4th in signing bonuses in the league during the 90's. Wilson said half-jokingly he will look over Donahoe's shoulder as he introduced him.


Donahoe Addresses Media: Donahoe opened by thanking the owner for giving him a shot. He said he was impressed by Wilson's dedication to winning. Donahoe said he needs the staff more than they need him. He said he is proud to be part of this organization and hopes to bring them one step further than they have been before. He "readily accepts the challenge and looks forward to it." He went on to say that he isn't coming in with a hatchet to chop up the organization because it doesn't need to be. He told the staff nothing drastic will happen at this point and it "is business as usual." He made sure that Dwight Adams was on board when he met him in California during the East/West Shrine Game. He said there will not be major changes in the scouting staff but he will get involved and could make changes later on but it isn't wise to do that now. He said "you win as a staff and an organization and you lose as a staff and an organization."


Donahoe On The Coaches: Donahoe said the biggest priority is addressing the coaching situation. He wouldn't speculate on who would be a candidate but did say he will interview Ted Cottrell hopefully sometime early in the week. When asked about getting permission to talk to candidates he quipped, "I asked myself for permission to talk to Ted Cottrell, and I granted it." He calls the open position very attractive and it will generate lots of interest. He wants a master motivator, who is a disciplinarian, and someone that has a great attention to detail and he mentioned that the most important thing is to get the right man for the job not if he worked with him in the past. He will consult with Wilson before hiring a coach but he will make the decison. He will encourage a new coach to talk to the coaches that are in Buffalo but it will be up to the coach to hire his assistants. He thinks the league's history on hiring minority coaches is deplorable.


On the QB Situation: He said the QB situation is something they need to take a look at. He said the club is blessed by having two starting quarterbacks and he will try to keep both of them but the salary cap is an issue. He said Doug is a veteran who knows how to win and Johnson is a young, talented player he would love to develop.


On The Salary Cap: He stated when you have a good team like the Bills you are going to have cap problems but he doesn't want to make it an excuse for not winning. He said they need to handle the cap.


Donahoe On Free Agency: The upcoming free agents are under contract until the March 2nd start of free agency and he will start talks with them now. He said he wants players that want to be in Buffalo. On Moulds, he wasn't happy with a quote from his agent that basically said Moulds needs to be taken care of since he's the best receiver in the league. He emphasized team first and said the organization does not revolve around Moulds. He did go on to say he wants Moulds on the team next year. He doesn't thing the Bills will be a major player in free agency but he wants to concentrate on keeping their own free agents. There is a chance they will go after second tier free agents like he did in Pittsburgh with success.

Donahoe came across like his reputation suggested. He is a man that is a work-a-holic that has total control of the situation. What was refreshing is that he said there would be no excuses, in the past the front office whined about the salary cap. Donahoe also emphasized throughout the press conference that the team comes first. He sounds like he will be hard nosed and probably continue his approach that he had in Pittsburgh. That means free agents may go more readily but there is confidence that Donahoe will replace them through the draft and certain role players. The Bills did a great job in getting this man. The situation with the Bills is much brighter than it was last week.
---
Articles Index
Back to Bills Daily Homepage