| | | |
| --- | --- | --- |
| | Serving Bills Fans Since 1998 | Home |
---
Johnson Is The Man
Younger QB is the right choice for the job.
by Steve Saslow
February 28, 2001

---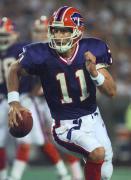 The new Bills regime made their most important agonizing decision of the off season today by deciding to keep Rob Johnson as the quarterback of the Bills. I feel that this was the right move to make for the future of the organization.

It wasn't a decision made lightly as the coaching staff and front office poured over every game film from the past three seasons and talked to over 60 coaches and experts about the two quarterbacks. It was definitely the toughest decision they had and every indication says that it went down to the wire before Johnson was given the nod as the quarterback.

Johnson is younger and has more upside potential while the magic man Doug Flutie knows how to win. His main drawbacks were his age and cap figure. Flutie's arm seemed to get tired towards the end of his last full season as a starter in 1999. The coaching staff must believe that the problems Johnson suffered, mainly holding on to the ball, was the product of bad coaching and that is tough to argue with. The Bills Brass is also probably convinced that all the injuries Johnson has had are freak injuries that won't happen with better coaching and a better offensive line. Johnson also did not get along with Joe Pendry and the decision to change all the offensive coaches has to help him. He also seems built for the west coast offense. Flutie's over publicized height issue may have been a factor during the three step drops of that offense.

One interesting point is that Donahoe wants players that want to be here and it appears on the surface Flutie wanted to be here more. It seems like Johnson made some contract changes to help the club get under the cap and is committed to being here as long as Flutie isn't, he will now get his wish.

This decision is not a popular decision as a vast majority of Bills fans were Flutie fans. There will need to be a period of healing this off season as all Bills fans need to get behind the quarterback. Johnson should immediately perform better without having to look over his shoulder. There is of course a risk in choosing Johnson and the magic and improvisation of Flutie along with his charisma will certainly be missed in Western New York. The bottom line is if Johnson reaches his potential with better coaching, we may be saying this was a no brainer decision. If Johnson continues to make the same mistakes he has made in the past it will paint a black mark on the records of the new Bills regime.
---
Articles Index
Back to Bills Daily Homepage