| | | |
| --- | --- | --- |
| | Serving Bills Fans Since 1998 | Home |
---
Williams Meets Buffalo Press
New Coach impressive in first meeting with media.
by Steve Saslow
February 2, 2001

---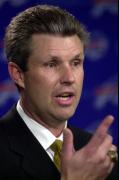 Tom Donahoe introduced Gregg Williams as the Bills new head coach calling him the best candidate he has ever interviewed and saying that he is the ultimate winner before turning the podium over to him. Donahoe started the ball rolling but it was obvious that the press was impressed by Gregg Williams.

Williams mixed humor and knowledge in speaking about the direction he will bring the Bills in. He talked about how he will work very closely with the media and is looking forward to getting to know the players and fans. He has already mentioned two coaches who will in all likelihood join his staff. Jerry Gray will be added as the defensive coordinator and Ronnie Vinklarek will join the offensive staff in some capacity. Other assistants that came up include Kevin Gilbride who appears to be the leading candidate for the offensive coordinator's position. It should be noted Gilbride worked with Rob Johnson in Jacksonville.

Staying on the offensive side of the ball, Williams said the club can win with either quarterback and Tom Donahoe later said that one will have to go because of cap restraints. That decision will be made by the whole organization Williams said as he continued to harp on the fact that the organization is a family and he said his coaches will have to coach. He expects the Bills to run a semi - west coast offense with a solid running game.

Defensively, Williams is expected to bring his quasi 4-6 defense to Buffalo in specialized situations but it won't be used all the time. He is very high on Gray who he feels will be a head coach someday.

Special teams wise, Williams has coached that position before and plans to be heavily involved in that unit. He also said that some established starters will play on special teams so the best players will be on the field.

Williams showed his humor when Ralph Wilson asked him if the homerun throwback was a forward pass. He quickly shot back as of today it was a lateral. Williams kept going back to that play saying they practiced it every week. That is the type of preparation we can expect under this aggressive, knowledgeable, and well organized head coach. It appears he will have the team ready to play every week and he has the personality to deal with the fickle Western New York media.

We have to trust that Tom Donahoe made the right choice and if first impressions matter, it seems like he has done just that. Now the two men will have to quickly fill out the coaching staff that may or may not include some current defensive assistants. After that they have to decide what quarterback should go by the end of the month as the Bills struggle to get under the cap. One thing is for sure, Williams said whoever shows up at training camp he will get them prepared to play.
---
Articles Index
Back to Bills Daily Homepage