| | | |
| --- | --- | --- |
| | Serving Bills Fans Since 1998 | Home |
---
Bills Beat Bengals 20-10
Many negatives in one sided win.
by Steve Saslow
August 25, 2001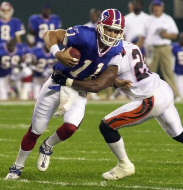 It was another sloppy performance against a club that isn't very good as the Bills defeated the Cincinnati Bengals 20-10 tonight to raise their preseason record to 2-1. By the third exhibition game things should start to jell especially since most starters including QB Rob Johnson played into the third quarter. Unfortunately the same errors continue to pop up as the Bills were called for 8 penalties in the first half alone. The offensive line were the guilty ones for many holding and illegal procedure calls. The red zone offense struggled and Johnson looked lost at times in the West Coast Offense as he was running for his life behind an inept and inexperienced offensive line.

There were some positives though as there would have to be to win the game like they did. The defense showed that they could be opportunistic forcing three turnovers and getting a safety when Eric Flowers recorded one of the team's six sacks in the end zone in the opening quarter. The defense played very well after giving up an opening field goal drive. Their only other blemish was a long run that setup the Bengals only touchdown. They forced to fourth down incompletions late in the game when the Bengals were trying to come back.

On offense after a slow start, Johnson finally found the end zone when he hit Jeremy McDaniel for a score. He did start the third quarter and drove the Bills to what should have been a field goal but Steve Christie missed for the third time in the game. This situation is getting a bit worrisome as Christie and his new long snapper and holder are definitely struggling on timing. The Bills second touchdown was in the fourth quarter when rookie RB Curtis Alexander opened some eyes with a nice 55 yard scamper that setup an Alex Van Pelt touchdown pass to rookie TE/HB Josh Whitman. Van Pelt then hit Dan O'Leary for the two point conversion.

There were positives and negatives from this win and there will be more things to continue to work on over the next two weeks. The club has to cut five players by Tuesday. Here's a list of players who helped and hurt themselves in this game:

Players Who Helped Themselves

Erik Flowers: He was involved on two sacks, one of them resulted in a safety and the other one forced a fumble that was recovered by Jay Foreman.

Aaron Schobel: Finally showed some promise with a sack.

Antoine Winfield: Two interceptions returning one for big yardage that setup a field goal.

Alex Van Pelt: Showed poise again in leading the Bills downfield on a few occasions and throwing a touchdown pass and a two point conversion. He was 6 of 11 for 42 yards and the score.

Curtis Alexander: He had a 55 yard run setting up a score. He won't make this team but others will take notice. He got 78 yards on 8 carries

Sammy Morris: He showed he won't give up on the starting spot easily, getting 52 yards on 10 carries.

Travis Henry: May have held off Morris with another solid effort gaining 35 yards on 7 carries.

Brain Moorman: Punted very well especially putting the ball inside the 10 twice. May have solidified his job as the punter.

Players Who Hurt Themselves

Rob Johnson: He struggled in his 2 plus quarters of action going 8 of 19 for only 81 yards and one nice touchdown pass to Jeremy McDaniel.

Steve Christie: Missed three field goals as he struggled with the timing of his new holder and new long snapper. Two were short ones, one was from 51 yards.

Offensive Line: Numerous holding and illegal procedure calls. Johnson and Van Pelt were under constant pressure as this line is in disarray.

Fred Jones: Got thrown out of the game, that won't help him.

Injuries

The good news is it seems the Bills got out of this game with no significant injuries. For the latest news on all of the Bills injuries all preseason and all season long check out our injury page.


---
Talk about this article on the Stadium Wall
Gameday Homepage
Articles Index
Back to Bills Daily Homepage