| | | |
| --- | --- | --- |
| | Serving Bills Fans Since 1998 | Home |
---
Bills Beat Eagles 6-3
Bills dominate but struggle with injuries, penalties.
by Steve Saslow
August 18, 2001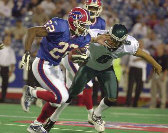 Alex Van Pelt came out throwing as he completed 17 of 25 passes in his one half of action for 173 yards as he mastered the west coast offense and solidified himself as the number two quarterback. He led the team on their only two scoring drives in the first half as the Bills held off the Eagles 6-3 at Ralph Wilson Stadium. The Bills dominated the game from the line of scrimmage having a huge advantage in total yards but the team struggled getting the ball into the end zone.

There were other downers in this game as two offensive linemen went down with injuries. Jerry Ostroski fractured his tibia and will miss a significant amount of time into the regular season giving the Bills a huge hole to fill on the right side of the line. Corey Hulsey came in and performed admirably in his place. Bill Conaty went down minutes later with what looked like a very serious injury. It turns out to be a separated shoulder and he says he shouldn't miss much practice time and he may even play next week.

Van Pelt moved the ball very well with short passes under some pressure throughout the half. His main targets were Eric Moulds, Jay Riemersma and Larry Centers as they all showed why they will be the favorite targets of Rob Johnson this season.

The offense bogged down in Eagles territory and that is despite some solid running by all of the Bills halfbacks today. Steve Christie hit two of four field goals missing from 51 and 45 yards.

The defense was solid as they got some good pressure on the Eagles quarterbacks and didn't give up any big plays. They also made some nice plays to thwart drives.

Here's a look at some of the players that made positive and negative statements in this game. Since the Bills dominated the game statistically there are more players who helped themselves, then hurt themselves.



Players Who Helped Themselves

Alex Van Pelt: Threw for 173 yards on 17 for 25. He showed he knows how to run the West Coast Offense as they moved the ball very well. The only downfall was the failure to get into the end zone.

Eric Moulds: The team's best player was in midseason form, catching 6 passes for 64 yards in his half of action.

Jay Riemersma: Showed he is past his hamstring injury, making some nice catches.

Travis Henry: Had 31 yards on 7 carries and a big reception. He will probably be the starter on opening day.

Shawn Bryson: He also had a big day with the first and second unit, running very well with authority as he led both teams with 51 yards rushing on 10 carries. He will be a nice change of pace for Henry.

Sammy Morris: He showed he is healthy again and in this battle. Played well, rushing for 35 yards and adding 28 yards receiving. He will most likely be the third down back.

Larry Centers: Showed a glimpse of what we will get out of him. Made some nice catches on third downs.

Bryce Fisher: Was around the quarterback on almost every big passing play. Had a sack and other pressures.

Nate Clements: Seemed to cover well and had a very nice punt return late in the game.

Players Who Hurt Themselves

Pete Gonzalez: The Bills may be in the market for a third string quarterback on the waiver wire as Gonzalez failed to perform for the second straight week. He did have one nice scramble and run but struggled otherwise including a terrible interception.

Corey Moore: Two late penalties, one of them, a facemask, almost cost the Bills the game. He may not make the team.

Gregg Williams: His discipline style is supposed to have the team playing smarter. 16 penalties are even too many for a preseason game.

Injuries

The Bills suffered their first serious injury of the preseason against the Eagles. For the latest news on all of the Bills injuries all training camp and all season long check out our injury page.

Jerry Ostroski: Fractured his tibia and will be lost for a long time possibly the whole season. His loss creates a huge hole on the right side of the offensive line as there is no experience at guard or tackle on the right shot.

Travis Henry: He suffered a twinge in his groin. He should be fine.

Bill Conaty: Dislocated his shoulder and then had it popped back in. He says he is fine and should return to practice in a couple of day.


---
Talk about this article on the Stadium Wall
Gameday Homepage
Articles Index
Back to Bills Daily Homepage