| | | |
| --- | --- | --- |
| | Serving Bills Fans Since 1998 | Home |
---
Bills Dismal In 20-0 Loss
Offense doesn't look ready for season.
by Steve Saslow
August 30, 2001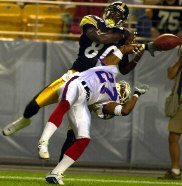 The Bills wanted to fine tune everything before they start the regular season but struggled mightily on offense for the fourth straight preseason game as they were shutout 20-0 in brand new Heinz field in Pittsburgh. The starting unit was in the game for the first quarter and they left trailing 6-0.

Rob Johnson struggled again as he doesn't seem comfortable in the West Coast Offense. In his two series of work Johnson threw one interception and had a three and out series. Defensively the starting unit also had two series and allowed two field goals. The Steelers opened up the game with a 74 yard drive to a chip shot field goal and scored again after the Johnson interception.

The defense was solid the rest of the way before allowing a touchdown late in the game. They were led by solid play from the defensive line which got some good pressure on the Steeler QBs led by rookie Aaron Schobel. The Steelers other score came in the form of a punt return as the Bills showed they still have some shades of last year's dismal special teams. One area that might be worse on special teams is the kicking game as Steve Christie missed two more field goals in the loss.

The Bills struggled offensively throughout the preseason and they don't seem ready for the season to start but they do have a full 10 days to prepare for the Saints. It is a game they have been preparing for all off season. Here's a list of players who helped and hurt themselves in this game:


Players Who Helped Themselves

Leif Larsen: Was involved in some nice early plays as he fights for a job.

Aaron Schobel: Had two sacks as he continues to improve every week.

Avion Black: Had a 24 yard punt return and another good return negated by a holding penalty.

Curtis Alexander: Had another big run, this one was 39 yards and setup a field goal attempt. He is doing everything he can to make the roster but it will be near impossible.

Players Who Hurt Themselves

Rob Johnson: He showed he may not be ready for the regular season as he threw an interception and was sacked twice, although one was negated by a penalty. He was 2 of 4 for 23 yards in his two series that took him into the second quarter.

1st Unit Defense: Let the Steelers march 74 yards on the opening drive to a chip shot field goal and gave up another field goal on their second and last series in the game after the Johnson INT.

Punt Coverage: Shades of last year, a 77 yard punt return for a TD. It came on a short punt by Brian Moorman. The Bills wanted a shot at Nick Harris but lost out to Cincinnati.

Steve Christie: Missed two field goals including a 22 yarder. He is now 4 for 11 in the preseason. Is it time to worry?

Travis Brown: He looked a bit out of his element and struggle moving the team. Of course the two guys ahead of him on depth chart couldn't move the team either. He threw an interception as he played the entire second half.

Injuries

The good news is it seems the Bills got out of this game with no major injuries. There were a few players shaken up:

Sammy Morris: Left the game with a slight twinge in his ankle.

Curtis Alexander: was shaken up midway through the fourth quarter and came out of the game but later returned.

Nate Clements: was also shaken up after returning a fourth quarter punt and came out of the game for observation.

Brian Leigeb: was shaken up late in the game.

For the latest news on all of the Bills injuries all season long check out our injury page.


---
Talk about this article on the Stadium Wall
Gameday Homepage
Articles Index
Back to Bills Daily Homepage