| | | |
| --- | --- | --- |
| | Serving Bills Fans Since 1998 | Home |
---
Fletcher Is A Big Time Signing
A scouting report on Fletcher from the view of a avid Rams fan
March 7, 2002

---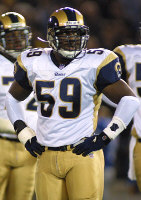 The Bills acted quickly in securing the services of middle linebacker London Fletcher after losing Sam Cowart to the Jets in free agency. Cowart is a blue chip player and Fletcher isn't as talented as Cowart but he brings a non stop motor. He should be able to fill a good portion of Cowart's shoes. We get a good inside scouting report on Fletcher from an avid Rams fan, here's what Chris has to say:

I wouldn't categorize Fletcher as 'undersized.' He IS short. I think he's listed at 5'11", but is probably closer to 5'8". (I saw him at a club in St. Louis and had to look down). He does weigh something like 245 so he is solid.

The guy FLIES to the ball. I mean he is REALLY quick. He led the team in tackles the last two years averaging around 190 each year, which is pretty amazing. Also a pretty hard hitter.

He's an emotional guy that can fire up his teammates, but can get you in trouble occasionally when he goes to far on the field. In one game this year the Rams D had held Miami on third down and forced them to punt when Fletcher got into a scrape with Deion Dyer that drew a 15 yarder and kept the drive alive.

Going into the off season I felt that Fletcher HAD to be the Rams #1 priority. I think the front office was afraid they couldn't afford him when it became clear he wanted to test the market. Calls to his agent before free agency began were not returned.

He is probably looking for a number that really doesn't quite fit his level of performance. Rams went for a value play and signed Duncan. That move plugs the hole adequately at a reasonable price and allows the team to do another couple of things personnel wise.

In summary, Fletcher is a great signing for the Bills picks him up, but not if it breaks the bank!
---
Talk about this article on the Stadium Wall message board
Comments to the author
Articles Index
Back to Bills Daily Homepage