| | | |
| --- | --- | --- |
| | Serving Bills Fans Since 1998 | Home |
---
Johnson Era In Buffalo Over
Now that this is behind them, what's next?
by Steve Saslow
February 28, 2002

---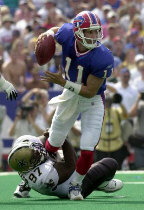 The Bills today released Rob Johnson putting in end to a volatile time in Bills history. Johnson leaves with the lowest interception percentage and highest completion percentage in club history. He also didn't finish nearly half his starts and was just 1-7 last year.

Johnson was never loved in Buffalo; he came to town with a cannon of in arm and all the tools to be a successful QB in the NFL. He cost the team two draft picks and was considered the future. He had some highlights, like driving the team to what should have been a winning field goal with one shoe on in the AFC Wildcard game in 1999. His dive for a winning score against Kansas City may have been his last golden moment in Buffalo. Other than that, there was much pain and heartache as he couldn't stay healthy and sometimes he couldn't stay on the field because of the magic of Doug Flutie. He never learned the knack of getting rid of the football and not taking unnecessary hits. He showed he is strong and tough, just not durable and to the fans he wasn't Flutie.

Despite always being number two in the hearts of the fans he had his chance last year to win everyone over and he survived only a half of season before getting hurt. His struggles with the West Coast Offense was magnified when Alex Van Pelt ran the offense better than him in the second half of the season. Van Pelt now was the fan favorite, the ultimate blue collar underdog that is loved in Buffalo. Despite all the fanfare Van Pelt only won one more game than Johnson last year and now will be without his beloved West Coast Offense under Gilbride.

So what is next for the Bills this off season? The Johnson era is over but the Quarterback situation is still very much in the air. The five year deal signed by Van Pelt a month ago has major incentives if he starts but it is basically a good contract for a backup. There is no question the Bills need to do one of two things. They need to use a high draft pick on a QB who can learn and be groomed by the intelligent Van Pelt or sign one of the experienced starter quality free agents available to challenge Alex. There is also a chance they can do both scenarios.

The cutting of Johnson and Ken Irvin gave the Bills a decent amount of salary cap room but most of that money will be eaten up by draft pick signing and a contract for Sam Cowart or his replacement. There is money for a creative contract for a Jim Miller, Jeff Blake, or Trent Dilfer. Miller most likely will stay with Chicago but if he can't get a deal done, he has a friend in Tom Donahoe. The club reportedly has interest in Blake once he is released.

Now the Bills need to decide how to spend the few extra dollars they have. They may go with the new wave and try to win without a premier quarterback, just build a team around him. Don't expect some big time signings, as the club is very weary of getting back in cap trouble just as they finish getting out of it. They will stay young and try to continue to build behind the younger veterans but a quarterback is needed. Van Pelt can be a caretaker during the next phase of the rebuilding process but he probably isn't the man for the long haul. Who the man should be is anybody's guess right now.

The good news is the team can put the messy Johnson era behind them and Johnson can also. He said it was a difficult time in Buffalo, some of it wasn't his fault, some of it was. He still has a tremendous amount of potential and will get a shot somewhere in the QB depleted league. Don't be surprised if he succeeds with a change of scenery just like Antowain Smith did this past season.
---
Talk about this article on the Stadium Wall message board
Comments to the author
Articles Index
Back to Bills Daily Homepage