| | | |
| --- | --- | --- |
| | Serving Bills Fans Since 1998 | Home |
---
Bills Add Depth & Versatility In Draft
McGahee pick was shocking but team filled holes as draft progressed.
by Steve Saslow
Sunday April 27, 2002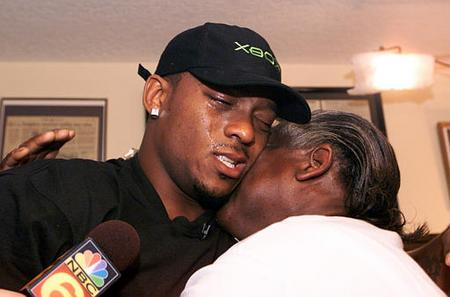 The Bills usually play it conservatively on draft day but Tom Donahoe has changed that over the past three drafts, and this year he certainly shocked the football world. The drafting of Willis McGahee not only shocked Bills fans but it shocked the football world. That was the beginning of a draft that allowed the Bills to take eight players, three on offense, five on defense. They added one pick by trading down in round three and filled needs in rounds 2-7 with the help of some versatile players late in the draft.

The first round pick of McGahee did not fill a need, it actually created a controversy as starting running back Travis Henry called the pick "a slap in the face" but vowed to rise to the competition. Chances are the Bills will place McGahee on the PUP list, which will keep him out the first 10 games of the year while he continues to rehab his restructured knee. If McGahee returns to pre-injury form, and that's a big if, he will be a hall of fame type of running back, and Henry will become very valuable trade bait. If he doesn't return to form, it will be a wasted pick. Donahoe may feel he could gamble with the 23rd overall selection in the draft since it was his shrewd move that gave them that pick by franchising Peerless Price.

It really turned into a free move when the player most people thought the Bills would take in the first round, was still there when they picked in their normal spot in round 2. With Jerome McDougle and Michael Haynes going back to back in the middle of the first round the Bills decided to wait before taking a defensive end. They still got their man when they drafted Chris Kelsay. He is a better prospect then last year's 2nd round end, Ryan Denney and should immediately challenge for playing time at the one position that doesn't have a locked starter at this time. Kelsay has first round talent and slipped because of a hamstring injury last year but he is a good run stopper with a variety of moves as a pass rusher. He will complement Aaron Schobel very well and it will only be a matter of time before he's a starter.

The team traded down 15 spots in round three with Green Bay and added an extra fourth round pick in the process giving them eight in the draft instead of seven. With that third rounder they took the first of two linebackers on the day. Virginia's Angelo Crowell is a versatile backer who can play both inside and outside and will have an immediate impact on special teams. His downfall is he's a tweener who doesn't have the speed to play outside but lacks the height to be inside. But he has a great motor and is a hard-nosed player. The team took care of their starting linebacker needs in free agency so the backers they drafted will add to the thin depth at the position.

Day two of the draft the team decided to go after versatile players that can fill more than one need, and players with upside potential that hasn't been tapped yet. Their first of two fourth round selections filled up to three needs. Terrance McGee projects as a cornerback in the pros but played free safety for Northwestern State last year. He's also an accomplished punt returner and can return kicks. He may challenge Bobby Shaw for the punt return duties. He's also an excellent special teams player as he has a knack for blocking kicks. McGee is considered a solid cover corner but he needs to refine his techniques, which can be done through coaching. He seems to be a value pick in the fourth round.

The Bills filled out their wide receiver depth with their second selection of the fourth round. North Carolina WR Sam Aiken is in the same mold as Josh Reed, which raises a question. Didn't the team need a speed wide receiver to stretch defenses? Aiken seems to be a talented receiver who catches the ball well in traffic but the club already has two of those receivers in Reed and Shaw. Aiken may make an immediate impact as a kick returner since that job is wide open. In his first two years with the Tarheels he did that very well averaging over 20 yards a return.

The Bills made another very interesting pick in the fifth round by adding Iowa guard Ben Sobieski who missed two full years with a shoulder injury. He played in all 13 games for the Hawkeyes last year but could not break the starting lineup of a very talented and cohesive unit. The Bills rate him higher than the people that started ahead of him and feel, if his injuries are behind him, they got a steal. He is another versatile athlete who has played tackle and guard but the Bills are expected to give him a look at center. If he performs well in his tryout in the middle that will help him make the team. He is likely the replacement for unrestricted free agent Bill Conaty.

The Bills waited to round 6 to address their need for more depth at defensive tackle. They took Lauvale Sape from Utah. He seems to have all the tools and is suppose to be a disruptive pass rusher. Unlike other draft picks however he's not a high motor, go getter. Scouting reports say he needs a push to get going. If the club gets his motor running he may be a surprise pick.

They closed out the draft by selecting their second linebacker, Mario Haggan is a middle linebacker who played in a rather unorthodox defense. The Bills got a steal here as many draft boards had him going much higher. He should have a huge impact on special teams as he's a good athlete that tackles well. The club feels he will push the rest of the competition at middle linebacker.

Of course, we can't forget the fact that Drew Bledsoe has to be mentioned when analyzing this draft. The Bills original first round pick went to New England in the Bledsoe deal. It was a very interesting draft to say the least. The team had a theme this year, they took many guys that are versatile, hard nosed, high motor, but with bad injury histories. If the doctors can keep these players healthy, and the coaching staff can find the right places in the puzzle for some of the lower round picks, then it will be a very solid draft. There are many ifs though, and that caused us to grade the draft down. If McGahee becomes another Thurman Thomas (who was drafted after a major knee injury) then it will be a huge coup for Donahoe. Even with all the ifs, I wouldn't bet against Tom Donahoe, everything he has done in over two years in Buffalo has worked.
---
Comments on this article
Draft Main Page
Articles Index
Back to Bills Daily Homepage