Bills Look For Versatility In Draft
Draft picks will do a lot of moving around in NFL.
by Steve Saslow
April 30, 2009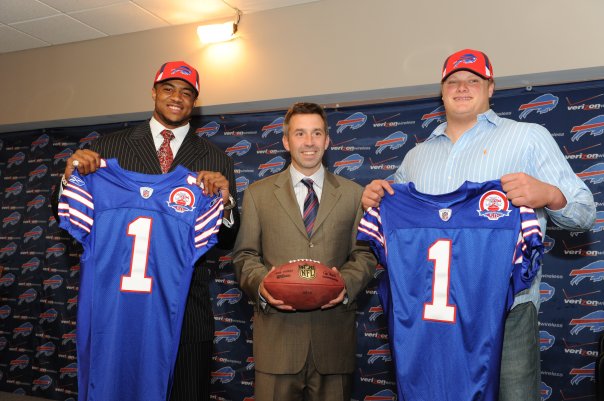 The Bills had a very good draft according to many draftniks and not so good draft according to some others. They decided to go for athletic, versatile players that were good athletes, intelligent, and had high character. The question is did they get good football players that are ready to play in the NFL. Out of the eight draft picks they had four players are expected to play different positions in the pros than they did in college. Two other players may move to new positions if they don't develop at their current positions.

The Bills had an obvious need at offensive tackle after trading Jason Peters to the Eagles. They did not fill that need instead they drafted two interior linemen on day one of the draft. They took Eric Wood with their second of two first round picks. He played center in college but they expect him to play guard in the pros. They traded back into the 2nd round (giving up their third and fourth round picks) to get Andy Levitre. He played tackle in college but projects as a guard in the NFL since he's not big enough to play outside at this level. Everyone agrees these two players are talented and should add important size to the middle of the offensive line which is imperative with the big nose tackles in the AFC East. If these two are plugged right into the starting lineup they may get some depth at tackle by moving Brad Butler outside. Either way the offensive line will not be a cohesive unit early as there will be a lot of moving around to find the best combination.

The Bills had four picks in the first two rounds and the two offensive linemen are the most likely to start. Their top pick was Penn State defensive end Aaron Maybin. He is very fast but he's also very small. He likely fits in as a situational pass rusher for the Bills in 2009. They hope he can add enough size to eventually become an every down player but that is suspect at best. You would like a better idea that a number 11 overall player will be able to contribute every down in the future.

The top second round pick was Jairus Byrd. He played corner in college but the Bills project him as a free safety and will give him an opportunity to win the starting job in training camp. That would mean Donte Whitner would remain at strong safety. He may have a bit of trouble with the transition to safety which would lead to Whitner moving back to free and Bryan Scott starting at strong safety.

The Bills had to wait a long time to start drafting on day two as they didn't have their third and fourth round picks. They did have the Eagles fourth rounder however from the Peters trade. This may be where they made their best pick of the draft. They were lucky to see Shawn Nelson fall to them. He's the pass catching tight end they have coveted for a long time in Buffalo. He likely will get playing time immediately in passing situations as the coaches work to teach him more about blocking skills and techniques.

They took another tweener in the 5th round as safety Nic Harris was taken. He projects to be an outside linebacker in the pros and the team will give him a chance to battle Keith Ellison for the starting job. The problem is the shortcomings that Ellison has so does Harris. They are similar in size and both have a safety background. Neither is a prototypical linebacker so this pick may be a crapshoot.

The Bills stayed with the defensive back theme with their final two picks as they took two players that played corner in college and they expect to keep them both there in the pros. 6th rounder Cary Harris may end up playing safety in the NFL but the Bills will try him first at the crowded cornerback position. The seventh round pick was Ellis Lankster, he has potential and the team hopes he can develop. He likely will start the season on the practice squad.

This was definitely a critical draft for the Bills and it was nice that they addressed the real need in the trenches the big question will be how these players handle the transition to the NFL. It will be much harder for Levitre, Wood, Harris, and Byrd since they will also be moving to new positions. That is hard for a team that needs to win now as these players likely will need time to develop. It sure sounds more like a rebuilding project instead of a win now attitude.

---
Bills Daily Draft Main Page
Bills Daily Draft Preview
Bills Seven Round Mock Draft
1st Round Mock Draft
Comments on this article
Articles Index