The Time Is Now To Take A QB
QB options make draft very intriguing for Buffalo.
by Steve Saslow
April 24, 2013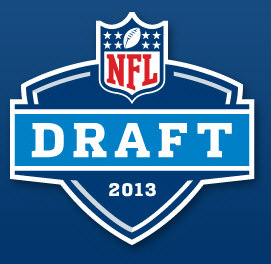 Will they take a quarterback with the eighth overall pick in the draft or won't they? That question is the reason why the Bills have perhaps the most intriguing draft of any NFL team. Just their luck they know they need a franchise quarterback in a year where they is no clear cut franchise player at the position. I strongly believe they need to take one anyway. How many years can you go with ignoring the most important position in the league?

The bottom line is they have been waiting and waiting on drafting a quarterback for years and haven't pulled the trigger. Maybe they have been gun shy in the past but Buddy Nix knows he can't wait any longer. That is why they have done their due diligence and then some. They have done thorough research on all the top quarterbacks. They saw them at the combine, they held private workouts with all of them, and they had all of them in for pre draft visits except Ryan Nassib who they know already. Nobody knows this class of quarterbacks better than the Bills and Nix says there are two or three franchise quarterbacks. Take one of them at eight and don't listen to the critics, just pick the right one. They will say it is a reach but if that quarterback turns in to a pro bowler who leads them to a few playoff appearances it won't be considered a reach for long. Forget where players are ranked when it comes to QBs. They always go higher than what the so called experts say. Nix said so himself at the end of last season. He said if you like a QB with a third round grade you need to take him in the second round. None of these quarterbacks are ranked in the top 10 but that doesn't matter, you can't win in this league without a solid QB so they will always go higher than their grade.

Their other options will be to trade down or up. They can take a player at another position at 8 and then try to trade back into the first round for their quarterback. They can't stay at number 41 and think they will get their man. Jacksonville, the Jets, Philadelphia, and Oakland are all teams that pick ahead of them in round two that may take a quarterback. If the Bills leap frog them they will lose draft picks that Nix covets so much. A more likely scenario is trading down and gaining picks. They can trade back to the middle of the round and get a quarterback and add draft picks which is something they would love to do since they only have six picks. There are two problems with this possibility, first they need a partner and second they have to worry about the Jets taking one with the 9th or 13th pick in the draft.

They definitely have other needs they can fill but is there a player at their positions of need worth taking with their top pick anyway? The top part of this draft is really good for defensive linemen and offensive tackle; those are two positions that the Bills are ok. They have helped their LB corps in free agency by signing Manny Lawson and hopefully they will also sign Karlos Dansby. They can use a corner, safety, or guard but none of those positions are worth taking at 8.

So assuming they do the right thing in my opinion and take a quarterback, who should they take? I think since they have gone with this whole Syracuse theme this offseason they might as well go all in and take Ryan Nassib. Doug Marrone and Nathaniel Hackett know what they have in Nassib and he obviously knows how to run their offense. He is very smart and seems to have the intangibles to succeed in this league. Now if Marrone and Hackett feel he has already reached his potential they may look elsewhere. The only other real choice is Matt Barkley who is also built for the west coast offense they are planning to run. He has loads of experience playing at a big time school in a pro style offense. I'm not too worried about the USC curse at quarterback even though I favor Nassib as the pick. Geno Smith may be gone but even if he's there he likely doesn't fit in with this scheme.

The Bills have two picks on Friday at this point and three more on Saturday as they have their own pick in each round except the 7th which went to Seattle in the Tarvaris Jackson trade. They will look to fill some rather large holes with the biggest being at wide receiver. They have real no experience or depth behind Stevie Johnson. I would like to see them possibly use two of the six picks on receivers especially since they can also use a tight end with Scott Chandler coming off a torn ACL. They need a big outside receiver so they can move Johnson inside so getting one on day two of the draft should be a high priority.

They should take a guard in the middle rounds that they can groom to be an eventual starter. Another pick should be used on a defensive back whether it is a corner or a safety. In Mike Pettine's scheme a safety can act as essentially another corner in the nickel or dime defenses. An outside linebacker is a position of needed depth as well.

With only six picks and the team in full rebuilding mode it is essential that they hit on most, if not all, their picks. The most important thing is to hit on the quarterback. The success or failure of that player will go a long way in deciding Nix's legacy and the success of the new Marrone/Brandon/Whaley regime.

---
1st Round Mock Draft
Bills Seven Round Mock Draft
Bills Daily Draft Main Page

Comment on twitter!
Email comments on this article
Articles Index