| | | |
| --- | --- | --- |
| | Serving Bills Fans Since 1998 | Home |
---
Defense Dominates To Beat Bears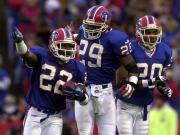 The defense put on a dominating performance today as the Bears only got close to the Bills end zone once. The offense struggled for a good portion of the game but settled on Johnson as the starting QB for next week. Here are the position by position breakdowns: Quarterback:

Doug Flutie led the Bills to two scoring drives, a first half field goal and a one yard touchdown run by himself in the third quarter. Rob Johnson closed out the first half with a field goal drive in his only possession. Flutie had one pass picked off after it was deflected. Grade C+: It will be a different feel with Johnson back next week.

Running Backs:

The running game struggled gaining only 80 yards on 28 carries. Sammy Morris did the job early and had 62 total yards, 30 on the ground and 32 through the air. Much of that offense came on the Bills first scoring drive. Morris left the game with a leg injury in the second half. That made Antowain Smith the unlikely feature back. He carried 13 times for 29 yards. He had a couple of nice runs but couldn't stuff it in on the goal line with three straight running attempts. Shawn Bryson carried five times and caught four screen passes that didn't do much. Grade C-: Still don't help in putting games away.

Receivers:

Eric Moulds is now tied for the club record of catches in consecutive games with 43. He outplayed his former teammate Thomas Smith. Moulds had 5 catches for 91 yards. Peerless Price continues to be a non-factor with just two catches. He also doesn't know how to breakup plays to stop interceptions. Jeremy McDaniel again only caught one pass but it was a big win on the first field goal drive. Jay Riemersma was also a non factor with just one short catch on that opening field goal drive. Grade C: Moulds should break another club receiving record next week.

Offensive Line:

Flutie was sacked only once again but actually took a couple of very big hits. The run blocking was good early but faltered late. Grade C-: Didn't do the job.

Defensive Line:

This unit played ok considering they were decimated by injuries. They were of course without Phil Hansen. Marcellus Wiley came out of the game twice with injuries and Ted Washington also left with a stinger and didn't play down the stretch. They were the first line of defense in allowing 87 yards on the ground to Allen. Grade C-: played poorly but understandable because of the injuries.

Linebackers:

This unit remains the best on the team as Sam Cowart led the way once again with 12 tackles and a sack. Keith Newman was active with 7 tackles and a fumble recovery/return/fumble. Sam Rogers forced the fumble and added five tackles and a sack. Grade A: Picked up the slack for injured front three.

Secondary:

The secondary brought there A game against a third string quarterback. When Miller left the Bears offense couldn't get anything going through the air. Keion Carpenter picked off two passes and should have had a third that would have been returned for a touchdown. Daryl Porter had an interception and a he returned Newman's fumble for a touchdown in his longest outing of the year. Chris Watson also saw action in the dime defense with Donovan Greer out with a foot injury. Grade A: Did a good job in a game that they had to succeed.

Special Teams:

Steve Christie showed he was human by missing a 39 yard field goal. He did hit a 27 yarder and a 42 yarder in the first half. The coverage and return units did a little better job today. Grade C: Mediocre effort is better then we have been getting.

Coaching:

The surprise switch to Johnson and back to Flutie was an interesting decision. To their credit the coaches told the players before hand that was going to happen. It also worked as Johnson sparked a sputtering offense to a field goal. Flutie returned fired up, and drove the team to a touchdown. The nickel package continues to work. They may have went to the Cowart blitz one time too many as the Bears had a big third down completion on one blitz setting up their only score. Grade B: Surprising moves worked. Announcing his QB on Sunday night should end controversy.




Game Analysis and Review

NFL.com Gamebook - Complete stats including play by play (requires Acrobat Reader)


Bears Game Preview
---
2000 Gameday Section
2001 Gameday Section
Back to Bills Daily main page
2000 Articles Index