| | | |
| --- | --- | --- |
| | Serving Bills Fans Since 1998 | Home |
---
Solid Effort Brings 27-18 Victory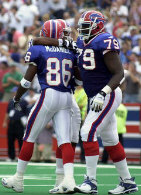 Rob Johnson threw three touchdown passes as the offense was clicking on half their cylinders. The defense picked up where they left off last week and were a big part of the victory as well. Here are the position by position breakdowns and grades: Quarterback:

Rob Johnson got the Bills Daily player of the game. He threw for 259 yards on 18 of 26 and led the team in rushing. He did this while being under constant pressure. He found his wide receivers and tight ends much more than he did last week as they all made contributions. Grade A: His first interception in 123 attempts was his only blemish.

Running Backs:

This unit is in deep trouble. Antowain Smith and Shawn Bryson each ran the ball 12 times with little success. Sammy Morris ran the ball a couple of times from the fullback position. Jonathan Linton did not see any time in the backfield but returned a kick for special teams. Grade F: They need to find a running game and fast.

Receivers:

This unit had a coming out party against Green Bay. Eric Moulds was fired up after the controversy surrounding him this week. He made some great catches and had a 100 yard game. Peerless Price made a big catch on third down. Jeremy McDaniel made a nice reception downfield and had his first touchdown. Jay Riemersma was relieved of his blocking duties for the most part and had a big game catching four balls, two for scores. Grade A: Maybe Moulds should be the subject of controversy every week.

Offensive Line:

Another awful game for this unit. They didn't have an answer for the numerous secondary blitzes Green Bay threw at them. Johnson ran for his life most of the game and was sacked five times. They opened up no holes for the running game. Grade F: Changes need to happen here.

Defensive Line:

Ted Washington was very active in the middle as he made some nice plays plugging the holes and getting a sack. Phil Hansen also had a sack and returned a fumble that setup a field goal. Marcellus Wiley had a good game forcing a fumble, recording a sack and getting some pressures. Grade A: more conventional line than last week but equally as effective.

Linebackers:

Sam Cowart led the team in tackles as usual. John Holecek saved a touchdown by batting down a pass in coverage. Sam Rogers and Keith Newman played well but nothing spectacular. Grade B: Did the job.

Secondary:

The secondary struggled at times. Keion Carpenter was a step late on many passes over the middle. Ken Irvin was picked on a lot and had a pass interference penalty but made one nice hit to breakup a pass. Antoine Winfield shoutout Antonio Freeman in the first half. Grade C+: Struggled a bit but didn't make any costly mistakes.

Special Teams:

Steve Christie has been a rock so far. He was 2 for 2 on field goals today. The return game had a 37 yard return by Chris Watson that helped setup a touchdown. The coverage team had an offsides penalty and a delay of game penalty as well as giving up one long return. They did force a fumble that setup a field goal. Grade C+: some good things but still some major concerns.

Coaching:

Coach Phillips had the Bills ready to play avoiding the classic letdown. The game plan was to throw since there is no confidence in the running game. Grade B+: 2-0 start the best since 1996.





Game Analysis and Review

NFL.com Gamebook - Complete stats including play by play (requires Acrobat Reader)


Green Bay Game Preview
---
2000 Gameday Section
2001 Gameday Section
Back to Bills Daily main page
2000 Articles Index