| | | |
| --- | --- | --- |
| | Serving Bills Fans Since 1998 | Home |
---
Missed Opportunites Hurt Bills In Loss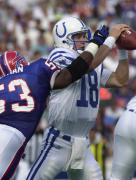 The Bills did everything they wanted to do, they executed their gameplan to perfection but didn't win the game. That will mean a rarity, the grades are fairly high despite the loss. Here are the position by position breakdowns and grades: Quarterback:

Rob Johnson moved the ball pretty well again today. His problem was he couldn't put it in the end zone. He threw a third down incompletion instead of running for the first down in the red zone. He was sacked and fumbled on another drive that took them out of field goal range. He did show poise on the final touchdown drive. Grade C+: Couldn't put it in the end zone.

Running Backs:

The backs finally showed up! Jonathan Linton started, but was the third running back to carry the ball. He did end up with 58 yards on 13 carries for a "whopping" 4.5 yards per carry. Shawn Bryson added a respectable 43 yards on 11 carries and fullback Sammy Morris chipped in nicely with 28 yards on four carries. Morris also was a force in the passing game, catching 4 passes for another 44 yards. Grade A: Morris is becoming a big part of this offense.

Receivers:

Eric Moulds was Bills Daily's Player Of The Week. He caught 9 passes for 112 yards and the big touchdown. He did drop three passes however, including two on the second to last drive. Peerless Price again only caught one pass and came close on two others but couldn't stay in bounds. Jeremy McDaniel is now the number two receiver. He had two great runs after catches, one setup a field goal and the second was on the final drive and setup the touchdown pass. Jay Riemersma was severely missed in the red zone as his backup Bobby Collins caught just one pass for 5 yards. Grade B+: McDaniel has become the big play threat that Price was suppose to be.

Offensive Line:

It was a so-so day for this line. They finally asserted themselves as run blockers as the Bills rushed for a season high 170 yards. Unfortunately, Johnson was sacked four times and pressured out of the pocket on many other passes. Grade C+: Found the run blocking but lost the pass protection.

Defensive Line:

This unit didn't put as much pressure as they wanted to on Manning. They did get a good push up the middle which helped hold James to 3.2 yards per carry. Grade B-: Held their own on the line of scrimmage.

Linebackers:

The unit did the job against James against the run and only allowed him to catch four passes. Unfortunately his best run and catch was on the final field goal drive. Sam Cowart tied with Keith Newman with seven tackles. Newman was all over the field and had a great day including the team's only sack. John Holecek was flagged for taking off his helmet after the two point conversion. Grade B+: Did a decent job against the number one offense in the conference.

Secondary:

Antoine Winfield had an interception but was caught out of position on Marvin Harrison's touchdown reception. Ken Irvin got burned on the Harrison score and on the Terence Wilkins touchdown. Henry Jones struggled in big spots against the tight ends. Grade C: With all that said, it could have been worse against the explosive offense.

Special Teams:

Steve Christie was three for three kicking field goals and was kicking off high and short on purpose. The kick and punt coverage units had fantastic days. Chris Watson bobbled one punt return, but averaged 11.5 yards on punt returns and almost 20 yards on kickoff returns. Grade A: A huge improvement, lets see if they can build off of this game.

Coaching:

Coach Phillips will be criticized for wasting a timeout on the two point conversion challenge but those two points were the final difference in the game. It was a questionable call going for it on 4th and 6 when they could have tried a 46 yard field goal. A delay of game penalty forced a punt. The gameplan was sound and was executed properly but it isn't the coaches fault they couldn't put it in the end zone. Grade B-: Had the team ready but it just wasn't their day.





Game Analysis and Review

NFL.com Gamebook - Complete stats including play by play (requires Acrobat Reader)


Colts Game Preview
---
2000 Gameday Section
2001 Gameday Section
Back to Bills Daily main page
2000 Articles Index