| | | |
| --- | --- | --- |
| | Serving Bills Fans Since 1998 | Home |
---
Bills Suffer Complete Breakdown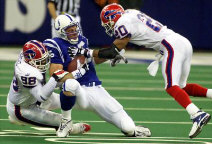 The young outmanned Defense put on a spirited display holding the Colts vaunted passing game in check and holding down the running game until the Offense and special teams helped turn this game into a blowout for the Colts. Here are the position by position breakdowns: Quarterback:

Rob Johnson had another awful game. He had 188 yards passing but threw two interceptions and fumbled, two of those miscues were returned for scores. He isn't getting any better in reading defenses. Doug Flutie came in the game in garbage time but drove the Bills to a score as he threw a touchdown pass. Grade D: Johnson's development is going in reverse.

Running Backs:

Shawn Bryson started and was a busy man. He had 120 total yards as he was used as an outlet receiver on many occasions and had a few good blocks on blitzes although he was called for a chop block. Sammy Morris returned but was used sparingly. Grade C: Wasn't used effectively in the gameplan.

Receivers:

Eric Moulds continues his slump as he now only has four catches in two games. Peerless Price had his best game of the year with 93 yards on 4 catches. Jeremy McDaniel had his usual two catches. Jay Riemersma dropped another pass and had no catches. He did make one good grab that was called back due to offsetting penalties. Grade D: Besides Price this unit disappeared again.

Offensive Line:

Let's see... A NFL season high nine sacks given up and a 2.6 yards per carry from your running backs. They missed John Fina desperately. Robert Hicks had a bad day in his return to the starting lineup. He was actually benched for a spell for Jon Carman who promptly was called for holding. Grade F-: Priority number one in the draft.

Defensive Line:

Marcellus Wiley put some pressure early but had no sacks. Shawn Price was called for two neutral zone infractions. The line did a decent job on getting pressure and holding down James in the first half but were beaten after the Colts built their lead. Grade B-: Played well early, struggled late when the outcome was decided.

Linebackers:

Corey Moore had a sack is showing some promise. Kenyatta Wright got the surprise start for Jay Foreman. Grade B-: Very active and played well when the game was in contention.

Secondary:

This unit graded out very well holding down the vaunted passing attack of the Colts. Ken Irvin had two big penalties but really held down Marvin Harrison most of the game. He knocked a touchdown pass away from him when the game was on the line. Chris Watson had a solid game, with a few big hits on defense and a nice kickoff return. Travares Tillman made a few nice tackles and wasn't caught out of position too much. Grade B: Solid effort from young corps.

Special Teams:

Another pitiful performance. They allowed a few nice returns. Chris Mohr had a punt blocked when he double clutched on kicking it. An extra point was missed when Ethan Albright had a bad snap. Steve Christie went over 1,000 points for his Bills career with two field goals. Grade D-: Coach Ronnie Jones is gone in the off season.

Coaching:

Johnson ripped the gameplan and there were many questionable play calls. The offense has become too conservative. The team wasn't prepared and they have already begun there off-seasons. Grade F: Two awful games in a row leaves plenty of blame on this group.





Game Analysis and Review

NFL.com Gamebook - Complete stats including play by play (requires Acrobat Reader)


Colts Game Preview
---
2000 Gameday Section
2001 Gameday Section
Back to Bills Daily main page
2000 Articles Index