| | | |
| --- | --- | --- |
| | Serving Bills Fans Since 1998 | Home |
---
Bills Play Well Enough To Win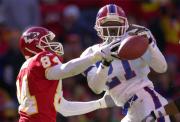 The Bills struggled at times in this game and made some mistakes but did enough to pull off a huge win in Kansas City. The ups and downs are reflected in our gameday grades. Here are the position by position breakdowns: Quarterback:

Rob Johnson struggled in the second and third quarters but he was on his game early and late. He got things going with a nice 20 yard run on the opening touchdown drive. His 12 yard run to win the game was a thing of beauty. He led the team in rushing. Grade B+: Three offensive touchdowns matches output of last three games.

Running Backs:

Without the injured Sammy Morris this unit was nothing. Shawn Bryson had an 11 yard run early but only 1 yard the rest of the game. Antowain Smith continued his horrible season with just 21 yards on 12 carries. Grade F: The Bills are in trouble when the weather gets really bad.

Receivers:

Lost in Eric Moulds' milestone day was the big catches he made on the final scoring drive converting two third downs. Peerless Price was more active with four catches. Jeremy McDaniel continues his knack for the big catch. His three catches were all on scoring drives in the second half. Jay Riemersma is getting healthy he had four catches and great concentration on the score. He should have had another touchdown when he got wide open downfield but a penalty negated it. Grade B: Made big catches when they needed to.

Offensive Line:

Johnson returns and so does the beatings. He was hit hard many times. The line was playing makeshift as both John Fina and Joe Panos were out with injuries. Marcus Spriggs was called for the penalty that negated Riemersma's touchdown. Johnson was sacked three times and there was no room to run after the opening drive. They did give him more time to throw down the stretch. Grade C-: Injuries hurt cohesion but they came together in the end.

Defensive Line:

It was an up and down day for this unit. Marcellus Wiley had two sacks but struggled against the run. The line was mostly responsible for giving up 88 yards on 12 carries to Kimble Anders and Tony Richardson. They did help get a lot of pressure on Grbac leading to the five team sacks. Grade B-: Some ups and some downs.

Linebackers:

Sam Cowart led the way once again with 12 tackles. Keith Newman was active getting a sack and six tackles. The star of the unit was Sam Rogers who for the second game in a row had a sack that forced a fumble. He had two sacks in the game and as at least one four games in a row. The linebackers did struggle in pass coverage. Grade B: Got the pressure but pass coverage was a problem.

Secondary:

The secondary was banged up for this game and Elvis Grbac lit them up like a Christmas tree in the second half. Henry Jones was beat on many occasions by Tony Gonzalez but did tip a ball away from him in the final minutes. Antoine Winfield missed most of the game with a shoulder injury and Donovan Greer did not play. Chris Watson found the Chiefs harder then the Bears. Keion Carpenter had the game saving interception. Grade D: Gave up first 300 yard passing game in over two years.

Special Teams:

Two big plays by the special teams. A fake punt worked to perfection when Chris Mohr hit Daryl Porter for 44 yards. A blocked field goal by Pat Williams was the other big play. Another mediocre day for the coverage and return units. Mohr had two punts go off the side of his foot. Grade B: Finally some big plays.

Coaching:

The fake punt was a very gutsy call. If it doesn't work it would be devastating to the fragile momentum of the game. Phillips had the team ready to play once again. Grade A: Made the right calls.





Game Analysis and Review

NFL.com Gamebook - Complete stats including play by play (requires Acrobat Reader)


Chiefs Game Preview
---
2000 Gameday Section
2001 Gameday Section
Back to Bills Daily main page
2000 Articles Index