| | | |
| --- | --- | --- |
| | Serving Bills Fans Since 1998 | Home |
---
Dolphins dominate All Units In Win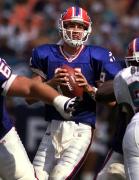 Through three quarters almost every unit got an F. A desperate comeback in the fourth quarter that fell short will only raise the final position by position grades slightly: Quarterback:

Rob Johnson had the worst game of his career. He overthrew four deep passes when he had receivers open for big gains. He also struggled reading the defenses as he didn't seem to know when the Blitz was coming and he was blindsided on a few occasions. He did get off the turf a number of times, and rallied the team in the fourth quarter with a few good runs and a few nice passes. Doug Flutie replaced Johnson late in the game when Johnson was injured. Flutie drove the Bills downfield but was picked off after it bounced out of the hands of his receiver. Grade D: Late rally saves failing grade.

Running Backs:

The rest of the running backs learned what Antowain Smith already knew. You can't run the ball if there are no holes. The backs ran for just 32 yards on 17 combined carries. Shawn Bryson did not run well at all but did show his speed on a 32 yard screen pass that setup a field goal. Linton struggled including getting stopped for a safety, although there was no blocking. Morris had the Bills first rushing score of the season but fumbled twice, the second one being the back breaker. Grade F: Johnson led the team in rushing again!

Receivers:

The receivers seem to win the battles with the good Miami corners. They were open on numerous occasions deep but Johnson struggle getting the ball to them. Eric Moulds had a 32 yard reception in the first quarter. Peerless Price caught just two balls but one was for 41 yards and setup the touchdown. Jeremy McDaniel caught three passes. Bobby Collins caught just one pass but it was a big one setting up the touchdown. He also almost came up with another pick catch on the Bills first possession but it was overthrown. Grade B: Did their job, Johnson didn't do his.

Offensive Line:

This line is now one of the worst in the NFL. They didn't open up any holes for the running game, they gave Johnson no time to throw as he was sacked 7 times, hurried 11 others, and there were numerous pressures. Many times people came in untouched as the line schemes didn't work. Grade F: Just awful.

Defensive Line:

Especially in the first half this line was pushed around by the Colts offensive line. They had good success running right up the middle on the Bills. The line tightened up in the second half but didn't get much pressure on Fielder. On the bright side, Erik Flowers seems to be more involved. Grade D: This unit is in a slump.

Linebackers:

Sam Cowart was again all over the field as he was in on 17 tackles but he seemed to be caught out of position on a number of occasions. Sam Rogers had a quiet game. Keith Newman was our player of the game with a big early sack and a pass defensed, he was all over the place. Grade C-: Also had a better second half than first half.

Secondary:

The defensive backs made Jay Fielder look like Peyton Manning. He constantly found receivers open downfield. Antoine Winfield had his worst game of his short career. He was beaten on two successive plays for a touchdown and dropped a sure interception. Ken Irvin picked off a pass but was caught for pass interference and beaten a few times. Grade D: Struggled against a weak group of receivers.

Special Teams:

Steve Christie was 2 for 2 kicking field goals. The coverage unit and returns team were mediocore at best. Grade C+: Christie may be having his best season as a Bill.

Coaching:

The team wasn't ready to play. They had no answer for the Miami defense until the fourth quarter. The gameplan to go deep alot would have worked however, if Johnson was more on target. Questionable call kicking the field goal when they were down by 12 in the fourth quarter, many thought they needed a touchdown there. Phillips probably didn't have any confidence in them getting it from the 5 though. Grade D: Team wasn't ready for must win game.





Game Analysis and Review

NFL.com Gamebook - Complete stats including play by play (requires Acrobat Reader)


Dolphins Game Preview
---
2000 Gameday Section
2001 Gameday Section
Back to Bills Daily main page
2000 Articles Index