| | | |
| --- | --- | --- |
| | Serving Bills Fans Since 1998 | Home |
---
Bills Suffer Complete Breakdown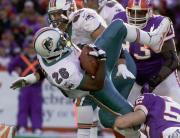 The Bills were expected to give Miami a good game at home despite all the injuries. Instead, Miami dominated on both sides of the ball as most units played very poorly. Here are the position by position breakdowns: Quarterback:

Rob Johnson had the worst game of his career. He completed just 1/3 of his passes for a paltry 44 yards. Doug Flutie came in the game late in the third quarter and threw an interception and had little success of his own completing just 2 of 9 passes. Grade F: 36 total passing yards is pathetic.

Running Backs:

Shawn Bryson had a team season high 88 yards on 12 carries and was our player of the game. Antowain Smith averaged a healthy 3.9 yards on his 10 carries and had the only score. Grade B+: For once they get the highest grade.

Receivers:

Eric Moulds was shutdown most of the day as he had only two catches, one set up the lone touchdown. Peerless Price caught only one pass. Jeremy McDaniel had two catches and a key drop on the Bills first possession. Jay Riemersma dropped three passes and had his worst game as a starter. Grade F: Non-existent.

Offensive Line:

They did a decent job opening up holes for the running game but were horrible in pass protection when the Dolphins were teeing off on the pass. Jason Taylor burned John Fina for three sacks. Grade D+: running gains offset by pass protection breakdowns.

Defensive Line:

Marcellus Wiley had two sacks for the third straight game. Shawn Price deflected a pass. Phil Hansen returned but wasn't a factor. Miami ran well early through big holes in the defensive line. Grade C: Gave up big plays on the ground when the game still mattered.

Linebackers:

This unit fell victim to many misdirections and screen passes. They missed many tackles. They ran right at Corey Moore very successfully early. Moore did recover a fumble. Grade D: Injuries took their toll on this unit.

Secondary:

They took turns getting burned by Miami receivers. Ken Irvin was burned on a few deep patterns. Travares Tillman held out fairly well in his first start but did get beat for a score. Grade D: Did their share in the rout.

Special Teams:

Avion Black was back returning kicks and Peerless Price was returning punts with little success. Steve Christie missed a 47 yard field goal short, he has now missed kicks in three straight games. Grade D: New personnel, same old results.

Coaching:

Coach Phillips thought he had his team ready to play. They weren't, they came out very flat and he needs to take the heat for that. They had no answers to Miami's fast start. Grade F: Such little effort in such a big game.





Game Analysis and Review

NFL.com Gamebook - Complete stats including play by play (requires Acrobat Reader)


Dolphins Game Preview
---
2000 Gameday Section
2001 Gameday Section
Back to Bills Daily main page
2000 Articles Index