| | | |
| --- | --- | --- |
| | Serving Bills Fans Since 1998 | Home |
---
Bills Pull It Out In OT 16-13
Christie is the hero again with two late kicks.
by Steve Saslow
Nov. 5, 2000
---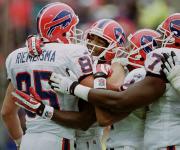 Steve Christie did it again. Just when it looked like the Bills were done, Mr. clutch struck again. Christie hit a 48 yard field goal with :04 left in regulation time and followed that with a 32 yard game winner in overtime giving the Bills a wild 16-13 win. The tying field goal should have been easier but the Bills were penalized 15 yards in the final 13 seconds thanks to two penalties. It didn't matter as he calmly hit the kick in windy, rainy conditions to send the game to the extra session. With the game winner Christie is now 6 for 6 in the final minute of regulation and overtime as he has ended four of the Bills five wins with clutch kicks.

The final minute heroics was setup when Adam Vinatieri gave the Patriots their first lead of the game with a 43 yard field goal with 2:03 left in the game. The field goal erased a 10-3 fourth quarter deficit and gave the Patriots the short-lived 13-10 lead. Doug Flutie then shook off his second half funk where he couldn't move the team at all. He drove the Bills down the field led by a 24 yard completion to Jeremy McDaniel and his 11 yard scramble on 3rd and 10. The Bills moved it to the Patriots 16 with :13 left in regulation. They were called for an unthinkable delay of game call as the field goal unit came on, pushing the ball back five yards. The Bills then decided to take one more shot at the end zone and completed a pass to the goal line but the ghost of pass interference pasts struck again at Foxboro. Peerless Price was called for offensive pass interference moving the ball back to the 31 setting up the long kick for the tie. The Bills were lucky that Christie bailed out the weak offense and the confusion on the sidelines with a beautiful line drive kick that sneaked over the crossbar.

In the overtime the Patriots had the ball first and had one of their many long returns in the game. This one was called back by a penalty and the Bills defense put the clamps on the Drew Bledsoe-less Patriots. John Friesz replaced Bledsoe who tried to play through a thumb injury suffered on the first series before leaving in the second quarter. Friesz was then sacked on third down by the surprisingly blitzing Sam Cowart. Despite being knocked out of the game twice, Cowart put in another all-pro performance. It was a good defensive call blitzing him in the dime defense since he's usually in pass coverage in that situation. The Pats punted and Flutie picked up where he left off in regulation and moved the Bills downfield to the winning kick. The drive was highlighted by a pass interference call and three final runs for 24 yards by Shawn Bryson and the forgotten Antowain Smith. He saw his first action in a month because Sammy Morris left the game when he got dinged up. Bryson did shoulder most of the load in the second half.

Before the wild finish that we've come to expect in Foxboro the game was a tale of two halves. The Bills dominated the first half and went up 10-0 in the second quarter when Flutie drove the Bills 87 yards following a Ken Irvin interception that ended Bledsoe's day. The drive was mostly through the air as Flutie hit Price on two big receptions before finding Jay Riemersma for the nine yard touchdown pass on a pretty misdirection play. A series earlier the Bills went up 3-0 after they drove 79 yards in 13 plays to a chip shot field goal. Morris gained 60 yards on the drove mostly through the air. The drive stalled inside the one and Phillips elected to go for the sure points.

The Patriots took control of the game when they recovered a fumbled exchange between Flutie and Morris, which happened when Flutie was stepped on as he took the snap. The Pats ran three plays and kicked a 48 yard field goal to close out the half at 10-3. They then dominated the second half as there defense totally shutdown the Bills offense until the final minutes of the fourth quarter. Unfortunately for them, the offense was doing nothing without their quarterback against a spirited effort from the Bills defense. On one wacky third quarter series the Patriots had three first and goals at the one and did not score. In between they were pushed back fifteen yards for pass interference. On the last first and goal Friesz threw the ball right in to the hands of John Holecek who had a rare interception. The Patriots had nine plays from the Bills 1 in the game and scored only once.

The offense couldn't build on the momentum the defense gave them and continued to go three and out leaving the defense on the field way too long down the stretch. To top that off the coverage teams were doing their usual awful job on returns. The Patriots were dominating the field position on the strength of good returns and the inept Buffalo offense for most of the second half. Eventually the defense tired and the Pats only needed to go 27 yards for the tying touchdown thanks to another big punt return. The goal line defense nearly did it again led by spirited play from rookie Kenyatta Wright. They stopped three straight plays from the one before J.R. Redmond scored on fourth and goal to tie the game at 10.

The teams traded punts on three straight occasions in the final period after the touchdown. The Patriots were winning the field position battle because of good returns by Troy Brown or short punts by Chris Mohr. He started purposely kicking them out of bounds to stop any type of return. His last punt was returned into Buffalo territory at the 43 yard line with 4:04 to play giving the Pats a chance to take the lead. After one first down the Bills forced a three and out and used their timeouts wisely. Vinatieri's field goal gave them the lead but the Bills still had 1:57 to go and a timeout to perform their end of the game magic.

It was a game that the Bills did not play very well but more importantly they did get out of it with an extremely important divisional road win. Flutie struggled most of the second half but when the game was on the line he came through with two fantastic drives. It also helps that the Bills have the best clutch kicker in the game on their side of the field. The Bills are slowly climbing back in the playoff race but talk will quickly return to the quarterback controversy as Rob Johnson gets healthier. That is a story for another day, today's story is another heart stopping victory.


Gameballs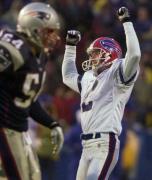 Steve Christie - Mr. Clutch does it again. He was 3 for 3 including the game tying and game winning kicks. His 48 yarder was as tough a kick you can hit with the game on the line in the weather conditions in Foxboro.
Sam Cowart - Despite being knocked out of the game twice he was his usual force. He had 14 tackles and a huge sack in overtime.
Marcellus Wiley - He had his second solid game in a row. 10 tackles and a sack.
Sammy Morris - He was having his best game yet before getting hurt. He had 60 yards offense on the first field goal drive.
Shawn Bryson - When the game was on the line he came up big. He led the team with 60 yards rushing on just 13 carries.
Goats
Coverage Units - This unit isn't just awful it is downright pathetic. They gave up 12.5 yards on punt returns and kickoff returns of 28 and 25 yards. They were the reason that Patriots were winning the field position battle.
Returns Game - The other awful part of special teams were terrible again. Chris Watson fumbled a punt but recovered and was very tentative handling kicks and punts.
Player Of The Week
Steve Christie - Mr. Clutch is now 6 for 6 in the final minute or overtime this year. He was 3 for 3 today with the amazing 48 yarder to tie and the 32 yard game winner.

Positional Breakdown and Grades

NFL.com Gamebook - Complete stats including play by play (requires Acrobat Reader)


Patriots Game Preview
---
2000 Gameday Section
2001 Gameday Section
Back to Bills Daily main page
2000 Articles Index