| | | |
| --- | --- | --- |
| | Serving Bills Fans Since 1998 | Home |
---
Turnovers and Penalties Hurt Bills In Loss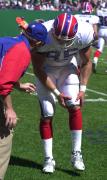 The Bills had many breakdowns despite winning the numbers battle against the Jets. The many mistakes cost them the game. Here are the position by position breakdowns and grades: Quarterback:

Rob Johnson was solid again, he seemed to be more comfortable back in the pocket and threw for 291 yards on 21 of 36 and two touchdowns. He had a touchdown run called back due to a penalty. His lone interception was the last play of the game. Grade B+: The loss isn't his fault.

Running Backs:

This unit is still in deep trouble. Antowain Smith is lost as he carried the ball only 5 times for 13 yards. Shawn Bryson each ran the ball 12 times with little success. Sammy Morris had three carries for 9 yard and Jonathan Linton was once again absent from the backfield. Grade F: The worst running game in the NFL.

Receivers:

Eric Moulds played like the all-pro he is with 8 catches and a touchdown. Peerless Price fumbled after his only catch. that effectively ended the game. Jeremy McDaniel caught a big touchdown pass. Jay Riemersma was going to be a huge part of the offense before getting hurt on the first series. His injury made Bobby Collins finally show up with three catches. Grade C+: McDaniel continues to outplay Price.

Offensive Line:

The line played better in pass protection as Johnson had more time to throw and was sacked only twice. The run blocking was still awful as the backs averaged just over 3 yards a carry. Grade C: Need to be able to run block.

Defensive Line:

This unit didn't put any pressure on the quarterback but did give up only three yards a carry to Curtis Martin. Grade C: Not as effective as it was in the first two games.

Linebackers:

The unit was undermanned without Sam Rogers. They also lost Corey Moore and John Holecek during the game. Sam Cowart was his usual fantastic self. Grade C: Decent job considering the injury factor.

Secondary:

The secondary had the best game of any unit. They shutdown Dedric Ward and contained Wayne Chrebet as Vinny Testerverde threw for less than 200 yards. Henry Jones dropped a sure interception. The hail mary at the end of the half is inexcusable. Grade C+: Kept the team in the game.

Special Teams:

Steve Christie slipped on his only field goal attempted causing him to kick it low and having it deflected. The coverage unit gave up a touchdown and Chris Watson fumbled it away twice in the fourth quarter. Grade F: Is there any grade lower than this?

Coaching:

Coach Phillips wasted two timeouts by making replay challenges that wouldn't be reversed. The mistakes and penalties are a lack of discipline. Why not let Smith run out of the one back offense if that's what he's more comfortable doing? Grade D: Too many mistakes means back to the drawing board.





Game Analysis and Review

NFL.com Gamebook - Complete stats including play by play (requires Acrobat Reader)


Jets Game Preview
---
2000 Gameday Section
2001 Gameday Section
Back to Bills Daily main page
2000 Articles Index