| | | |
| --- | --- | --- |
| | Serving Bills Fans Since 1998 | Home |
---
Bills Win... Ugly 27-24 in OT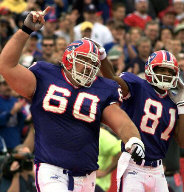 The Bills may have won to even their record at 3-3, but they payed their worst game of the year. The position by position breakdown and grades will bear that out: Quarterback:

Rob Johnson threw for over 300 yards for the first time in his career but he struggled most of the day. He seemed gun shy behind the shoddy offensive line. He held the ball too long on many occasions and didn't take off and run enough. He threw one poor interception late in the first half and had a costly fumble in the third quarter. He did lead the team on two fourth quarter scoring drives to bring the team back from 10 points down. Doug Flutie seemed ready to play from halftime on. When he finally came into the game he did the job. Grade C: It is Flutie's team now for at least the next few games.

Running Backs:

Sammy Morris should be the featured back. He had a nice 32 yard touchdown run and looks like he is the only one capable of gaining ground in the backfield. Jonathan Linton is proving he's not a feature back as his play is even worse than Antowain Smith's was. Shawn Bryson is proving that he is a solid receiver out of the backfield as he caught yet another screen pass, this one for a score. He had six receptions on the day. Grade C+: When will they make Morris the single back and feature him? Stop with the runningback by committee!

Receivers:

The wide receivers had their best game of the season. Eric Moulds showed off his all-pro form catching 11 passes for 170 yards including many big catches during the comeback. He did drop a pass on the Bills first possession of overtime but made up for it on the winning drive. Peerless Price had his best game of the season catching 6 passes for 75 yards including big catches on all three late scoring drives. Jeremy McDaniel chipped in solidly once again with four catches. The tight ends continue to do nothing without Jay Riemersma. Grade A-: Tight end production brings this grade down.

Offensive Line:

This is the worst line in football. Johnson was gun shy because he had taken so many hits this season. He was sacked four times and hurried on numerous other occasions. There were no holes to run through. The most exciting thing about the line was the arugument between Ruben Brown and Carl Mauck. In their defense they did pass protect a little bit better in the fourth quarter scoring drives. Grade F: This unit is pitiful!

Defensive Line:

The guys up the middle shutdown the running game. Pressure was sporadic but good enough for three sacks. Erik Flowers recorded his first career sack and was involved in the game for the first time in his short career. Marcellus Wiley chipped in with two sacks. Ted Washington was the tackles leader with nine. Grade B+: Solid game but still needs to get more pressure on non mobile quarterbacks especially.

Linebackers:

Sam Cowart wasn't his usual self, but he was just as good. Instead of leading the team in tackles he had an interception, a sack, and a forced fumble. John Holecek was a big part in stuffing the run. He stopped Fazande on a third and short forcing a punt. Sam Rogers recovered a fumble. Grade B+: The front seven wasn't the problem this week as usual.

Secondary:

This unit struggled and gave up two big pass plays. The nickel and dime defenders particularly had poor games. Donovan Greer blew his coverage on one long score. Henry Jones was the only one to play well, as he shutdown their big tight end and had the big interception in overtime. Grade D: Chargers exploited weaknesses in the secondary.

Special Teams:

Steve Christie went 2 for 2 with the game tying and game winning kicks. Chris Mohr had an excellent day punting. The coverage units didn't have any breakdowns. The fake field goal play would have been huge if not for the confusion and refs not being ready. Grade A: Didn't have the big play that Ronnie Jones predicted, but a solid game nontheless.

Coaching:

We have given the coaching staff the benefit of the doubt up until now. They seems to be way too much confusion on the sidelines when the plays are coming in. It is time that Joe Pendry swallows his pride and gives up on the multiple offensive formations. How is the running game suppose to get going when no back carries more than 10 times a game? It is time to commit to one offense and one running back. Grade F: Didn't have the team ready for a bad team.





Game Analysis and Review

NFL.com Gamebook - Complete stats including play by play (requires Acrobat Reader)


Chargers Game Preview
---
2000 Gameday Section
2001 Gameday Section
Back to Bills Daily main page
2000 Articles Index