| | | |
| --- | --- | --- |
| | Serving Bills Fans Since 1998 | Home |
---
Offense Thrives In Rout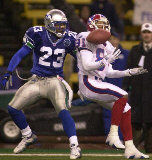 The offense put together the second best yardage game in club history. The defense saw some young players have coming out parties and give the team something to smile about heading into a very busy off season. We will have our season position by position final exam grades later this week. For now, here is our grades for this game: Quarterback:

Doug Flutie had a perfect quarterback rating in this game of 158.3. He was 20 of 25 for 366 yards giving him his fourth career NFL 300 yard game. He also chipped in with 31 rushing yards. Grade A+: May have been the best game by a Bills QB ever.

Running Backs:

Shawn Bryson was off to a good start before getting hurt late in the first quarter. He caught an 11 yard touchdown pass on a perfectly executed screen play. His dive for the end zone bruised his backside. Antowain Smith came in and had a career best 147 yards rushing on just 17 carries for a whopping 8.6 yards per carry. He had three scores but fumbled a fourth score away for a touchback. Grade A+: Smith's best game as a Bill could have been his last.

Receivers:

Eric Moulds broke Andre Reed's record for catches in a season as he had four on the day for 101 yards as he re-discovered his big play touch. Peerless Price continued his fine play as of late. He was the go to guy catching 8 passes for 132 yards. Jeremy McDaniel caught only two passes but they went for 55 yards. Kwame Cavil saw some rare action and caught a 39 yard pass that setup a score. Jay Riemersma was finally part of the offense catching three balls including a nice tight rope catch for a touchdown. Grade A+: Caught everything near them, including many beautiful tough grabs.

Offensive Line:

The offensive line had a huge game opening up massive holes for Smith to run through. Flutie had time to throw and rarely had to scramble as he wasn't sacked in the game. Grade A+: Saved their best for last.

Defensive Line:

This game was a coming out party for Erik Flowers and Leif Larsen. Flowers had the trifecta, a sack, an interception, and a forced fumble. Larsen also had a sack and a pass deflection as well as forcing a fumble. Marcellus Wiley recovered a fumble. Pat Williams picked off a two point conversion attempt. Grade A: Flowers may be the real deal yet.

Linebackers:

Jay Foreman has been a bright spot as he filled in for the injured Sam Cowart admirably again. Foreman and John Holecek had 6 tackles each. Keith Newman had a big game with 2 sacks. Corey Moore looks like he's too small to play at this level. Grade B+: Solid game for the team's best unit.

Secondary:

Donovan Greer finally returned to the lineup and it helped this unit. Daryl Porter had a fumble recovery but was beat for a long touchdown pass that was called back because of a tripping penalty. Despite playing with a big lead they held Kitna to 195 yards passing. Grade B: Made the plays.

Special Teams:

The coverage units were awful again giving up a kickoff return for a score and many other big returns. The coverage teams are so pathetic they started squib kicking every kickoff! Steve Christie missed a chip shot 26 yard field goal and Chris Mohr only had to punt once. Grade F: Even in a big win this unit fails.

Coaching:

You got to give the coaches credit, it would have been very easy to mail this one in but the team came to play and played very well. Grade A: The players love Coach Phillips and played like they want him to stay.





Game Analysis and Review

NFL.com Gamebook - Complete stats including play by play (requires Acrobat Reader)


Seahawks Game Preview
---
2000 Gameday Section
2001 Gameday Section
Back to Bills Daily main page
2000 Articles Index