| | | |
| --- | --- | --- |
| | Serving Bills Fans Since 1998 | Home |
---
Playoff Atmosphere For Titans Game
Fan frenzy helped club to victory.
by Steve Saslow
September 5, 2000
---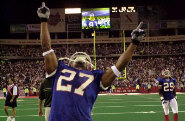 I have been to well over 60 games at Ralph Wilson Stadium including numerous playoff games and it was never a louder, excited atmosphere at the stadium then it was for the opening game against Tennessee. The NFL knew what it was doing when they scheduled the Bills and Titans for the opener and put it in prime time to add to the excitement.



The tailgating atmosphere was the usual as everyone was drinking and cooking but since it was a night game it started earlier than usual. When 8:30 rolled around everyone settled into his or her seat early. The 20-plus people I was with knew for sure, what we had expected; this game had the atmosphere of no other game with the possible exception of the AFC Championship games.

The crowd cheered loudly for the four skydivers that landed near the helmet at midfield before the game and for the fireworks as the Bills came out appropriately enough to the theme from Rocky. The crowd booed mightily when the Titans had the nerve to announce the special teams unit. It rubbed salt into the deep wounds that exist from the playoff game. The Titans say they did that in honor of their ill special teams coach but they announced the three principles from the throwback play last. Kevin Dyson isn't even on the special teams unit this year. That got the crowd even more fired up.

Even though the offense got off to a slow start the crowd stayed in the game to the end. There was definitely an overwhelming feeling of uneasiness coming from the 72,000 people in the stands after Christie's final field goal. Everybody had the same feeling of deja vu and when the hole opened up on the kick return you can almost hear everyone gasp.

In the end this miracle fell short for the Titans. To the credit of the defending conference champions they didn't appear to be rattled by the loud crowd however, the 12th man deserves a game ball for the way they showed up ready for the game and helped cheer the Bills on to victory.



---
Comments on this article
Articles Index
Back to Bills Daily Homepage