| | | |
| --- | --- | --- |
| | Serving Bills Fans Since 1998 | Home |
---
Defense Burnt To A Crisp By Chandler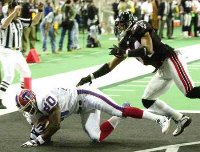 Last week the offense played poorly and the defense kept them in the game. This week the defense was awful especially against the pass. It looks like this team won't put it together this year. Our position by position grades will reflect the poor performance of the defensive unit: Quarterback:

Alex Van Pelt struggled with his accuracy through most of the game. He did get hot at the end as he engineered two impressive drives in the fourth quarter to even the score. Grade C: Needs to develop more consistency, was outplayed by Chandler.

Running Backs:

Shawn Bryson sent notice that there will be a running back controversy next year. He had 131 yards on 16 carries and added 31 yards on three receptions. He scored his first two career rushing touchdowns to go along with his first 100 yard game. His 68 yard touchdown run was his career long and it showed off his blazing speed. Bryson wasn't the only one with a career long run as Larry Centers took his only carry 50 yards for his career best. Grade A: Bryson may be better than Henry.

Receivers:

Eric Moulds only caught four passes but three of them were when it really counted on the final drive. His game tying touchdown catch was a beautiful fingertip catch. Peerless Price led the way with five catches for 73 yards and also had a big catch on the final drive converting a third down. Reggie Germany had the biggest catch of that final drive gaining 31 yards but he failed to get out of bounds. Jay Riemersma did not catch a pass and dropped three. He was also called for two costly penalties. Grade C-: Riemersma brings grade way down.

Offensive Line:

For the first time all year the unit did not allow a sack. They also opened up huge gaping holes for the running game. John Fina and Ruben Brown were especially effective opening up holes on Bryson's first touchdown and Center's 50 yard run. Corey Hulsey playing for the injured Jerry Ostroski had two costly penalties as did Jonas Jennings. Grade B+: Penalties keep this grade from being an A.

Defensive Line:

The Falcons were the most sacked team in the NFL but the defensive line got little pressure and no sacks. They also combined for only 11 tackles which is not bad considering the lack of a running game. Grade F: Needed to get to the quarterback to help out the secondary.

Linebackers:

Keith Newman had a sack but also had a costly roughing the passer penalty and was beat on a long touchdown pass. Brandon Spoon had another interception and his second touchdown of the year. Jay Foreman continues his solid play with eight tackles. Grade C: Did well against the run but was awful in pass coverage.

Secondary:

Let's see... 431 yards passing doesn't bode well for a secondary that must have been reading its press clippings this week. Nate Clements was the number one burned man as his 11 tackles attest too. He did have an interception in the end zone saving one score. He was beat for one touchdown and many other passes. Antoine Winfield had eight tackles and was burned his share of the time. Raion Hill was burned for a score when he went for the pick. He did have the hit on Chandler that resulted in Spoon's score. Grade F-: This unit should have toast for Christmas breakfast.

Special Teams:

The Bills special teams played very well until it counted most. They gave up a 23 yard return on the squib kick that set Atlanta up in great field position for the winning field goal drive. Other than that, they held the potent return game of Atlanta way below their average. Shayne Graham hit his only field goal attempt. Brian Moorman averaged 42 yards on five punts. Shawn Bryson had a nice 32 yard kickoff return. Grade C: When they needed it most, they failed.

Coaching:

12 penalties this late in the year is inexcusable. Squib kicking the final kick is also a bad memory for Bills fans. Going for two points after Bryson's long touchdown run may have been the dumbest move of the season. Grade F: Rookie coach showing growing pains.





Game Analysis and Review

NFL.com Gamebook - Complete stats including play by play


Falcons Game Preview
---
Gameday Homepage
2000 Gameday Homepage
Back to Bills Daily Homepage
Articles Index