| | | |
| --- | --- | --- |
| | Serving Bills Fans Since 1998 | Home |
---
Offensive Letdown Gives Colts Easy Win
by Steve Saslow
Nov. 4, 2001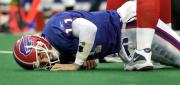 The struggles returned for the offense as Rob Johnson had little time to throw and when he did, he threw poorly. The defense tired as the game wore on. The special teams was the best unit on the field on this day as the Colts dominated the Bills once again. Our position by position grades will only be kind to the special teams: Quarterback:

Rob Johnson had little time to throw in this game as he was under pressure constantly. That is no excuse for fumbling the ball away on two occasions when the game was still close. It gave the Colts 10 points. Johnson seemed to also have problems with the windy conditions during this game as many throws were off the mark. The most glaring was a deep pass to a wide open Larry Centers that would have went for a big gainer or a score but it was well overthrown. Grade F: Major step back for the quarterback and the entire offense.

Running Backs:

The backs ran well but only touched the ball 19 times gaining 78 yards. Travis Henry got hurt on the first series but would later return to gain 61 yards on just 13 carries for a 4.7 yard average. Surprisingly, Shawn Bryson and not Sammy Morris replaced him and gained 15 yards on 3 carries. Larry Centers had his usual three carries but gained only two yards. He also caught five passes for 44 yards but mostly in garbage time. Grade B+: Did better than anyone else on offense but didn't get much of a chance to do more.

Receivers:

The injuries to the offensive line forced the Bills into max protection leaving Peerless Price and Eric Moulds the only receivers in patterns on many pass plays. This put them in tough situations. Moulds caught four passes for 36 yards mostly short plays early in the game. Price only had one catch as he continued his disappearing act after a good game. Reggie Germany was the third receiver as he seemed to have jumped ahead of Avion Black on the depth chart. He caught his first career reception for 18 yards in the fourth quarter. He also dropped a pass. Black also had a catch as Jeremy McDaniel was inactive again with his ankle sprain. Jay Riemersma was used as a blocker much of the game. He did manage to break free for the 27 yard touchdown reception in garbage time. He tied for the team lead with five receptions. Sheldon Jackson dropped the only pass thrown his way. Grade C-: Wasn't given much of a chance to do anything but didn't make many plays on their own.

Offensive Line:

The injured line was without starters Jonas Jennings and John Fina. Jennings was inactive while Fina dressed but did not play. With four of the five starters being in their first year they struggled. Johnson was sacked six times, pressured 11 others, and knocked down six more times. They did better blocking for the running game as the backs averaged four yards a carry. Grade F: Too many injuries for a totally undermanned unit.

Defensive Line:

Phil Hansen and Bryce Fisher each had a sack. Fisher was very active for most of this game before spraining his back. Pat Williams was in on many plays and Coach Williams said he played very well in spurts. Tyrone Robertson saw extensive playing time as the Bills rotated linemen more. He played very well as he was in on four tackles and always around the ball. Grade C+: Got a good amount of pressure on Manning but let a rookie free agent running back slice through the line very easily on many occasions.

Linebackers:

Keith Newman and Jay Foreman each had a sack and combined for 16 tackles as each played perhaps their best game of the year. Brandon Spoon was also in on seven tackles but there were many missed tackles from this group as Dominic Rhodes ran for 100 yards. This group was burned on the Colts first touchdown by Marcus Pollard. Grade C: Got the pressure but failed in run support and pass protection.

Secondary:

The Colts didn't beat the Bills in the air as Peyton Manning only had 199 yards passing. They didn't have to as Manning threw only 27 times. The worst play by this unit was when they bit on the play fake and Manning ran untouched for the Colts second touchdown. Grade C+: Average performance, not the reason for the loss.

Special Teams:

This unit was the best unit on the field today. Nate Clements 66 yard punt return for a score went through a nice wedge and Clements used his speed to score. Peerless Price averaged 11 yards on two returns while Clements averaged 38.5 on his two returns. Avion Black did a great job returning kicks averaging 26 yards on four returns. Jake Arians kicked his way out of town by having another kick blocked. He is now 3 for his last 8. Brian Moorman averaged 43.7 yards on six punts. Grade B+: Arians ruins A grade.

Coaching:

The team came out flat and had no answer for the Colts pass rush. Interesting move going to Bryson instead of Morris when Henry went down. Why didn't the Bills run more when they were doing so effectively. Grade D: Emotional letdown inexcusable for this team.





Game Analysis and Review

NFL.com Gamebook - Complete stats including play by play (requires Acrobat Reader)


Colts Game Preview
---
Gameday Homepage
2000 Gameday Homepage
Back to Bills Daily Homepage
Articles Index