| | | |
| --- | --- | --- |
| | Serving Bills Fans Since 1998 | Home |
---
Arians Goes From Goat To Hero
by Steve Saslow
Oct. 19, 2001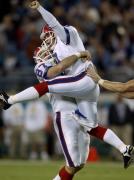 Jake Arians made up for two first half misses by drilling a 46 yard field goal to lift the Bills to their first win of the season. The Bills played a solid game in all facets except for scoring as the end zone remained hard to find. Our position by position grades will be the best of the year as it should be with the victory: Quarterback:

Rob Johnson's got our player of the week award as he showed a commanding presence in this game and has good stats to show for his effort. He finished 23 of 30 for 238 yards and a 27 yard touchdown pass to Eric Moulds with no picks. He managed the clock very nicely on the game winning scoring drive. He did overthrow Jay Riemersma in the end zone when he was open and the Bills had to settle for three. Grade A: Perhaps his best game as a Bill but needs to find the end zone more.

Running Backs:

Travis Henry was the workhorse once again despite being bothered with his tendinitis in both knees. He only averaged 2.3 yards a carry but got a lot of tough yards and caught 5 passes for 32 yards. Larry Centers once again led the way receiving with seven catches, for 59 yards. He also carried the ball three times for 13 yards all on the final drive. The coaches seemed to trust him with the ball more in pressure situations and why not, he is a consummate professional. Many of his catches were big third down conversions. Shawn Bryson and Sammy Morris never saw the backfield. Grade A-: Hard tough yards on the ground, more than half of Johnson's completions.

Receivers:

Eric Moulds caught four balls, one of them going for the lone touchdown. Peerless Price remains a no show catching a nine yard slant pattern on the second play of the game but nothing afterwards. Avion Black had a nice 25 yard reception on a third and long play. Jay Riemersma was more involved with five catches for 53 yards although he did have an early drop. Grade C+: Still not as involved as they need to be.

Offensive Line:

The line gave up two sacks and some pressure while opening up very few holes for the running game. Jonas Jennings and Bill Conaty were banged up in this game. Conaty quickly returned but Jennings came out on the first series and didn't return. Marques Sullivan played pretty well in his place. Grade C+: For the most part the line did give Johnson time to throw when they had to.

Defensive Line:

The line had a solid effort as the four man front was left alone most of the game to apply pressure to Brunell and they did manage to get three of the team's four sacks. Phil Hansen and Leif Larsen were out with injuries. Pat Williams had five tackles and a sack as he was very active in the middle. Erik Flowers had a sack but was not active enough for facing a rookie replacement. Aaron Schobel had his first career sack but missed Brunell on another occasion. Grade A: Was the first line of defense in the best defensive effort of the season.

Linebackers:

This unit wasn't very active but they didn't have to be considering how well the guys up front and behind them played. Jay Foreman had four tackles and a sack. Keith Newman was beat by Kyle Brady for Jacksonville's lone touchdown. Brandon Spoon was very quiet in the middle. Grade B: Didn't have to do much but did enough.

Secondary:

Nate Clements had his first career start and kept one of the best receivers in the game in check throughout. He was called for a bogus pass interference call when Jimmy Smith pulled him down. Ken Irvin came off the bench and had a huge interception when he made a diving grab off of a deflection. Antoine Winfield did a great job in coverage. Raion Hill had five tackles none bigger than his stop on Smith short of a first down ending a Jaguars possession. Travares Tillman ended things with an interception at the end of the game. Grade A+: Inspired effort against a good passing offense.

Special Teams:

Jake Arians was 2 for 4 in field goal attempts but his misses are forgotten by the clutch game winning kick of 46 yards. He also hit from 30 but missed from 41 and 39 yards out. Brian Moorman was inconsistent as his 28 yard punt late in the fourth quarter from his own end zone could have cost the Bills the game but he did have a nice 64 yard boot in the first quarter. He finished with an average of 37 yards per kick. Kick returns were average but the coverage team had its best game to date holding the Jaguars to a paltry 15 yard average. Price returned two punts for two yards. Grade B: Why is Price still returning punts?

Coaching:

It was a good game plan with more ingenuity on offense and a solid inspired effort by the defense. Williams made the tough call to trust Arians on the game winning kick instead of going for it on 4th and a foot. Grade A: Nice game plan and effort leads to Williams first win.





Game Analysis and Review

NFL.com Gamebook - Complete stats including play by play (requires Acrobat Reader)


Jaguars Game Preview
---
Gameday Homepage
2000 Gameday Homepage
Back to Bills Daily Homepage
Articles Index