| | | |
| --- | --- | --- |
| | Serving Bills Fans Since 1998 | Home |
---
Team Plays Well Before Collapsing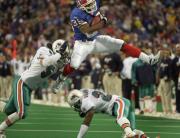 The Bills played their best game of the year as the offense hummed against a tough Miami defense. The Bills own defense played very well for 55 minutes. The special teams... well that is another story, they started the collapse in the final five minutes and the defense couldn't recover and the Bills totally blew a game they had in the bag. We breakdown all the units in our weekly grades: Quarterback: Alex Van Pelt had his second straight 300 yard game as he was in charge of a Buffalo offense that performed very well against a stingy Miami defense. He did throw one horrible interception in the first half that led to a Dolphins' field goal. He made up for that with three touchdown passes. His bomb to Eric Moulds in the third quarter was a perfect pass. Grade A-: Played very well but couldn't run out the clock at the end. Running Backs:

Travis Henry had his second biggest effort of the year. He finished with 97 yards on just 19 carries as he ran with authority. He gave the Bills a 10 point lead with a nifty 8 yard scoring run. His 20 yard change of direction carry in the second quarter was a thing of beauty. Shawn Bryson carried the ball four times for 26 yards as he proved to be a good change of pace back. Larry Centers caught five passes for 31 yards but he wasn't a major factor in the game. Grade A: Did what was expected of them.

Receivers:

Eric Moulds wanted the ball more and he got it. He caught an 80 yard touchdown pass that he raced down the sidelines 75 yards for the score after a 5 yard out pattern. His 54 yard touchdown catch was a nice one handed grab downfield. He also caught a 26 yard pass that he fumbled back to Miami. Reggie Germany made an incredible leaping catch in triple coverage on a third and 13 play that gave the Bills a first down on their touchdown drive just before halftime. Jeremy McDaniel caught one pass but it was good enough to convert a third down. He couldn't get back to the line of scrimmage at the end of the game to give the Bills one more play. Jay Riemersma caught only two pass. Grade A: No dropped passes of note.

Offensive Line:

John Fina was again banged up in this game but played through injuries like a warrior. The line as a whole played very well despite a couple of costly penalties. They opened up holes for the running game as the Bills averaged nearly 5 yards a carry. This time the pass protection broke down as Van Pelt was sacked four times. Grade B-: Better in run blocking but struggled in pass protection this time.

Defensive Line:

Pat Williams went up against Heath Irwin since Tim Ruddy was out for Miami and made him pay. Williams continued his all-pro year with nine tackles, many in the backfield for losses. He was a monster in the middle. Aaron Schobel had a sack one play after drawing a costly illegal hands downfield penalty. Grade A: Had tremendous push up front and left the running game with few big holes.

Linebackers:

Keith Newman was active as he had a six tackles and a sack. Jay Foreman was very active early on before getting banged up. He also had six tackles. Brandon Spoon was beat on Miami's touchdown early in the fourth quarter. Grade C: Has some success but gave up some plays also.

Secondary:

Nate Clements was burned repeatedly by Orlando Gadsen as he had his worst game of his young career. To his credit he did force a fumble on one long pass in the first half. Travares Tillman recovered that fumble but made a mistake by running it out of the end zone. He also had a chance at a game saving interception during Miami's comeback but Gadsen knocked the ball away from him. Ken Irvin dropped a sure interception early on and was beaten for two touchdowns in the fourth quarter. Grade D: Gave up too many big plays, especially when the game was on the line.

Special Teams:

Jake Arians needs to go, he didn't get a field goal attempt but missed an extra point that could have been the difference. Brian Moorman averaged nearly 40 yards a punt but his kickoffs were suspect. He kicked one out of bounds after Arians missed his extra point and another kickoff went out of bounds but he was saved as it was touched by a return man. Nate Clements fumbled away a kickoff at the worst possible time... when Miami tied the game late in the fourth quarter. Grade F: Cost the Bills the game.

Coaching:

The Bills were caught napping when they should have challenged two Miami pass plays that went for first downs but shouldn't have counted. Miami quick snapped and got the next play off. Williams did challenge two calls that he shouldn't have challenged and they weren't overturned costing the Bills two timeouts. Grade F: Williams gameday coaching decisions make many fans scratch their heads.





Game Analysis and Review

NFL.com Gamebook - Complete stats including play by play


Dolphins Game Preview
---
Gameday Homepage
2000 Gameday Homepage
Back to Bills Daily Homepage
Articles Index