| | | |
| --- | --- | --- |
| | Serving Bills Fans Since 1998 | Home |
---
Offense Struggles As Defense Falters In Rout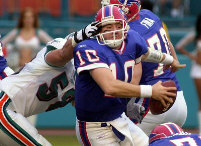 The Offense struggled badly in the first half gaining only 13 yards and the defense faltered in the fourth quarter as Lamar Smith rumbled for 158 yards. Our position by position grades will reflect the poor performance of the entire team: Quarterback:

Alex Van Pelt played the first quarter before leaving with a shoulder sprain. He didn't move the football gaining only one first down and throwing an interception. Travis Brown came into the game and got his first extended action of his NFL career. He did throw his first career touchdown pass as he engineered a pretty drive early in the third quarter. Otherwise, he was pretty bad throwing two interceptions, one returned the distance for a score. Grade D: With no running game, Brown was out of his league.

Running Backs:

Shawn Bryson ran the ball only 12 times for a paltry 16 of Buffalo's 39 yards rushing. Larry Centers caught three passes including the Bills only touchdown. Grade D-: Center's play saves failing grade.

Receivers:

Eric Moulds had his usual solid game against Miami unfortunately his six catches for 82 yards was almost half the offense for the team. Peerless Price caught three passes all in the second half during garbage time. Reggie Germany left with an injury early in the game, giving Avion Black some time in the passing game, he caught one pass. Jeremy McDaniel actually saw action late in the game and dropped a sure touchdown pass late in the game. Jay Riemersma caught four passes putting him over 50 catches for the year. Grade C: Made some plays but not enough on this day.

Offensive Line:

The line regressed in the finale. They allowed two sacks and couldn't open up any holes for the running game. Grade F: This is an area that will need improvement in the off season.

Defensive Line:

The entire line played pretty well as they got pressure on Fiedler but failed to contain him on his 18 yard touchdown run on 3rd and 16. Kendrick Office had the only sack from this unit. Pat Williams returned to action and had four tackles. Tryone Robertson led the line with five tackles. Grade D: Did their share of the damage in allowing over 200 yards rushing.

Linebackers:

Keith Newman and Fred Jones combined on a sack. Jay Foreman and Brandon Spoon led the unit with eight tackles apiece. Grade D: Didn't make enough plays to stop the running game.

Secondary:

This group had a quiet day since Fiedler only threw 16 passes. Antoine Winfield had a rare missed tackle on Fiedler's touchdown run. He was also called for defensive holding on Preston Prioleau's interception return for a score that was brought back. Prioleau was the star of the game as he was in on 13 tackles, had a sack, and forced a fumble. Lance Brown committed an idiotic roughing the passer penalty that kept a Miami drive alive when the Bills were gaining momentum. Grade C: Didn't have much to do but had more missed tackles than we've seen all year.

Special Teams:

Shayne Graham had a quiet day with just the one extra point attempt. Brian Moorman showed he's a warm weather kicker averaging 41.2 yards per kick. His counterpart for Miami put all five punts inside the 20. Punt coverage was weak allowing a 48 yard return. The only punt return by Peerless Price was a pathetic loss of 10 yards. Grade D: Didn't finish the season strong.

Coaching:

The Bills made some halftime adjustments and played a solid third quarter. Unfortunately it didn't carry over until the fourth quarter. No glaring mistakes in the play calling. Grade C: Lots of work in the off season.





Game Analysis and Review

NFL.com Gamebook - Complete stats including play by play


Dolphins Game Preview
---
Gameday Homepage
2000 Gameday Homepage
Back to Bills Daily Homepage
Articles Index