| | | |
| --- | --- | --- |
| | Serving Bills Fans Since 1998 | Home |
---
Offense Plays Poorly Again In Loss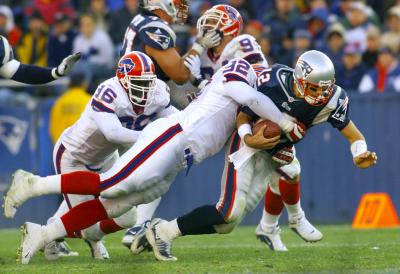 The defense played very well in the loss to the Patriots but the Offense failed to show up once again. Our position by position grades will reflect the poor performance of the offensive unit: Quarterback:

Rob Johnson's struggles continue. He threw for only 167 yards and one interception that wasn't his fault. He failed to get the team into the end zone once again. Alex Van Pelt came into the game after Johnson hurt his shoulder and threw a touchdown pass to Peerless Price. Van Pelt also connected on the two point conversion but he threw an interception with time running out. Grade D: Offense getting worse by the week led by this position.

Running Backs:

Travis Henry ran the ball only 16 times after asking for "the rock" 20 to 25 times. He only gained 51 yards for a paltry 3.2 yard average. Once again he couldn't gain a yard on a fourth and one early in the game. Larry Centers caught three passes giving him 6000 receiving yards for his career. Grade D: Not involved in the offense at all.

Receivers:

Eric Moulds only caught three passes for a paltry seven yards as he doesn't seem to get open. He had a chance at a touchdown but couldn't haul in the pass from Johnson. He did catch a two point conversion pass from Van Pelt. Peerless Price continues to be the big yardage man as he caught three passes for 59 yards including a 33 yarder on the opening series and a touchdown reception late in the game. Reggie Germany is emerging as the number three wideout, he led all receivers with four catches for 69 yards. Jay Riemersma caught only one pass but it went for 36 yards and setup a field goal. Sheldon Jackson had a pass go through his hands for an interception. Grade C+: Need to be more active.

Offensive Line:

The new look line looked like the old line as they gave up five sacks, didn't open up holes for the running game and gave Johnson little time to throw. Jonas Jennings was called for a killer false start penalty on a third and goal from the one costing the Bills a chance at a touchdown. Grade F: This line will continue to juggle but it doesn't improve.

Defensive Line:

The entire line played really well as they continued to rotate linemen in and out and it paid off. The line combined for 6 1/2 sacks as Tyrone Robertson, Kenrick Office, and Aaron Schobel had two apiece. Office also had seven tackles and two forced fumbles in his first extended game action. Pat Williams led the way with 8 tackles. Grade A+: The young players of this unit look very promising.

Linebackers:

Keith Newman and Jay Foreman had seven tackles apiece. Kenyatta Wright had a 1/2 a sack but was called for pass interference once. Brandon Spoon had five tackles. They held the Patriots running game in check most of the game until it counted the most, then there were many missed tackles on Antowain Smith's long touchdown run. Grade B: Need to learn how to tackle better.

Secondary:

This group held Tom Brady to just 107 yards passing, of course the wind helped them out. Antoine Winfield led the way with an interception and fumble recovery. He was called for a costly pass interference in the end zone that setup a Smith touchdown. Grade A-: Did what they had to do to win.

Special Teams:

Jake Arians didn't have a kick blocked this week. He also actually hit a 24 yard field goal but had a 49 yarder go off the upright. Brian Moorman had his worst day as a pro averaging only 27.2 yards a punt. His 28 yard punt into the wind in the first quarter was returned 29 yards and setup the first Patriot touchdown. He also had a 20 yard kick that setup the second Patriot touchdown. Nate Clements averaged 26.7 yards on three kick returns. Grade D: Continue to make more mistakes as the season progresses. Arians has to be on thin ice now.

Coaching:

The Bills played hard but still are getting penalties at the worst possible time. The Bills didn't run the ball more but really struggled offensively and didn't adjust at halftime. Grade C: Need to put in some overtime working on the offensive troubles.





Game Analysis and Review

NFL.com Gamebook - Complete stats including play by play


Patriots Game Preview
---
Gameday Homepage
2000 Gameday Homepage
Back to Bills Daily Homepage
Articles Index