| | | |
| --- | --- | --- |
| | Serving Bills Fans Since 1998 | Home |
---
Loss Wastes Effort By Defense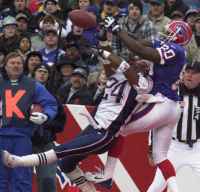 The Bills defense seems to like playing against the Patriots. Despite losing to New England for the second time this year they recorded five sacks giving them 12 on the year against the Pats. The defense shutdown Tom Brady and Antowain Smith for most of the game. They finally broke down in the end, as the Offense couldn't muster much of a threat. Our position by position grades will reflect the poor performance of the offensive unit: Quarterback:

Alex Van Pelt completed 50% of his passes for 219 yards. He threw one interception but could have thrown six as the defenders dropped many passes while many other throws were way off the mark. He did throw a perfect deep pass to Peerless Price but it was one of a few drops in the game. Grade D: Never got the feeling he would drive the team to a winning score in overtime.

Running Backs:

Travis Henry was off to a great start gaining 54 yards on 12 carries before injuring his knee and leaving the game in the second quarter. Shawn Bryson replaced him and found the yardage tough going. He gained only 38 yards on 14 carries. Larry Centers did not catch a pass until the fourth quarter but he caught two on the game tying field goal drive. Grade B-: Henry was off to a sure 100 yard game before getting hurt.

Receivers:

Eric Moulds dropped a pass and was kept a non factor for most of the game. He did end up with six catches for 50 yards but never made the big play. Peerless Price also dropped a pass, it was a bomb that would have set the Bills up inside the 5 yard line. He also didn't come down inbounds for a touchdown. Replays show he may have had both feet in but it shouldn't have been that close. Reggie Germany caught only one pass but it was short of a first down when the Bills were trying to drive for a winning score. Jay Riemersma caught four passes including two off of tipped balls. Grade C-: Didn't make the plays needed.

Offensive Line:

The line has shown stability in recent weeks and for the most part picked up blitzes and gave Van Pelt time to throw. He was only sacked once but that was on the last play in regulation and forced a fumble that could have cost the Bills the game in regulation but Jerry Ostroski recovered it. Grade B: The line if finally gelling like it was suppose to in training camp.

Defensive Line:

The defensive line rose to the occasion despite missing two starters to injuries. Aaron Schobel had two sacks and was in on seven tackles. Phil Hansen added a sack and Erik Flowers was in on one also. Grade A: Put tremendous pressure on Brady in the second half.

Linebackers:

Keith Newman and Jay Foreman were both active as Foreman was in on eight tackles and a sack. Newman was in on six. Brandon Spoon wasn't very active but he helped hold down Smith until his last carry. Grade B: Played very well except for the very end of the game.

Secondary:

This unit had a tremendous game. Antoine Winfield led the way with eight solo tackles. He had good coverage all game long. Nate Clements was all over the field he had a sack and three tackles. One of his tackles was a devastating blow that took Brady's helmet off. He also recovered the "phantom" fumble in overtime. Keion Carpenter was very active and his hard hit forced the "phantom" fumble. He also had five tackles. Raion Hill forced and recovered a fumble. Grade A+: Very aggressive and hard hitting football.

Special Teams:

Shayne Graham was 3 for 4 on field goals. He hit two 41 yarders and a 25 yarder but missed from 43 short. Brian Moorman had a good day averaging 41 yards while doing many directional kicks. Peerless Price averaged negative yards in punt returns and fumbled once before being replaced by Nate Clements. Grade B: Decent effort by this unit.

Coaching:

Despite the pathetic state of the season the team hasn't given up and continues to play hard. Credit needs to be given to the coaches for that. Williams seems gun shy when it comes to instant replay. He definitely should have challenged the Price catch in the end zone. Who knows when the Bills would get that close again? Grade B: The team is showing character.





Game Analysis and Review

NFL.com Gamebook - Complete stats including play by play


Patriots Game Preview
---
Gameday Homepage
2000 Gameday Homepage
Back to Bills Daily Homepage
Articles Index