| | | |
| --- | --- | --- |
| | Serving Bills Fans Since 1998 | Home |
---
Team Wilts In Second Half Of Loss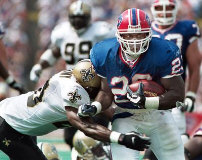 The Bills had a great first half and an awful second half, the result was a 24-6 spanking at the hands of the New Orleans Saints. Here's our position by position grades for this game: Quarterback:

Rob Johnson struggled as he threw a career high three interceptions. He struggled with holding the ball too long as well as he was sacked five times. He threw for 160 yards and couldn't get the ball into the end zone. Grade F: Johnson struggling to pick up the West Coast Offense.

Running Backs:

Travis Henry is the undisputed man at running back as he got 22 of the 24 running back carries. He ran with authority in the first half gaining 55 yards but he only gained 3 yards after halftime. Larry Centers had 11 yards and a first down on his only carry and caught 4 passes for 37 yards as he showed that he is a great third down weapon. Sammy Morris had one carry and Shawn Bryson didn't even get into the backfield. Grade B: Henry looks to be the real deal and needs to put it together for a full game.

Receivers:

Eric Moulds couldn't get open until catching his only pass of the day late in the game for a 34 yard pickup. Peerless Price also only caught one ball and it also went for a big gainer of 32 yards, he also ran a reverse for 31 yards. Jeremy McDaniel led all wide receivers with four catches but they only totaled 36 yards as he didn't do a great job of running after the catch. Jay Riemersma struggled catching only two passes and letting one pass go through his hands for an interception. Grade C: Four catches by your starting wide receivers and tight end will never be enough.

Offensive Line:

The line played well in opening up holes for the running game in the first half and gave Johnson decent protection. In the pathetic second half the holes were gone and the protection broke down more often. Corey Hulsey struggled in his first start. Grade C-: Gave a good effort against a great front seven but not nearly enough.

Defensive Line:

Erik Flowers had a sack on the first defensive series but was quiet the rest of the way. Phil Hansen was active and around the ball. There were no real standout plays by the line but they held the running game of the Saints down in the first half before succumbing to the heat in the second half. Grade C: The line is a far cry from last year's unit.

Linebackers:

Kenyatta Wright was a bright spot filling in for Sam Cowart who left very early with a partially torn achilles tendon. Wright stopped Ricky Williams cold on a fourth and one play setting up a Bills field goal drive. Keith Newman was active and in on four tackles. Grade C: Good first half; bad second half.

Secondary:

Ken Irvin was burned for a score by Albert Connell and struggled in coverage most of the game. Raion Hill in his first start was very active and made some nice hits. Antoine Winfield led the team with six solo tackles, that isn't a stat you want to lead as a cover cornerback. Grade C: Gave up big passing plays in the second half.

Special Teams:

Jake Arians is our player of the week as he was 2 for 2 in his first NFL game. Brian Moorman punted well averaging 44.3 yards on his punts. He drew the wrath of the coach however for trying a fake punt when he had someone uncovered, he waited to long and threw a bad pass. The coverage game did a good job on punt coverage and Avion Black had a nice 34 yard punt return that would have went for a score if the punter didn't slow him up. Grade B: Much better than last year already!

Coaching:

Let's see, this club is either not as well conditioned as they should be or not as prepared to give a full 60 minutes of effort. The second half collapse was pathetic and players were constantly in the wrong places. They looked like they just gave up and the blame for that has to go to the coach. Grade F: A pathetic second half effort spoils solid first half in Williams debut.





Game Analysis and Review

NFL.com Gamebook - Complete stats including play by play (requires Acrobat Reader)


Saints Game Preview
---
Gameday Homepage
2000 Gameday Homepage
Back to Bills Daily Homepage
Articles Index