| | | |
| --- | --- | --- |
| | Serving Bills Fans Since 1998 | Home |
---
Defense and Turnovers Hurt Bills In Loss
by Steve Saslow
Oct. 7, 2001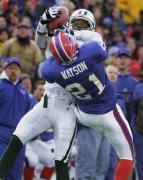 The defense couldn't hold down Curtis Martin and the offense turned the ball over five times that resulted in a 42-36 loss. The offense put up heavy stats a lot of them coming in garbage time, nevertheless it will help their grades that will be up and down because of many turnovers and dropped passes: Quarterback:

Rob Johnson led the Bills out in a no huddle offense and connected with Moulds for a 46 yard score. Unfortunately he also fumbled and had an interception that resulted in two Jets scores before getting hurt. Alex Van Pelt threw for a career high 268 yards, a lot of it in garbage time but he did get the team to within 6 when the game was still in doubt in the third quarter thanks to a bomb for a score to Price. Grade B+: Van Pelt shows better command in West Coast Offense. Three turnovers by QBs brings grade down.

Running Backs:

Travis Henry wasn't used much during the no huddle offense early on but when he started making in impact in the second quarter he didn't stop. He rushed for a career high 113 yards on 19 carries for an average of just under 6 yards per carry. Larry Centers was the recipient of much of the garbage time stats as he finished with 12 receptions for 75 yards and ran the ball five times as he finished with two scores including his first rushing score since 1997. He did cough up the football once and it was costly, it was returned for a Jets score. Sammy Morris started the game and promptly fumbled the ball away on the second play from scrimmage. Grade A-: The two fumbles cost the Bills 14 points but Henry and Centers had big days.

Receivers:

Eric Moulds was finally involved in the passing game catching a 46 yarder for a score and finishing with 107 yards receiving. He did drop three passes including one in the end zone. His injured shoulder may still be bothering him. Peerless Price also had a big day as he went over 100 yards getting most of them on a career high 70 yard touchdown reception. He ran 50 yards with it after breaking a tackle on a 20 yard in pattern. He also dropped a few balls. Jay Riemersma got involved a bit with four catches including one for a score. Grade A-: Two 100 yard receivers was a huge step, two bad there were many drops.

Offensive Line:

The much maligned line had by far their best game of the year as they gave up only two sacks and opened up huge holes for the running game as they averaged over 5 yards on the ground. Bill Conaty was the key to opening up huge gaping holes in the middle of the line. Grade A-: Two holding penalties the only blemish.

Defensive Line:

They were pushed all over the field as Curtis Martin was constantly in the secondary in a blink of an eye. They had no sacks and put very little pressure on Testerverde. The only play of note was a nice 3rd and 1 stop of Martin by Pat Williams for a two yard loss when the game was still in doubt. Grade F-: Injured unit played hurt.

Linebackers:

This unit did little to stop Martin or cover misdirection plays. Jay Foreman led the team in tackles with seven and Keith Newman was also active with six tackles. Brandon Spoon was not a factor. Grade C-: Was the best unit defensively on the field but that wasn't saying much.

Secondary:

When Martin wasn't running wild the secondary was giving up some decent yardage through the air. Whenever Testerverde needed to get some yardage through the air he did it. The secondary looked confused most of the game with the calls of the Jets offense. Grade D: This unit was no help.

Special Teams:

The opening onside kick worked to perfection. It was all downhill from there. The bobbled snap on the extra point attempt cost the Bills a point. Not recovering an Aaron Glenn fumble on a punt cost the Bills momentum. Three straight holding penalties on returns in the second half gave the offense terrible field position. Coles averaged 22.3 yards on kickoff returns but the punt coverage was better. Grade C: Some good, some bad, oh those penalties.

Coaching:

At least the Bills tried something new, the no huddle offense was a good try but it wasn't working too well. Getting the receivers involved in the offense was nice to see. The defense now needs that kind of mixing it up. The two replay challenges were worth it. The low level game left CBS with no camera angle to see the two point conversion pass from Riemersma. The Johnson fumble was close enough to ask for a review in that situation. Grade C: Tried different things, same old result.





Game Analysis and Review

NFL.com Gamebook - Complete stats including play by play (requires Acrobat Reader)


Jets Game Preview
---
Gameday Homepage
2000 Gameday Homepage
Back to Bills Daily Homepage
Articles Index