| | | |
| --- | --- | --- |
| | Serving Bills Fans Since 1998 | Home |
---
Bills Win With Solid Effort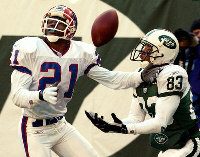 The Bills finally found a way to win this week with a 14-9 upset of New York. The offense struggled early but made plays when they had to as they racked up a season high rushing performance that will be reflected in our position by position grades: Quarterback:

Alex Van Pelt struggled early again as he couldn't find his accuracy in the swirling winds. He did make some beautiful reads in finding Jay Riemersma time and time again. He also made a beautiful throw to Peerless Price for a touchdown as he was being walloped on a blitz. Grade B+: Played well enough to deserve his first ever road victory.

Running Backs:

Shawn Bryson declared the running back competition open again with his second straight 100 yard performance. He made some very good runs in the second half before being hampered by a twisted ankle. Sammy Morris came in and ran for 28 yards on his first three carries but couldn't gain one more for a first down that would stall a drive. Larry Centers was the surprise runner on two consecutive goal to goal plays, the second one resulted in a touchdown just before halftime. Grade A: The running game continues to improve as the season winds down.

Receivers:

Jay Riemersma was the story here as he was the main cog in the passing game catching 8 passes for 78 yards. Eric Moulds was being doubled team giving Riemersma the chances. Moulds only caught two balls but both went for first downs including a 17 yarder in the fourth quarter. Peerless Price made a few big plays, his 28 yard run on a reverse set up his touchdown catch in the third quarter. Reggie Germany was Johnny on the spot recovering Price's fumble giving the Bills a first down. Grade B: Made the plays at the right time.

Offensive Line:

The offensive line continues to show major improvement except for a few more pesky false start penalties. John Fina played well despite being hampered by the flu that cost him to miss some plays. The line led the way to the best rushing output of the season and only allowed one sack as Van Pelt wasn't even pressured that much. Grade B+: Much improved, now if they can stop jumping too early.

Defensive Line:

Unfortunately for the Bills the defensive line seems to be regressing as the year winds down. There was no pressure on Testerverde most of the day as he wasn't sacked and barely touched. They also did nothing to stop the running game as the Jets averaged over six yards a carry. Phil Hansen did make the defensive play of the game with his tip and interception late in the fourth quarter. Grade C-: Hansen's play was one of the few bright spots for this unit.

Linebackers:

Keith Newman and Jay Foreman were active once again as Foreman was in on eight tackles and Newman was in on six. The backers struggled in run coverage as they missed some tackles. Grade C-: Gave up lots of yards but stiffened when they had to.

Secondary:

Antoine Winfield made the play of the game when he knocked away a pass at the goal line attended for Chrebet one play before Hansen's interception. Nate Clements was picked on all day by Testerverde with various degrees of success. Clements was beaten for big gains by Coles but he picked off a pass in the end zone when he out battled Swayne for the ball. Preston Prioleau was a surprise starter for Raion Hill and gets a gameball from us as he had seven solo tackles and made some nice hits. Travares Tillman returned to the starting lineup but only had two assists before leaving with a knee injury. Grade B: Did the job in the red zone keeping the Jets out of the end zone.

Special Teams:

The Bills didn't seem to have any confidence in Shayne Graham in the swirling winds as he didn't attempt a field goal. Brian Moorman had an awful day as he averaged only 29.8 yards on his punts and had terrible punts of 13 and 26 yards in the second half before making a half hearted attempt to do something on the botched snap. The coverage team struggled on punt returns as the Jets averaged 14.3 yards on three returns. Avion Black did an average job on returning kicks with an average of 18.7 on three returns. Grade D: Almost lost the game for the team.

Coaching:

Early on showed some guts going for it in fourth down situations like a 2-12 team should do. Later on played not to lose and almost lost the game with conservative play calls. Seeing that the running game was working better between the tackles and sticking with it was a good adjustment. Grade B: Had the team ready to play after an adverse work week.





Game Analysis and Review

NFL.com Gamebook - Complete stats including play by play


Jets Game Preview
---
Gameday Homepage
2000 Gameday Homepage
Back to Bills Daily Homepage
Articles Index