| | | |
| --- | --- | --- |
| | Serving Bills Fans Since 1998 | Home |
---
Steelers Win Sloppy Effort 20-3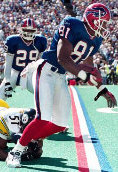 The Offense gave up a touchdown and didn't score any of their own. The defense caved in the fourth quarter again and the players in the trenches struggled shorthanded because of many injuries. Our position by position grades will reflect the poor performance: Quarterback:

Rob Johnson was forced to run for his life on many occasions. He was sacked four times and pressured and forced to hurry throws at least another dozen times. He threw two bad incompletions inside the 10 yard line when the Bills had their only touchdown opportunity of the game. He left late in the fourth quarter after aggravating his hip injury. Alex Van Pelt. started moving the ball but threw an interception that ended the Bills last threat. Grade D: 104 yards passing out of your starter isn't going to get it done.

Running Backs:

Travis Henry ran the ball well very early. He then had a fumble that was returned for the touchdown and he did nothing the rest of the day finishing with a 1.8 yard average on 17 carries. Larry Centers again led the way in receiving with five catches. He also fumbled but it was recovered by Moulds for a first down. Shawn Bryson dressed but did not play and Sammy Morris had no stats as he only came in when Henry was banged up for a play. Grade D: Henry has promise but he hasn't broken out yet, injured line couldn't have helped.

Receivers:

Eric Moulds played with his shoulder injury and the results were the same as last week, two catches. Peerless Price again was a non factor catching one pass and running the played out reverse play for no gain. He gave up on the fumble return for a score when he at least had a chance at saving the touchdown. Jeremy McDaniel had two receptions before leaving with an ankle sprain. Avion Black replaced him and caught two passes but couldn't keep from going out of bounds on a third down reception that was short of a first down. Jay Riemersma was also a non factor with only two catches. Grade F: Never seems to get open, any of them. The fullback led the team in receptions for the second straight week.

Offensive Line:

Injuries continue to clobber this unit. They played without John Fina and Jonas Jennings. Kris Farris and Marques Sullivan started in their place. Farris broke his leg in the first half forcing practice sqaudder Jon Carman into the game. Sullivan had a critical false start penalty on the goal line that kept the Bills out of the end zone. They gave up four sacks and numerous pressures and hurries. The running backs and receivers had 20 carries for a paltry 37 yards. Grade F: Injuries continue to kill less than average unit.

Defensive Line:

They were also hit by the injury bug. Bryce Fisher was inactive with his thumb injury. Phil Hansen and Leif Larsen both left with a dislocated elbow. Pat Williams had his best game so far this season with a sack and he was in on nine tackles including a couple of big stops on the line of scrimmage. I think I should mention Erik Flowers here since I said he would be a key to the game. He had no stats as he is proving to be a first round bust more and more each week. Grade C: Injuries hurt this unit too but they played better in the first half then the second half.

Linebackers:

Kenyatta Wright played well as he was very active in recording 8 tackles and a sack. Jay Foreman was also in on 8 tackles and played well. Keith Newman was not as active as usual. Grade B-: Best unit on the field was way too busy.

Secondary:

Nate Clements appears to becoming more and more a big part of the defense. His stats weren't there but he played very well. Antoine Winfield dropped an interception in the first series that could've been returned for six. He ended up with seven tackles and played well. Ken Irvin was burned a few times. Grade C: Let Hines Ward get open in the seams all day.

Special Teams:

Jake Arians was 1 for 2 in field goal attempts hitting a 23 yard chip shot but having a 49 yarder just miss going off the upright. The coverage team gave up a big punt return of 39 yards that setup a field goal. The Steelers averaged 15.2 yards on six returns. The kick coverage was much better. Price is an awful punt returner but Clements showed promise returning kicks. Brian Moorman averaged a whopping 50.7 yards on his punts including one downed inside the 20. His hangtime is lacking however which setups good returns. Grade C: Pittsburgh penalties negated more punt returns.

Coaching:

They did cut down on penalties but the execution isn't getting any better on either side of the ball. The decision to try a field goal on 4th and 2 at the Pittsburgh 32 was an interesting call. I thought he should have went for the first down. Grade D: No signs of improvement.





Game Analysis and Review

NFL.com Gamebook - Complete stats including play by play (requires Acrobat Reader)


Steelers Game Preview
---
Gameday Homepage
2000 Gameday Homepage
Back to Bills Daily Homepage
Articles Index