| | | |
| --- | --- | --- |
| | Serving Bills Fans Since 1998 | Home |
---
Blocked FG Spells Doom For Bills
by Steve Saslow
Oct. 28, 2001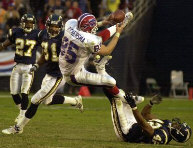 Jake Arians had his 44 yard field goal blocked as time expired allowing the Chargers to escape with the victory. Arians missed two field goals for the second straight week and a long kickoff return after the Bills finally captured the lead cost the Bills the ballgame. It was a game that Rob Johnson proved he belonged as a starting quarterback. Our position by position grades will show the contrast in units: Quarterback:

Rob Johnson's got our player of the week award for the second straight week as he completed 24 of 37 passes for 310 yards and added 67 yards on the ground. He showed poise in bringing the Bills back from a 10 point deficit in the fourth quarter. He rebounded nicely from a terrible interception that was returned for a score. His first quarter fumble also led to a Charger field goal. He fought threw injury and scrambled the Bills into field goal range in the final minute. Alex Van Pelt came in for two plays when Johnson got hurt and completed two passes but didn't get a first down. Grade A: Proved he belongs on the same field as Flutie even in defeat.

Running Backs:

The Bills barely used this unit. Travis Henry did battle in for the go ahead score from the three yard line late in the game. He only carried the ball 10 times for 24 yards. Larry Centers was not very involved this week as he had three carries and four catches but for only 8 yards. Grade C-: Not involved but offense moved the ball well anyway.

Receivers:

Peerless Price took center stage today catching 8 balls for 151 yards including a nice run after the catch on his 61 yard scoring play. He also setup the first Buffalo score with a 46 yard catch to the goal line. Eric Moulds had a big catch for 31 yards on the go ahead scoring drive. He showed great concentration catching the ball off of a Charger defender. Jay Riemersma had a season high 74 yards receiving with an amazing 25 yard catch on the ill fated final drive. Grade A+: This unit caught 20 balls with Price and Moulds combining for 15 catches.

Offensive Line:

The line gave up four sacks and some pressure while opening up very few holes for the running game for the second week in a row. When the game was on the line in the fourth quarter they did give Johnson more time to throw when it was obvious passing situations. Grade C+: The line seems to be playing better but still have much improvement to do.

Defensive Line:

Phil Hansen returned but was mostly ineffective. Bryce Fisher played a lot for Hansen and had the only team sack that could have been called a safety. Pat Williams had only one assist. Aaron Schobel had his first career start and was in on three tackles. Shawn Price had Flutie in his grasp for a sack but lost him and Flutie scored. Grade C-: Not enough pressure and didn't knock down many balls.

Linebackers:

A very inactive day for this unit as Kenyatta Wright led the way with three tackles. They gave up chunks of yardage on the ground in the first half but shutdown the running game in the second half. Grade C+: Quiet performance but young backers.

Secondary:

Nate Clements and Antoine Winfield combined for 13 tackles. Raion Hill added five tackles but was called for a controversial roughing the passer call that could have hurt the team but Richey missed a field goal. Ken Irvin was called for pass interference in the end zone on a third down play. Grade C+: Gave up 254 yards passing but didn't give up the big play.

Special Teams:

This could be a replay of last year's special teams. Jake Arians was 1 for 3 in field goal attempts, this time missing the game tying attempt when it was blocked. The coverage team contained the potent Chargers return team until it mattered and then Jenkins returned the kickoff 72 yards setting up the winning score. Brian Moorman averaged 41 yards on punts and made the game saving tackle on Jenkins return but then was called for a boneheaded unsportsmanlike conduct penalty. Grade F: Was Ronnie Jones in the stadium? Arians should polish up his resume.

Coaching:

Williams made some questionable calls. Why did he review the Price catch by the goal line? It was obviously not a score and it was first and goal inside the one. Not worth the risk. His challenge of the near safety was right however as it should have given the Bills two points. Why didn't he try to get more yards to make Arians final kick shorter? Grade D: The team continues to improve; now the coach needs to make better game day decisions.





Game Analysis and Review

NFL.com Gamebook - Complete stats including play by play (requires Acrobat Reader)


Chargers Game Preview
---
Gameday Homepage
2000 Gameday Homepage
Back to Bills Daily Homepage
Articles Index