| | | |
| --- | --- | --- |
| | Serving Bills Fans Since 1998 | Home |
---
Offensive Sparks Not Enough In Loss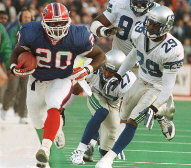 The offense showed up for the first time in a few weeks behind the passing of Alex Van Pelt and receiving of Peerless Price. The running game was non-existent once again and the defense seemed to be playing the bend but don't break defense of years past. Our position by position grades will reflect the fact that the team can't seem to put it all together using all three aspects of the team: Quarterback: Alex Van Pelt showed that he has a great command of the West Coast offense has he had the best game of his career. Van Pelt completed 67% of his passes for 316 yards, two scores and no interceptions. His only downfall was fumbling twice, the second one may have cost the Bills a chance at winning the game. Grade B: Outstanding performance in his first start since 1997. Running Backs:

Travis Henry struggled mightily once again. His fumble on the opening drive thwarted the Bills chance at getting off to a quick start. He also bobbled the ball on a few other occasions. He seems banged up and it showed as he only gained 29 yards for a paltry 2.2 yard average. The Bills finally mixed in Shawn Bryson and Sammy Morris a bit. Ran twice for 8 yards and caught a 12 yard pass. Morris also had two carries and a reception. One of his carries gained nine yards on a fake punt. Larry Centers became the all time receiving yardage leader among running backs with his 66 yard effort on 8 cathces.Grade D: It's time to give Bryson and Morris more playing time at Henry's expense.

Receivers:

Peerless Price continues to be the big play receiver catching a new career high of 10 catches and a new career yardage game with 138 yards and a touchdown. Three of his five best receiving game have come against Seattle. Eric Moulds struggles continue as he left the locker room upset after the game. He did catch a 51 yard pass that he bobbled setting up a score. He also dropped a pass and his questionable holding call may have cost the Bills a touchdown as they would have had a first and goal. Jay Riemersma caught only two pass one went for a score. He also dropped a sure first down pass forcing the Bills to punt. Grade C: Too many dropped passes.

Offensive Line:

The offensive line gave Van Pelt more time to throw than a Bills QB has had in years. He was only sacked twice and pressured on a couple of other occasions. Jonas Jennings re-injured his foot and left after the first series. That paved the way for the return of John Fina and the veteran played well. The run blocking was a different story as there were no holes for the backs. Grade C: A for pass protection, F for run blocking.

Defensive Line:

This unit came back down to earth this week after last week's stellar outing. There were no sacks and few pressures of Hasselbeck. Pat Williams had 6 tackles and was huge in the middle stopping Alexander for losses in the backfield. Grade C+: Not very active but kept Alexander bottled up on many occasions.

Linebackers:

Brandon Spoon was very active in stopping the running game has he led the team with 8 tackles. Jay Foreman was active and in on five tackles. Grade C: Contained well but gave up big running plays at inopportune times.

Secondary:

Antoine Winfield continues to lead the team in tackles, he and Nate Clements had seven tackles apiece. Clements was called for a questionable pass interference penalty. They held the Seahawks to 134 yards passing. The Bills played without both starting safeties. Lance Brown played at strong safety for Raion Hill he dropped an interception in the end zone that would have kept three points off the board for Seattle. Travares Tillman played well for Keion Carpenter once again. Grade A-: Two weeks in a row with stingy pass defense but no turnovers.

Special Teams:

Jake Arians was two for three on kicks. He hit the easy ones from 25 and 26 yards but missed the 45 yarder, it was the difference in the game. The onside kick attempt at the end of the game by Arians was pathetic. Brian Moorman rebounded somewhat from the Patriots game by averaging 39 yards on his three punts. Nate Clements and Shawn Bryson did a nice job on averaging 21 yards on kickoff returns. The kick coverage team held the Seahawks to a 10 yard average. The only other bright spot was the fake punt that succeeded for a first down. Grade C-: For the third week in a row we are calling for the release of Arians.

Coaching:

The Coaching staff tried some different things with various success. The fake punt from inside your own 35 was a nice gutsy call. The inside handoff to Moulds near the goal line didn't work. Williams needs to look down the depth chart at running back and give Bryson and Morris more chances, they saw the field more this week but they need even more playing time. Grade C: The coach has to take the blame for the continued poor performance in the first and third quarters.





Game Analysis and Review

NFL.com Gamebook - Complete stats including play by play


Seahawks Game Preview
---
Gameday Homepage
2000 Gameday Homepage
Back to Bills Daily Homepage
Articles Index