| | | |
| --- | --- | --- |
| | Serving Bills Fans Since 1998 | Home |
---
Offense Shutout By Niners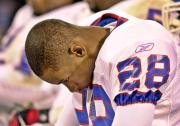 When you get shutout for the first time since 1993 the offense is not going to grade out well. 29 yards on the ground and four interceptions is not a recipe for a passing grade. The defense played OK early but tired late which brought their grades down also. Here is our breakdown in our weekly grades: Quarterback: Alex Van Pelt threw four interceptions and struggled pretty badly with the tricky winds in San Francisco. He did manage to throw for 168 yards but most of it was in garbage time. Grade F-: Looked like the Alex Van Pelt from his 1997 starts. Running Backs:

The Bills running backs ran the ball only 11 times as the team was playing from behind all day. Travis Henry had 10 yards on his first two carries. He would touch the ball only 4 more times and he would lose a yard finishing with 9 yards rushing. Shawn Bryson was inactive with an ankle injury. Sammy Morris was the number two back and carried twice for six yards. Larry Centers led the team with 56 yards receiving on six catches and ran three times for a team leading 14 yards. Phillip Crosby got his first career start as the Bills came out running and he was the lead blocking back. He never touched the ball. Grade D: When Centers is your leading rusher you are in trouble. He saves this grade from being in F.

Receivers:

The Bills want to get Eric Moulds involved in the offense more but they may have overdid it. Van Pelt constantly threw to Moulds in double and triple coverage. Moulds managed seven catches, mostly in garbage time but for just 55 yards. Reggie Germany was open for a touchdown but Van Pelt overthrew him. Peerless Price was a non factor with three catches and a drop. Avion Black caught a pass that setup the Bills lone field goal attempt. Jay Riemersma caught only one pass late in the game. He was suffering from a concussion. Grade F: Not their fault though, Van Pelt was awful.

Offensive Line:

For the first time since the preseason the Bills were able to start a game with their projected starting offensive line in tact. That lasted three plays as John Fina suffered a concussion and left the game. Corey Hulsey came back in at Guard and the Bills shuffled Jerry Ostroski to right tackle and Jonas Jennings to left tackle. They gave Van Pelt time to throw most of the game, he was sacked twice, one of them for zero yards. The running game was non existent. Couldn't get enough of a push for Henry to gain a yard on fourth and one on the first series of the second half. Grade C-: Van Pelt's poor performance can't be blamed on the line.

Defensive Line:

Pat Williams seemed to be hurting in this game and was handled pretty easily. The Niners ran up the middle very well, especially in the second half. He was in on only two tackles. Aaron Schobel split a sack with Phil Hansen and Shawn Price had the other Buffalo sack. The line got decent pressure on Garcia and knocked him around a few times as they blitzed a lot. Erik Flowers returned to the lineup and played a lot and got good pressure on a few occasions but didn't get a tackle or a sack. Grade D: Two sacks and a few pressures but awful in the running game.

Linebackers:

Keith Newman led the team with nine tackles and played fairly well. Jay Foreman had only three tackles and was pushed out of the way in the running game. Brandon Spoon was a non factor in the middle as the Niners ran at well. Grade F: Over 200 yards rushing gives this unit a failing grade.

Secondary:

Nate Clements was taken off the return teams to be fresh on defense. It didn't work as Clements was burned on a few occasions as was his mate Antoine Winfield who had seven tackles. Travares Tillman gave up a touchdown to Tai Streets on a third down play. He also forced a fumble that the Bills couldn't recover. Ken Irvin was beat for a third down conversion. Grade F: When the Niners needed to make a play through the air they succeeded.

Special Teams:

Shayne Graham missed his first field goal attempt badly from 49 yards out. Brian Moorman averaged 47.3 yards on his punts which wasn't easy considering the winds. The kick return team suffered without Clements back there. Chris Watson fumbled away a return that the Niners converted into their last touchdown. There were many penalties on special teams including offsides on the opening kickoff and on a missed extra point by Cortez. There was also a personal foul on another kickoff Grade D-: Penalties added to pitiful effort except for Moorman.

Coaching:

The Bills lost another replay challenge on the spot on the failed fourth down run early in the third quarter. The team did not seem inspired to play and seems to have no confidence left. Penalties and mental mistakes are happening way to often for this late in the season. Grade F: This team gave up on their head coach in an impossible game to win.





Game Analysis and Review

NFL.com Gamebook - Complete stats including play by play


49ers Game Preview
---
Gameday Homepage
2000 Gameday Homepage
Back to Bills Daily Homepage
Articles Index