| | | |
| --- | --- | --- |
| | Serving Bills Fans Since 1998 | Home |
---
Bills Defense Comes To Play In Win
by Steve Saslow
Sept. 29, 2002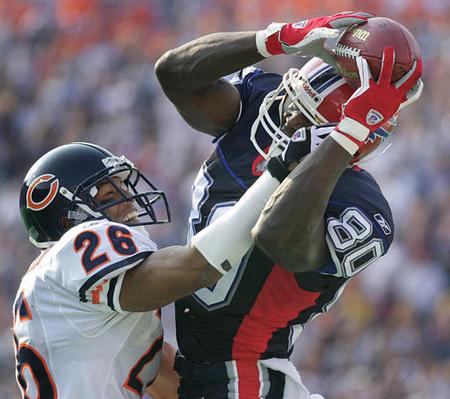 It was a game where the defense shutdown the run and the offense was hitting on all cylinders except for the third quarter. The Bills still had to go to overtime for the third time in four weeks but were able to pull out the win. Here are our position by position grades: Quarterback:

Drew Bledsoe threw for 328 yards as he completed 28 for 36 and four scores. He took some tough hits but showed some mobility in escaping and getting passes off. He showed great poise in picking up a bad snap in the end zone and completing a pass for some yards. He was in total command of the offense when the game was on the line leading the team to two touchdown drives and a blocked field goal in his final three drives after dominating most of the first half. Grade A+: A QB rating of 141.7 in the game is awesome.

Running Backs:

Travis Henry needs to hold on to the football. He fumbled for the fourth time this year, and for the second time had one returned for a score. He was benched for the second quarter because of his fumbles but he was by far the best runner they had with 68 yards on just 12 carries and he redeemed himself with the winning touchdown on a nice 20 yard run after the catch in the flat from Bledsoe. Shawn Bryson saw his most extensive action of the season with 11 carries but gained only 31 yards and he also fumbled. Larry Centers caught four passes for 39 yards and they were all big catches. Grade B-: The fumble hurt Henry but Bryson's ineffectiveness put him back in the game.

Receivers:

Eric Moulds led the way with eight catches for 119 yards. His leaping catch in overtime was a thing of beauty and put the Bills in position to win. Peerless Price caught a short touchdown pass but was quiet for the first time all year. Josh Reed two passes for 12 yards. Jay Riemersma came back after injuring his ankle to catch 4 passes for 46 yards. Dave Moore caught his first three passes of the year for 38 yards and a score. Grade B: Big day for the tight ends as they caught all four passes on the fourth quarter scoring drive.

Offensive Line:

The line gave up only two sacks although Bledsoe was hit hard on other occasions. They opened up holes for Henry but Bryson didn't fair as well. Mike Williams recovered Bryson's fumble that saved a touchdown drive. Grade C: Did an adequate job.

Defensive Line:

Aaron Schobel was active early but his roughing the passer penalty helped keep alive a Bears touchdown drive. Pat Williams was in on 10 tackles. Grade B+: Shutdown the running game but didn't get much pressure on QB.

Linebackers:

London Fletcher was in on eight tackles and Eddie Robinson was more active with three tackles and three assists. Keith Newman didn't get a tackle for the second week in a row. Grade C: The most quiet unit of the defense.

Secondary:

Chris Watson was picked on again. He was called for one penalty and was picked on in pass coverage. Antoine Winfield was all over the field, he came up in run support and stopped a third down carry short of a first down. He also knocked away another third down pass. Nate Clements also did a nice job in coverage, he was called for a pass interference call that setup the Bears tying score in the final minutes. The ball should have been called uncatchable however. Coy Wire was in on six tackles. Pierson Prioleau was credited with seven tackles including a big third down stop. Jason Bostic replaced Watson on one play when he was banged up and was quickly burned for the biggest pass play given up by the Bills all year, a 33 yarder that setup a score. Grade B: Watson keeps the grade down.

Special Teams:

Another decent effort from this unit. Charlie Rogers had one 39 yard kickoff return but the Bills couldn't capitalize on it. A Fletcher penalty negated a long punt return. Clements had his first punt return of the year and it went for six yards but a facemask penalty added 15 more. Mike Hollis was 2 for 3 on field goals hitting from 48 and 49 but he had a 38 yarder blocked that would have won it in regulation. Grade B: Solid day, blocked kick hurt the grade.

Coaching:

The defense was ready to play and did the job of shutting down the running game. When the offense sputtered in the second half the call to go to the tight ends was genius. The 4th and 1 field goal by Hollis in the first half was questionable as the Bills were moving the football and could have went for the kill. Grade A-: Made the adjustments to win the game.





Game Analysis and Review

NFL.com Gamebook - Complete stats including play by play


Bears Game Preview

Gameday Homepage
---
2001 Gameday Homepage
2000 Gameday Homepage
Back to Bills Daily Homepage
Articles Index