| | | |
| --- | --- | --- |
| | Serving Bills Fans Since 1998 | Home |
---
Bills Put It All Together In Finale Win
by Steve Saslow
Dec. 29, 2002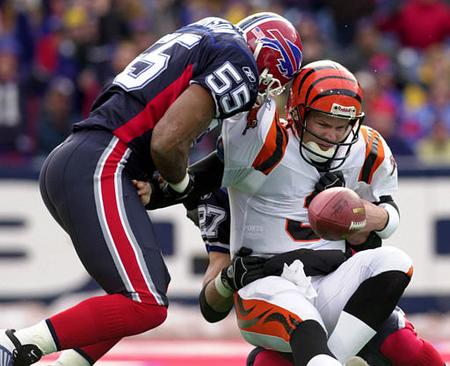 It took to the final game of the season but the Bills may have put together their most complete effort of the season in the final against the Bengals. The 27-9 victory came with solid performances from all three units of the team. Our position by position grades will reflect the solid performance: Quarterback:

Drew Bledsoe returned to form with 231 yards passing on 23 of 31 and a touchdown. He also ran it in on a designed QB sneak from the seven yard line. His throws were on line most of the game and he stood in the pocket better then he had in previous weeks. Alex Van Pelt came in the game in their final series to mop up. His second appearance of the year. Grade A-: A good way to end the season for Bledsoe.

Running Backs:

Travis Henry kept trying to run outside to no avail against the quick linebackers of the Bengals. He finished with 80 yards but on 30 carries. He also fumbled twice, losing it once. Larry Centers had a solid game. He caught a nice 22 yard pass on the opening possession and scored a touchdown on his only carry from the four yard line. Joe Burns saw his first extensive action late in the game and carried four times for seven yards. It was interesting he would see the playing time over Sammy Morris. He played on one offensive play, and dropped a pass from Bledsoe in heavy traffic. Grade C-: The ground game didn't have it.

Receivers:

Eric Moulds caught nine passes in the game giving him 100 for the season. It went for only 75 yards, 2 of those yards was on his touchdown reception. He was the go to guy especially in the second half. Peerless Price caught five passes for 57 yards in what might be his last game as a Bill. Josh Reed had extensive playing time and caught three passes for 54 yards but lost a fumble when fighting for more yards on his last catch. The possession receiver was used downfield a bit more, something we may see next year if Price doesn't return. Jay Riemersma also may have played his last game as a Bill. He caught two passes for 22 yards one went for a first down. He dropped one that would have gave the Bills a first and goal instead they had to settle for a field goal. He was also wide open for what would have been his lone touchdown of the year but Bledsoe didn't see him. Grade A: There were many nice catches especially from Moulds who showed once again, he is the number one guy here.

Offensive Line:

Had a solid game against the pass but struggled against the run in an unusual twist. They did allow two sacks but for the most part they gave Bledsoe all day to throw. The running game had no holes as the fast front seven of Cincinnati seemed to be everywhere when the Bills tried to run. Grade C+: A total flip flop, good on pass protection, bad on run blocking.

Defensive Line:

Quiet day for this unit as the Bengals didn't run much. They got some pressure on Kitna but most of the pressure came from Blitzes. Ron Edwards had a sack and was in on four tackles to lead this unit. Grade B: Did what they had to do to keep the Bengals at bay.

Linebackers:

London Fletcher was in on nine tackles and recovered a fumble that he was able to return 20 yards. He also lost his head twice being called for two unsportsmanlike conduct penalties. Eddie Robinson was in on five tackles. Keith Newman was in on only one tackle it what will probably be his last game as a Bill. Grade B: Made all the plays they needed to make.

Secondary:

Nate Clements had a stellar game getting nine tackles and defending five passes. Antoine Winfield made one nice tackle to save a first down but they threw away from him most of the game. Coy Wire had another sack and was used to blitz the QB on many occasions. Pierson Prioleau was beat for a 50 yard bomb to Chad Johnson. Kevin Thomas played in the nickel defense again and played stellar in pass coverage stopping a few third down plays. Ahmad Brooks had the first interception of his career late in the game, he saw a lot of playing time as well. Grade A: The best unit on the team down the stretch.

Special Teams:

Mike Hollis hit both of his field goal attempts. Brian Moorman only had two punts and got 77 yards on them. The coverage units allowed no punt returns and an 18.8 yard average on five kickoff returns. After a 36 yard return on the opening kickoff they shut down the Bengals return game. Nate Clements returned two punts as the Bills had two players back on all punts. One of his returns went for 11 yards to put the Bills deep in Bengals territory. Grade A: Another fine effort, why wasn't Clements the punt returner all year?

Coaching:

The team showed up in a meaningless game, give the coaches credit for that. The decision to go for it on fourth and goal was a good one, but a few weeks to late on that aggressiveness. Grade B: Gregg Williams will be back and deserves to return.





Game Analysis and Review

NFL.com Gamebook - Complete stats including play by play


Bengals Game Preview

Gameday Homepage
---
2001 Gameday Homepage
2000 Gameday Homepage
Back to Bills Daily Homepage
Articles Index