| | | |
| --- | --- | --- |
| | Serving Bills Fans Since 1998 | Home |
---
Defensive Score Lifts Broncos Over Bills
by Steve Saslow
Sept. 22, 2002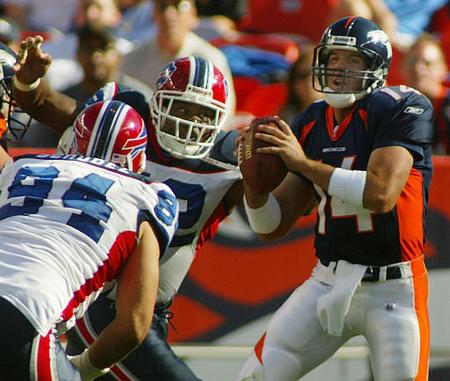 The Bills went into Denver and gave it their all but it wasn't enough. A defensive touchdown and the Bills defense wilting in the mile high air as the game wore on cost the Bills a chance at the upset. Here are our position by position grades: Quarterback:

Drew Bledsoe threw for 283 yards on 27 of 41 passing and two touchdowns. When the Bills were down he never gave up but a poor start in which he overthrew some receivers didn't help the Bills. Grade B+: Strong finish not enough to overcome slow start.

Running Backs:

Travis Henry hurt his right ankle in the first quarter on a play that he fumbled the ball away and it was returned for a score. He showed toughness in coming back in the game and had a few nice runs and a touchdown. He finished with only 35 yards on 12 carries but added four catches for 33 more yards. Shawn Bryson got his first two carries of the season after Henry went out for a series and gained four yards. Larry Centers was a non factor with three catches for 11 yards. Grade D-: As advertised they couldn't get it going against the Broncos defense.

Receivers:

Eric Moulds led the way with nine catches but for only 96 yards as the Bills were forced to go short most of the game. He did catch a 44 yard bomb but failed to get out of bounds after a catch in the final two minutes. Peerless Price had five catches for 87 yards including a 42 yarder of his own but he ran out of bounds without being touched and could have gained a few more yards. Josh Reed caught only two passes but one was for a score. Jay Riemersma had four catches for 44 yards but failed to get out of bounds on the Bills final scoring drive. Grade B+: Definitely the best unit on the team.

Offensive Line:

The line struggled mightily in this game. They gave up four sacks and many other hurries and pressures. Mike Williams was flagged for holding and Marques Sullivan had a false start penalty. The line didn't do any better in run blocking as the Bills averaged 2.8 yards a carry. Grade F: Didn't do the job.

Defensive Line:

Aaron Schobel had another sack and Chidi Ahanotu had a sack for the third straight game. The line had gaping holes in it as the Broncos reeled off more than five yards a carry on the ground. They did get pressure on the quarterback but seemed to over pursue at times. Grade C-: The two sacks helped the grade.

Linebackers:

London Fletcher had a solid effort with seven tackles and a sack as usual he was everywhere on the field. Eddie Robinson wasn't very active but was right there on one sack. Keith Newman was very inactive not even getting a sack but defended one pass. Grade C-: Didn't help out in the running game.

Secondary:

Chris Watson was the goat in this game. He was in one on one coverage a lot and failed. He was called for pass interference and holding. The holding penalty kept a Bronco touchdown drive alive. He was also beat on the fourth and five play late in the game that allowed Denver to expand its lead. He was also beat many times in this game. Antoine Winfield was doing a decent job in coverage until getting burned badly on Rod Smith's touchdown late in the game. Nate Clements wasn't very active but that is a good sign as they weren't throwing his way. Coy Wire was used as a run stopper and as a pass rusher on blitzes a lot in the game. He recorded his first career sack and was in on eight tackles. He was matched up with Shannon Sharpe in pass protection at times and shutout the former all-pro. Pierson Prioleau had five tackles in the game. Grade C: Didn't give up too many big plays.

Special Teams:

Allowed the opening kickoff to be returned to midfield. Denver averaged 28 yards on three kickoff returns. The Bills failed better in punt coverage. Stopping Deltha O'Neal for a five yard loss on one return and tackling the punter on a bobbled snap in the fourth quarter. Mike Hollis hit his only field goal attempt, a 38 yarder. Jason Elam missed a 49 yarder for Denver. Grade B: Had their best game of the year in a losing effort.

Coaching:

The Bills may have suffered a minor letdown after the thrilling win in Minnesota but they never gave up and fought to the end. Give the coaches credit for that. The two point conversion attempt may not have been the best move but it didn't matter in the end. The Bills may have tried to run the ball more but gave up on it quickly. Grade C+: Decent gameplan and the team believes in what the coaches are teaching them.





Game Analysis and Review

NFL.com Gamebook - Complete stats including play by play


Broncos Game Preview

Gameday Homepage
---
2001 Gameday Homepage
2000 Gameday Homepage
Back to Bills Daily Homepage
Articles Index