| | | |
| --- | --- | --- |
| | Serving Bills Fans Since 1998 | Home |
---
Defense Shines Again In Win Over Detroit
by Steve Saslow
Oct. 27, 2002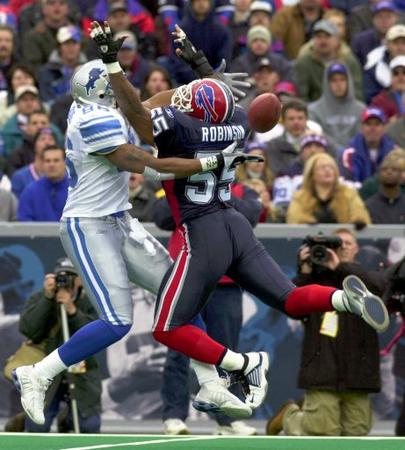 The defense continues its rise as the offense sputtered in spots for a third week in a row. When they were clicking the passing game was a thing of beauty. The defense rose to the occasion in the end as they made the big stop as the Lions were trying to make an improbable comeback. Here are our position by position grades: Quarterback:

Drew Bledsoe struggled early and late but was on fire in the middle of the contest. He finished 21 of 36 for 302 yards with one touchdown and no interceptions. He overthrew more passes than normal but when he hit his stride he was finding his two star receivers often. Grade B: Needs to finish off games that they are winning.

Running Backs:

Travis Henry scored twice and finished with 64 yards on just 19 carries. He did fumble the ball away once again but this time it was a jarring hit that caused it, not a technique error. Larry Centers did not catch a pass for the first time in 143 games. Joe Burns saw his first carry of his career at an odd time. It was a third and 1 run up the middle that was stuffed. Sammy Morris got into the backfield for a play and caught a screen pass and rumbled 16 yards with it. Grade B-: Henry was running well early and was under used late.

Receivers:

Another pair of 100 yard games for this group. Eric Moulds had a huge game catching 9 passes for 123 yards including a big 42 yard reception that setup the Bills first touchdown. He also caught a 12 yard pass to wrap up the game. Peerless Price caught four passes for 101 yards and a touchdown in which he made a great move to score from 59 yards out. He did drop a bomb that would have been a touchdown that would have wrapped up the game. Josh Reed and Jay Riemersma caught two passes. Dave Moore returned as a long snapper but didn't see any time as a receiver. Grade B+: Great stats but too many drops for the team's best unit.

Offensive Line:

The line allowed four more sacks as the Bledsoe continues to be among the most sacked QBs in the league. The run blocking was sporadic. Trey Teague and Marques Sullivan led the way for a fourth down conversion on a QB sneak. Jonas Jennings was banged up and left the game for a while but returned to provide a lift to the line. Mike Houghton replaced him at left tackle while he was out and was eaten alive. Grade C+: Did a decent job picking up blitzes but need to cut back on the sacks.

Defensive Line:

The defensive line allowed many good runs up the middle by James Stewart in the first half but shut him down in the second half. Aaron Schobel had one particularly good set of downs where he made two tackles and a QB pressure. Pat Williams wasn't as dominant as he has been in recent weeks but was in on five tackles. Justin Bannan pancacked Harrington on one play. Grade B: Very solid second half.

Linebackers:

London Fletcher continues to heat up as he had another very good game. His fourth and one stop of James Stewart in the final minutes saved the game. Keith Newman was banged up in the first half and only recorded one assist. DaShon Polk saw a lot of playing time in his place and was in on two tackles. Eddie Robinson was matched up in coverage with Mikhael Ricks on many occasions, he defended a third down pass but was beaten on two other plays in the first half. Grade A: Great game by an improving unit.

Secondary:

Nate Clements was hurting with a hip pointer and was beaten on a few passes but recorded four tackles. Chris Watson had his best game of the year as he had blanket coverage much of the day and had an interception on the last play of the first half. Jason Bostic had a huge stop on a third and 2 screen pass that setup Fletcher's fourth down stop near the end of the game. Coy Wire played most of the game and was in on eight tackles. Pierson Prioleau was also active as he was in on five tackles but his deflection was caught for a touchdown by the Hakim. Grade A: This unit had their best game of the season.

Special Teams:

As the weather turns in Western New York, Brian Moorman's stats will be dropping. He averaged only 36.7 yards on six punts, but it included two downed inside the 20. Watson had a great leap into the end zone to tip a punt back that was downed at the 4. Mike Hollis hit his only field goal attempt. Charlie Rogers totally misjudged a short kickoff and muffed it and the Lions would turn it into a touchdown. He finished his awful day by averaging just 4.3 yards on three punt returns and a miserable 12.5 yards on four kickoff returns. The coverage units played well. Grade C-: The worst unit on the field.

Coaching:

The Bills did come out ready to play, hats off to the coaches for guarding against the letdown. The Bills should have run the ball more when the passing game was struggling. Why run it with the rookie Burns on third down and 1? They almost faked another punt as they tried to draw the Lions offsides. Grade B: Three straight wins as the coaching staff keeps doing things right.





Game Analysis and Review

NFL.com Gamebook - Complete stats including play by play


Lions Game Preview

Gameday Homepage
---
2001 Gameday Homepage
2000 Gameday Homepage
Back to Bills Daily Homepage
Articles Index