| | | |
| --- | --- | --- |
| | Serving Bills Fans Since 1998 | Home |
---
Defense Dominates As Offense Sputters Again
by Steve Saslow
Dec. 22, 2002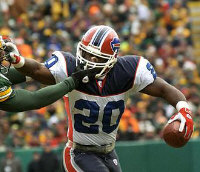 The season's fortunes have taken another turn. The offense that was so potent early in the season was awful for the second straight game. The defense that has been ridiculed had their second spectacular effort in the row. The result was a 10-0 loss that is squarely the fault of the offense. Our position by position grades will reflect the total opposite quality of play between the two units: Quarterback:

Drew Bledsoe was awful again. He threw two interceptions, fumbled four times, two of those fumbles were lost. Misfired on many other passes and stayed in the pocket too long. He finished 18 of 36 for 179 yards but many of them were in garbage time. Grade F: He may not be the savior after all.

Running Backs:

Travis Henry was shut down by the Packers swarming defense. He was hit for losses on many occasions and besides the opening drive in the third quarter he did nothing at all except for losing another fumble. Larry Centers did not catch a pass today. Grade F: Didn't help the pathetic offense either.

Receivers:

Eric Moulds and Peerless Price each caught five balls for small yardage. Bledsoe threw to Moulds on many occasions but couldn't connect. Price dropped one of the only good passes Bledsoe threw. It could have went for a long gainer and setup a potential score. Josh Reed caught one pass on the opening series at that was it for him. Jay Riemersma caught three balls, two of them early and then he was forgotten about. Dave Moore also caught two balls. Grade F: Dropped a couple of passes and couldn't haul in a few more. They couldn't get open against a secondary missing safety Darren Sharper.

Offensive Line:

A long day for this unit. They gave up six sacks, five to Vonnie Holliday, two of those led to lost fumbles. Mike Williams was beaten all day by Holliday. Ruben Brown also gave up a sack to Holliday. Jonas Jennings gutted it out on one leg but was very ineffective. Grade F: Worst game of the year by this unit.

Defensive Line:

The Bills used linemen in waves like they did last week but were less effective in stopping Ahman Green then they were against Tomlinson. He had 116 yards rushing, still he never really killed them as they stopped numerous short yardage runs also. Pat Williams had a solid game with 11 tackles. Aaron Schobel has a sack and had another one nullified by a holding penalty on Williams. Chidi Ahanotu was in on six tackles and very active. Grade B+: Did a good job being the first line of defense.

Linebackers:

London Fletcher had 11 tackles. Keith Newman was in on two tackles and Eddie Robinson was in on five of them. Robinson was beat for Driver's touchdown. Grade B: Never let the big play happen even though they didn't make big plays of their own.

Secondary:

Nate Clements picked off a pass and had his usual solid coverage game. Antoine Winfield also did a very good job in coverage and gave Terry Glenn a wicked hit just before halftime. Coy Wire and Pierson Prioleau weren't active but didn't have to be as the front seven made the plays. Kevin Thomas played in the nickel defense and had a great game including an interception, three tackles, and two pass defenses along with Winfield and Clements. He did a great job in coverage despite Green Bay's attempt to pick on him. Chris Watson was inactive. Grade A: The three corners played lights out defense.

Special Teams:

Brian Moorman averaged 47.2 yards punting in very windy conditions. That includes a team record and league season high 84 yard boot. He also had nice line drive kicks with good bounces into the wind. Mike Hollis missed his only field goal attempt while his counterpart hit one from the same spot. The coverage units held the Packers to a nine yard return on their only kickoff and a pitiful 2.7 yard average on punt returns. The lone blemish was a muffed punt by Nate Clements. Grade A-: Best effort of the season by this group.

Coaching:

The Bills had their sloppiest offensive effort of the season in the 15th game. What does this say about the staff's adjusting abilities? Why did the Bills kickoff and not have the wind for the second time in three weeks? On the flip side, the Defense shined as Jerry Gray's defense seems to be finally clicking. Grade C: More adjustments need to be made quicker.





Game Analysis and Review

NFL.com Gamebook - Complete stats including play by play


Packers Game Preview

Gameday Homepage
---
2001 Gameday Homepage
2000 Gameday Homepage
Back to Bills Daily Homepage
Articles Index